Andasibe-Mantadia National Park : Home to "MORT"
We saw him for the first time while visiting Andasibe-Mantadia National Park in Madagascar chewing a cicada's eggs. Mort in in the scientific community is known as Microcebus lehilahytsara, commonly called Goodman's Mouse Lemur is nocturnal in habit . Andasibe -Mantadia National Park is also home to other species like Indri, Diademed Sifaka, Woolly Lemur and many birds.
Land of Lemurs and Baobabs
Of the many Dream vacation spots that we have cherished, one is in the "Land of Lemurs and Baobabs".Political instability and uncertainty forbade us from making this journey a reality. But in September 2015, we could finally make it to Madagascar, a kaleidoscope of nature. Madagascar as a country is not easy to visit and plan for Indian travelers. The lack of knowledge about the place, and experience from fellow travelers makes it a difficult place to visit.
Cancelled Flights led us to Andasibe Mantadia National park
But although we plan and plan, some events just take their own course. Like visiting Andasibe-Mantadia National Park, We were originally scheduled to go to Ankarana, but in Madagascar flights just get cancelled for no reason. And our contact in Tana – Michel Rakotosimbola from Ortour arranged for our travel to Andasibe along with our nature guide, Indi .We stayed for 3 nights here in the Andasibe Hotel and the Eulophiella Forest Lodge.
Perinet Reserve
Analamazaotra National Park or Périnet Reserve colloquially known as Andasibe and part of the larger Mantadia National Park .The first morning we visited the Andasibe National Park (810 hectares) previously known as the Analamazaotra National Park or Périnet Reserve. Our local guide for the next two days was Etienne (Debarshi kept on forgetting and calling him Eminem or Athenaeum). At the entrance of the park gate, the chart of tourists from various countries showed that only 0.02% of the visitors were from India.
When a Malagasy Paradise Fly catcher got the better of us
For those who have read or travelled to Madagascar know that the vegetation is mid Altitude Rain forests but the primary rain forest canopy makes it quite dark inside the forest . We began our hike in search of lemurs & birds. The weather gods were kind and it was not raining but quite humid.
There are quite a few funny anecdotes here. Like our guides and Debarshi were standing facing a side of the forest frantically trying to locate the Malagasy Paradise Flycatcher, while I was playing its birdcall. Meanwhile the Male Flycatcher was just perched on top of our heads looking at us, wondering what we were up to !
Our first sight of the Indri
Andasibe is home to the famed wailing "Indri". Our first sighting was a 3 membered Indri Family; the baby indri was continuously moving around the mother who was balancing herself between 2 trees.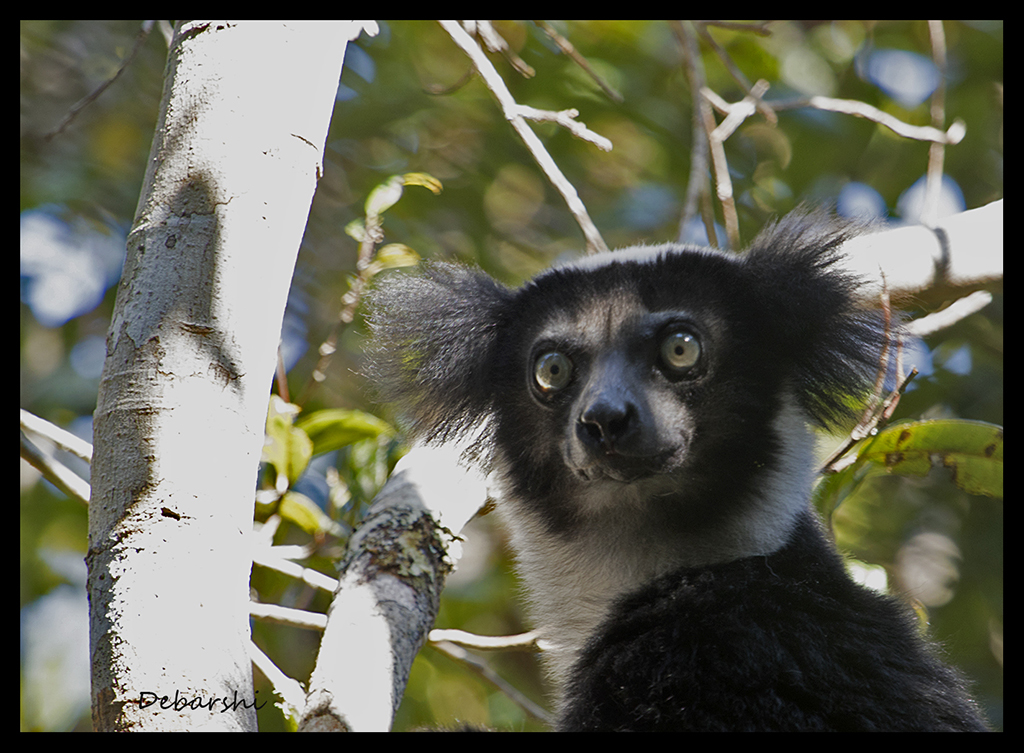 Woolly Lemurs
Then we saw a family of Woolly Lemurs perched atop a tree; although nocturnal, we were lucky to view them at their resting place. In the evening, we did view them again much alert and ready to hunt.
The Vertical Climber Diademed Sifaka
We also saw beautiful Diademed Sifaka, endemic to eastern Madagascar lowland forests and best viewed here in Andasibe & Mantadia.
And lovely bird sightings
We also saw a host of birds – White Throated wood rail, Malagasy Cuckoo Hawk, Scops Owl, Blue Coua, Nelicourvi Weaver, Madagascar Brush Warbler, and Common Stonechat.
The first experience of Night Walk in a forest
After lunch and afternoon siesta back at the lodge, we went for the night walk on the perimeter of the Reserve and inside the Orchid Park where our guide Étienne showed us the extremely rare and endemic to Andasibe – Goodman's Mouse Lemur, we also saw the spotted Boophis Frog , Parson's Chameleon and Perinet Chameleon and a young Brevicornis. For the night walk , we carried torches and Head Lamps and wore Timberland walking shoes with high ankles. For Night Photography , a good flash is essential . Preferably also carry a powerful torch with Lumen enough to enable your camera to focus for a good click.
Mantadia National Park
The next morning, we visited the larger the Mantadia National Park (16000 hectares). The park has five circuits in the park like the Rianosoa , Chute Sacree & the longest , Tsakoka circuit , 24 kms from the main park entrance which we trekked. We were looking for the Pitta like Ground roller and the Pygmy Kingfisher, both endemic to this forest. Etienne was continuously calling out to the Roller but to no avail. We ventured inti the primary forest with snakes slithering around us from beneath some leaf or from a tree trunk, even two leeches stuck to the back of my shirt.
Here we spotted the Madagascar Harrier Hawk and a baby Spiny Tenrec (which decided to play dead for a while and then scuttled beneath a rock.
On our way back we spotted the rare Velvet Asity in breeding plumage and the black Indri. We stopped at the Lemur Island and clicked various rescued lemurs clambering on our backs, munching bananas or carrots.
Andasibe National park accommodation
We stayed one night at the Eulophiella Forest Lodge, which is in a valley amidst lush green property overlooking mountains on all sides covered in rain forests. Electricity just comes in only for 5 hours in the evening. The other two nights we stayed at the Andasibe Hotel who had upgraded us to a suite which was also a really plush stay with all modern amenities with dual levels, a four poster Mahogany bed. Another great place to stay should you visit is the Vakona Forest Lodge.
Bad Roads but worthwhile the visit
Travelling across Madagascar can be a real challenge in terms of logistics, language and safety.
You can experience Rainforest meeting the Ocean in Nosy Mangabe and Masoalaas well. And for drier climes , do visit Ankarana Reserve.
The road to Mantadia, is ideal for 4WD adventure complete with slush, water puddles and streams, we were also stuck on our way back and were fortunate enough to be rescued by local villagers. But the pleasures of viewing the Sifaka, Indri and Lemur far outweigh the difficult to reach Madagascar.