A dash of stripes amidst the green scrub land. A flutter in the nearby trees. A sudden screech of a flock of parrots. Panna National Park in Madhya Pradesh takes you through myriad sorts of Indian wildlife.
Panna National Park
This park is a one of the twenty something Tiger Reserves in India. Poaching had almost wiped out the entire populace by 2009, but in collaboration with WWF and the neighboring Parks, there are now about 4 adults and a dozen cubs.
The Tiger Reserve is about 1645 sq kms in area with the core area being only about 542 sq km.



Flora
The vegetation in most Central India National Parks is dry deciduous, verdant green in Monsoons and bleak grey or brown in summers . The streams and the Ken River flowing from South to North irrigate the park and are seasonal. The ravines in the course of the Ken River are captivating and house several families of vultures. Really a great view!
The predominating trees you see are Khair (Acacia catechu), Sal or Teak (Tectona grandis) and Kardhai (Anogeissus pendula). Otherwise, the reserve has dry short grass in open woodlands, therefore allowing good opportunities for wildlife viewing and clicking.
Fauna
Panna is most famous for its cats – Tiger (Panthera tigris), Leopard (Panthera pardus) and Jungle Cat (Felix chaus).The Ken river also has a good population of Gharial (Gavialis gangeticus).Scavenger mammals like the striped hyena (Hyaena hyaena), Indian Jackal (Canis aureus) are also frequently sighted here. You may be lucky to spot the Porcupine, Indian Hare, Sloth bear or Dhole as well. You will surely see the herds of herbivores – Chinkara , Chital , Nilgai , Sambhar , Chousingha .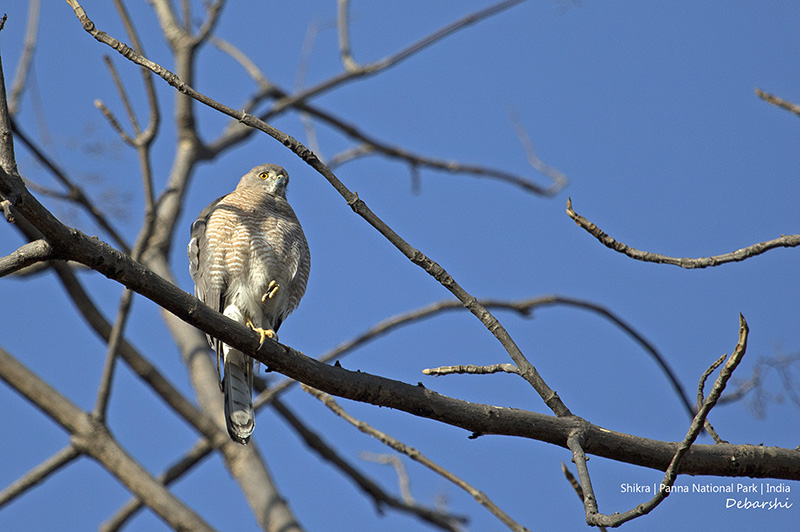 Panna National Park has more than 200 species of birds. Most noteworthy among them are White Necked Stork, Bar Headed Goose, Honey Buzzard, King Vulture, Indian Vulture , Egyptian Vulture , Griffon , Blossom Headed Parakeet, Paradise Flycatcher (State Bird of Madhya Pradesh), Slaty Headed Scimitar Babbler, Changeable Hawk-Eagle. The most easily spotted bird is the National bird of India, Peacock. A host of migratory birds visit in winter. The Ken River gorge houses about 8 Species of vultures.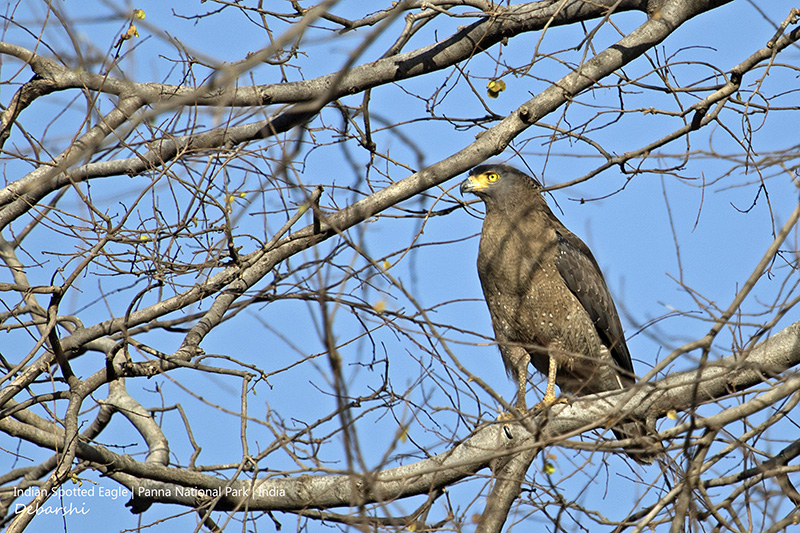 Our Experience
Having viewed the Royal Bengal Tiger in Bandhavgarh and in Nagerhole earlier, we wanted to stray away from the multitude of vehicles after the big cats. We were keen to view the various avian species in the park, particularly the large numbers of Vultures .
We were staying at the Ken River Lodge and availed of the Jungle Plan. This included Morning & Evening Safaris. We were here for 2 nights and 3 days and availed of jeep and boat safaris. The Lodge has their team of knowledgeable naturalists who accompany you in the safaris.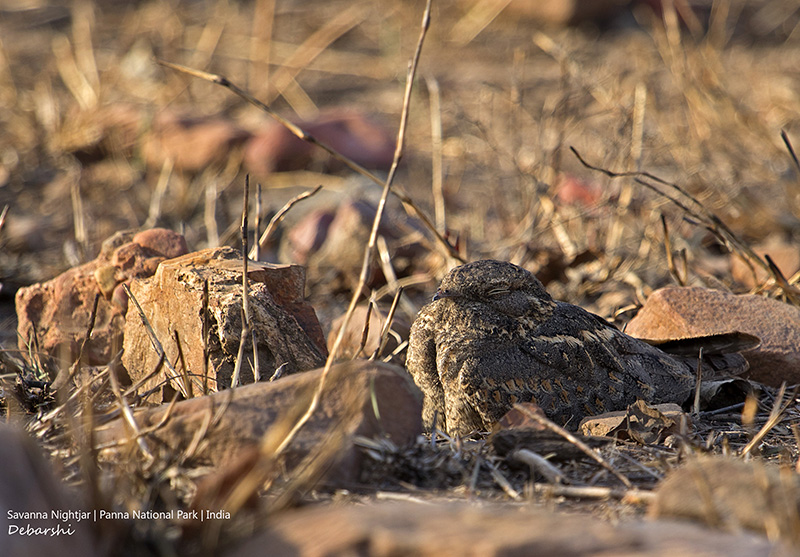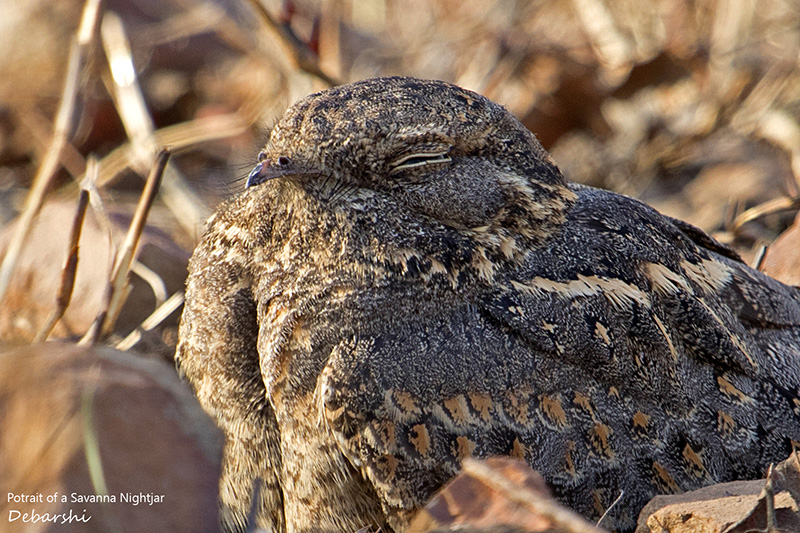 We were in luck and were able to see the
Indian Roller
Black Winged Kite
Painted Francolin
Savanna Nightjar
Painted Sand Grouse
Spotted Eagle
Griffon vulture
Red Necked Vulture
Long Tailed Shrike
Rose Ringed Parakeet
Plum Headed Parakeet
Shikra
Great Thick Knee
Rufous Tailed Lark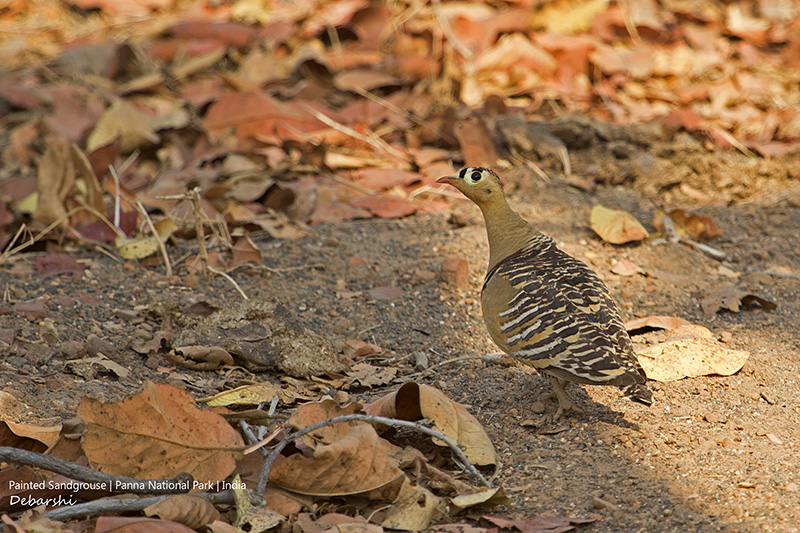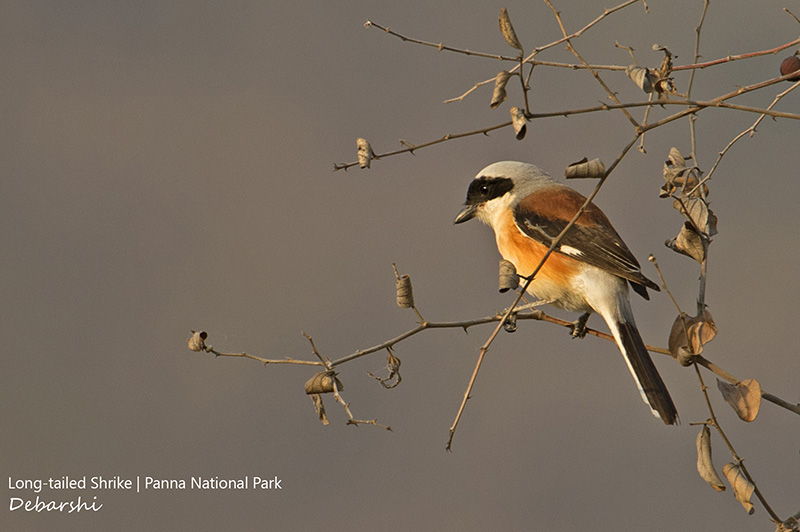 Though we did not see the Tiger here, we did catch a glimpse of a leopard who had hung its kill on an Acacia tree and was seated beneath it. Another highlight was a pair of mating parakeets.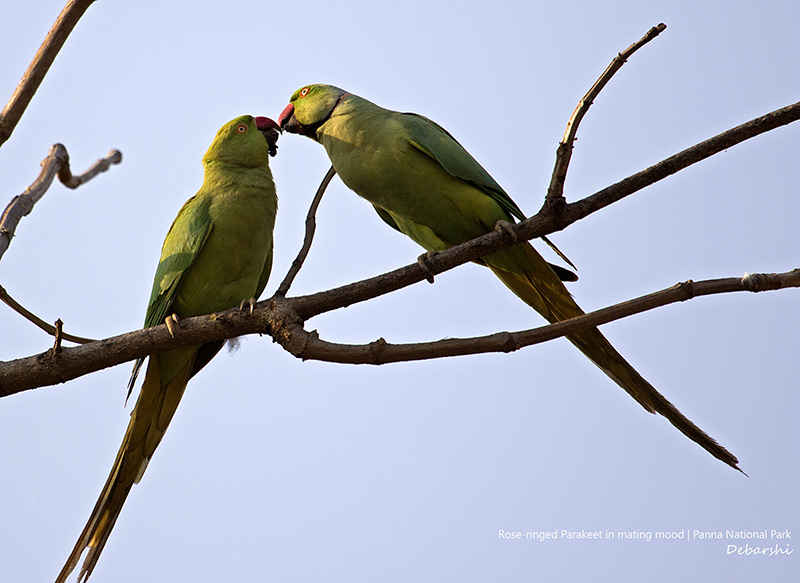 When to Visit?
The park is open from October to June and is segregated as winter from October to February and summer from March to June.
The best time to visit is December to February, when the weather is cooler and comfortable.
My experience show that summers are more productive for tiger sightings. Big cats visit the water bodies for quenching their thirst or preying on thirsty deer.
For birds, winter is the best time to visit to view the numerous in house as well as migratory species.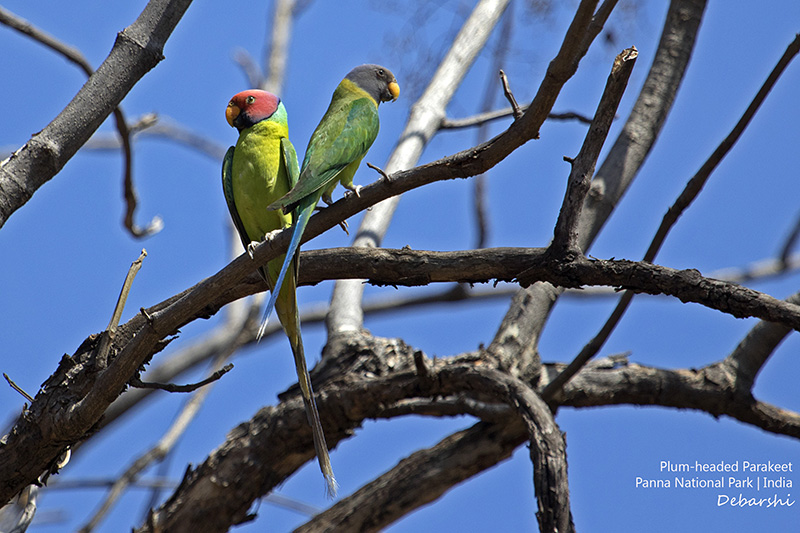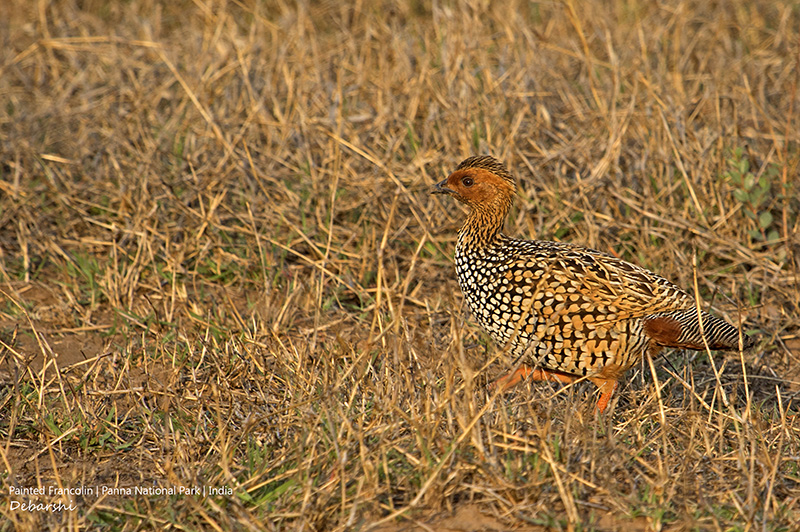 What to see?
Apart from the flora and fauna, I mentioned earlier, Panna National park also has two famous waterfalls.
The Pandav Falls are named after the 5 Pandav Brothers in the epic poem, Mahabharata. The falls are plunge about 30 metres to merge in the Ken River.
The Ken River locally known as Karnavati forms a spectacular gorge about 5 km long. Raneh Falls is part of this canyon.The river canyon is made of Granite, Dolomite and Quartz hued in various shades of pink to grey.You can see various vulture nesting sites here .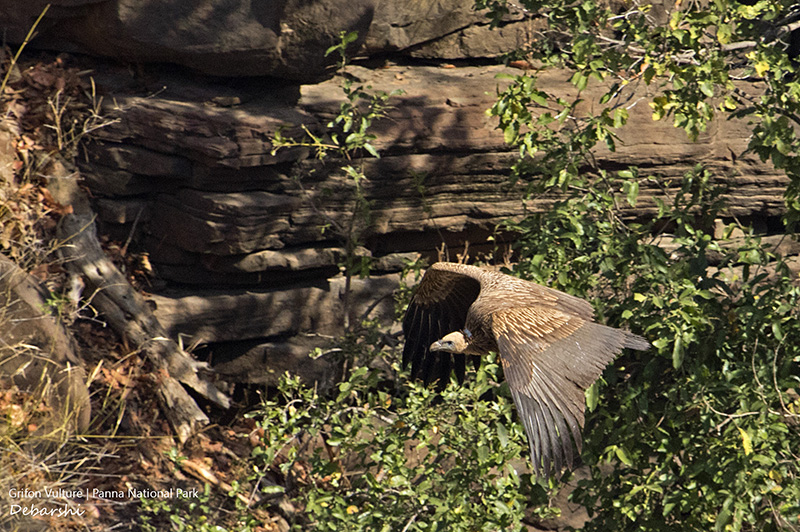 Ken Gharial Sanctuary is adjacent to Tiger Reserve at the confluence of the Ken and the Khudar rivers. The reserve is open to visitors for viewing sun bathing gharials (Gavialis gangeticus) or long fish eating crocodiles. You also get to view various aquatic species .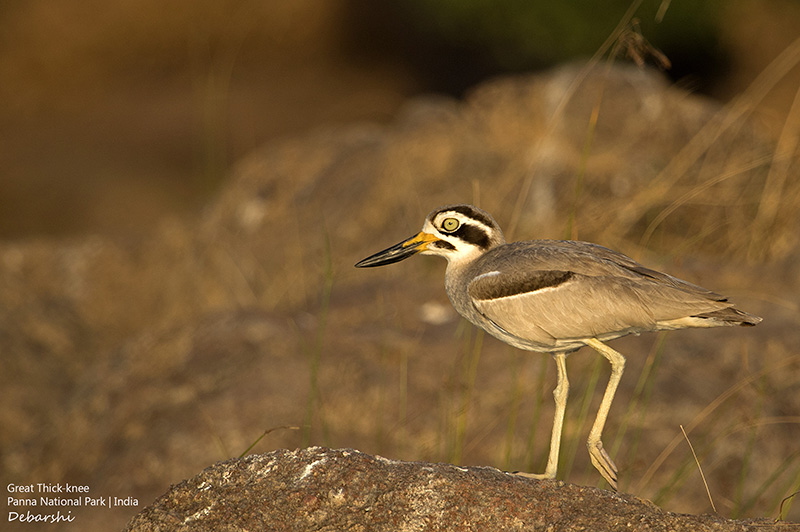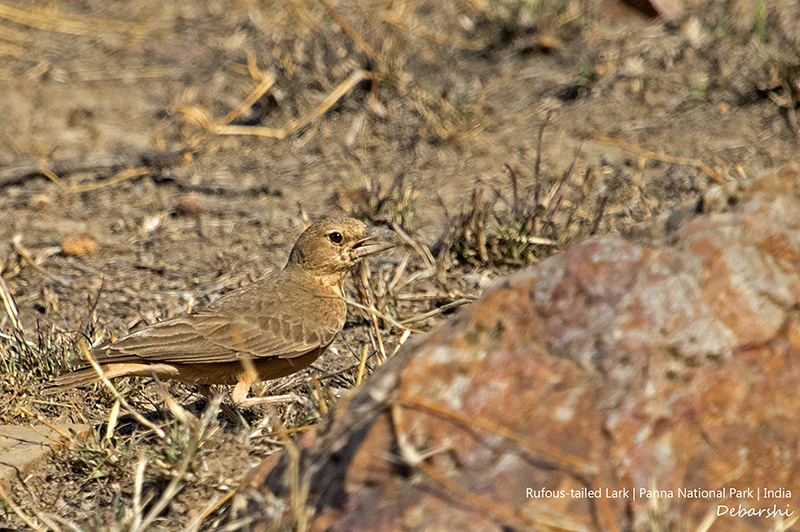 This park is also very close to Khajuraho, the ancient Indian temples with marvellous sculptures. We had visited Khajuraho many years back along with Bandhavgarh National Park. I will write about it in a separate post.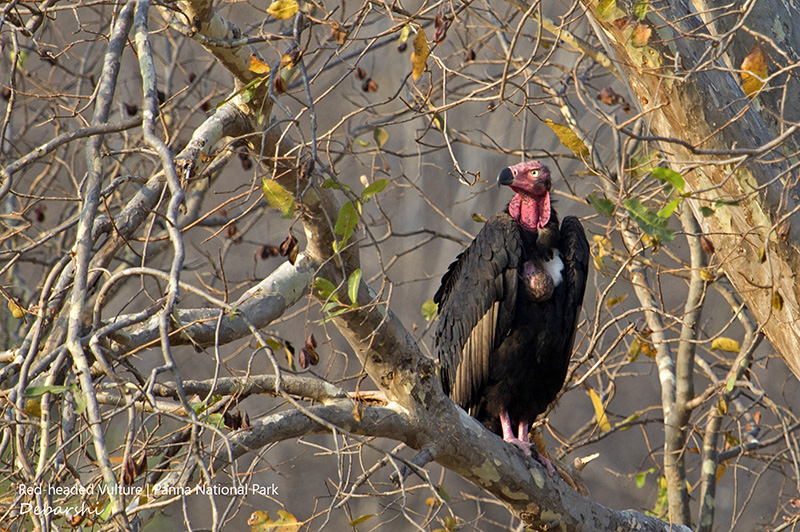 Safari Costs
In Panna National Park, you can drive your own vehicle into the park or rent a vehicle registered by park management for tourism purpose primarily Maruti Gypsy vehicles.
The charges per round for rental vehicles are :
Single seat permit: Rs. 250
Full vehicle permit (maximum 8 persons): Rs. 1500
Hiring a guide is mandatory in your vehicle @ Rs. 360/round.
Your Driver and naturalist will be be counted in the numbers of passengers allowed in a vehicle.
Additionally, a full entry fee entitles you to a complimentary visit to Pandav and Raneh falls in Panna Tiger Reserve on foot or by vehicle.
You can purchase online park tickets and permits from MP Government website. A valid identity proofs of all the visitors needs to be showed and listed in the entry permit.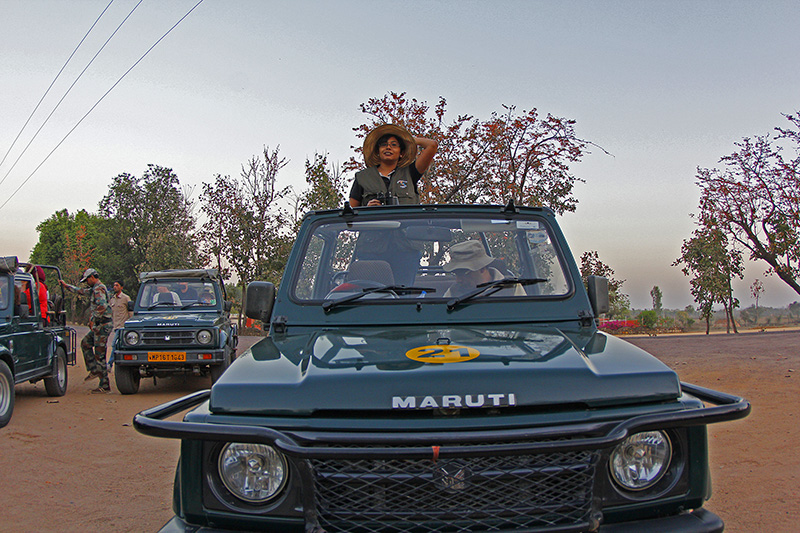 Safari Timings
There are two gates for entry – Madla Gate and Hinouta Gate. Morning and afternoon Safaris are run from the Gates. The morning safaris begin at sunrise and last till 11 am. The afternoon safaris begin at 3 pm in winters and 4 pm in summers and end at sunset.
How to Reach ?
Air
Khajuraho Domestic airport is the closest. Daily domestic and international flights land here. This is approximately 25 km away from Panna.
Rail
This is a more convenient mode of transport. Indian Railways have good air-conditioned and first class compartments with full meal services. Contrary to popular belief , Air conditioned Coaches in Indian trains are clean , safe and comfortable . The nearest stations are:
Jhansi (180 km) if you are traveling from Delhi and Mumbai.
Satna (90 km) if you are traveling from Kolkata and Varanasi
Katni (150 km) if you are traveling from Chennai and Nagpur.
Places to Stay
Panna has various types of stay options, but all around the Madla Gate.
Economy
Madhya Pradesh Tourism operates economy options – Madla Forest Rest House , Jungle Camp Madla and Jungle Cottage Hinauta. You can book through the eMail Id: jcmadla@mpstdc.com
Mid Range or Deluxe
Ken River Lodge as the name suggests is situated right on the banks of the Ken or Karnavati River. Furthermore, the highlight is the lovely wooden and glass Machaan restaurant overlooking the Ken River. There are 6 village style mud cottages and 5 Family cottages with 2 Bedrooms . These are complete with all creature comforts like air conditioning , hot and cold water, open porch
Pugdundee Safaris operates the resort. You can book through the following eMail Ids: sales@pugdundeesafaris.com & enquiry@pugdundeesafaris.com
Premium
Taj Safaris offers a luxurious option on 190 acres of private jungle wilderness. The 12 stone cottages of Taj Pashangarh in Panna are inspired by the dry-packed stone houses of the region by on a small hill. In addition, there is a common lobby with huge black and white photo canvasses of Panna landscapes. Each of the cottages are along a small stream.
Unlike our usual self-drive trips, we had travelled to Panna using the first Class services of Indian Railways in March 2016. You can visit the link for Panna Tiger Reserv or the Madhya Pradesh Tourism website for more information.