Introduction
There is a saying among fellow bird enthusiasts in Indian vernacular which means – "You have not seen anything if you have not been to Eaglenest". Eaglenest or Eagle's Nest Wildlife sanctuary is a major birding location in India. Eaglenest Wildlife Sanctuary is unique because of the unusually high bird density and more than 450 species of birds including discovery of a new species over the years.
Location
Eaglenest Wildlife Sanctuary is located in the Indian state of Arunachal Pradesh. It is on the foothills of the Eastern Himalayas towards the western part of Arunachal Pradesh near the international border with Bhutan. The picturesque sanctuary is located with an almost contiguous forest area starting from Sikkim and West Bengal in the west, thus spreading across the Dooars into Bhutan and then into Arunachal Pradesh. As a result , the entire area is very rich in bio-diversity which is justified by the number of national parks and wildlife sanctuaries in this area.
The area starts from the plains of Assam to the Eaglenest and Sessa ridges at 3,250 metres (10,663 ft) and 3,150 metres (10,335 ft) respectively in altitude. The unpaved and motor-able Eaglenest pass at 2800 mts offer enough access to this area to enjoy the flora and fauna.
The name Eaglenest does not rhyme with any Indian language or tribes of Arunachal Pradesh. The Indian army division posted in these uninhabited jungles in the 1950s and 60s gave the place its current name.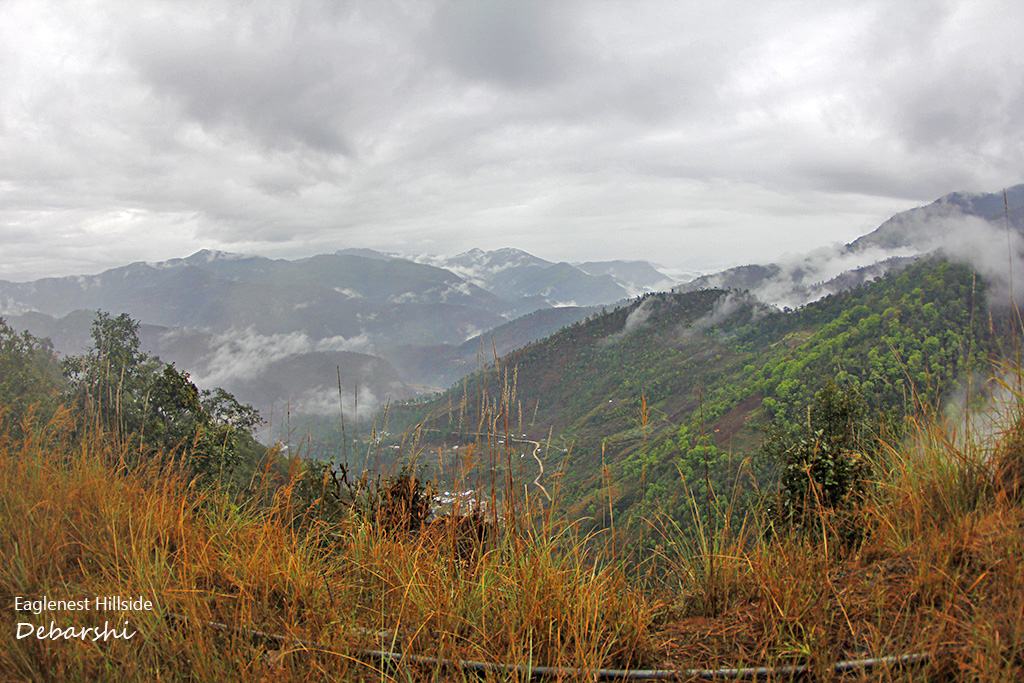 Eaglenest's tryst with His Holiness, The Dalai Lama
On March 17, 1959, The Dalai Lama escaped from the monastery in Lhasa camouflaged as a soldier along with 20 of his officials. On 30th March he reached the Tawang monastery in Arunachal Pradesh. His Holiness was tired and exhausted from his barefoot arduous journey. With the PLA in hot pursuit, the tired Dalai Lama kept traveling. He was put on a Dzo (cross between a Yak and Cow) after he was down with hill dysentery on his journey towards Tezpur through the Eaglenest pass. Aided by the Indian army, His Holiness reached the Indian plains at Tezpur on 18th April. It is said that a PLA unit followed him till Tezpur in Assam before retreating.
Birds of Eaglenest Wildlife Sanctuary
Eaglenest Wildlife Sanctuary is home to most of the Himalayan bird species that you can think of. The sanctuary has recorded 454 bird species. Eaglenest offers the opportunity to see and photograph the rarest of species albeit with some efforts. We could see a number of species of thrushes, sunbirds, finches, flowerpeckers, treecreepers, flycatchers, wagtails, orioles and many others with little effort.
There are 3 types of Tragopans in Eaglenest and can be observed in large numbers with some luck and effort. Visitors come here to witness the Beautiful Nuthatch in action and the Rufous-necked Hornbill on top of the forest canopy. One can also see the elusive Wren Babblers at Eaglenest Wildlife Sanctuary pretty easily. We saw the Pygmy Wren Babbler and the Scaly-breasted Wren Babbler at close quarters. We were also able to see the beautiful Ward's Trogon sitting on a branch right in front of us and the colorful Silver-eared Mesia trying to hide from us inside the bushes.
Discovery of Bugun Liocichla
The Bugun Liocichla is a species from the Leiothrichidae family. It was first viewed in Arunachal Pradesh in 1995 and discovered in 2006 by Ramana Athreya an Indian astrophysicist. Eaglenest Wildlife Sanctuary is currently the only location where these birds are recorded and can be seen. There is a possibility of a small population of this species being present in other parts of Arunachal Pradesh and neighboring Bhutan. There are only 14 estimated breeding Bugun Liocichla pairs in the Eaglenest area which makes it one of the rarest and critically endangered bird species in the world.
We were not lucky enough to find this rare species though we sought for it high and low. The sudden cold spell may have forced them downhill. Our travel companion, Dr. Asok Kumar Majumder was fortunate to get a view and click the bird during a previous trip to Eaglenest.
Flora and Fauna
The sanctuary contains a number of rare reptiles and amphibians as well, Eg: the Darjeeling false-wolfsnake. Eaglenest Wildlife Sanctuary is also home to the Clouded Leopard and Leopard Cat . The endangered Capped Langur, Red Panda and Asiatic Black Bear can be seen here too. We did although get to see the Himalayan Giant Squirrel resting on top of a tree. Eaglenest Wildlife Sanctuary is also home to a large number of butterfly species and entomologists from far and wide come to study them.
The diverse flora in Eaglenest Wildlife Sanctuary is another interesting phenomenon. The Rhododendron forest in the Eaglenest pass is unsurpassed in full bloom.
Guides for Eaglenest Wildlife Sanctuary
You can not view any of the species in Eaglenest Wildlife Sanctuary without a knowledgeable bird guide. The smaller species like Wren Babblers are elusive to the untrained eye. A trained naturalist can read the habitat and gauge the presence of species in the location. The rare species like Tragopans, Trogons, Nuthatches have a specific habitat , Over the years, learned naturalists train a few keen individuals from the Bugun community to work as guides.
We had booked a guide for our trip. To our dismay, he was already engaged by an extended trip of a previous visitor. Mr. Indi Glo came to our rescue and arranged for Dr. Umesh Srinivisan to guide us. Umesh is a doctor by training but has his heart dedicated to the avian friends. After completing his MBBS, he quit the profession , studied Zoology and is currently pursuing higher studies in Harvard . He still spends about 6 months in Eaglenest Wildlife Sanctuary. He graciously agreed to show us around during the days. It was truly our good fortune to have met and known this wonderful individual dedicated to protecting the species. Respect to Umesh. Hope we meet him in Eaglenest again.
Playing Bird Calls !
Many visitors and guides play bird calls to lure the birds. You may derive a moment of excitement and take some super shots with fancy cameras , but it is always a painful and sad experience for the birds.
Imagine yourself in its place. You hear a prospective mate and venture out only to find out a few odd-looking giants with some sci-fi devices scaring the hell out of you.
I would entreat an empathetic approach . Play the calls with discretion and common sense and let them be at peace in their habitat.
Information on Eaglenest Wildlife Sanctuary
Climate and Best time to visit
The foothill of the Eastern Himalayas receive an obscene amount of rainfall from the start of the monsoon in India. The Eaglenest (3,250 m) and Sessa (3150 m) ridges are the first major barriers to the monsoon as it moves north from the plains of Assam. These ridges get over 3,000 mm (120 in) of rain on the southern slopes and about 1,500 mm (59 in) on the northern ones. Eaglenest Wildlife Sanctuary starts receiving rains even from mid April. Summer is subtropical and winter can be very cold with temperatures going down to a couple of degrees below zero.
It is best to avoid travel to the Eaglenest Wildlife sanctuary during summers and rains. You can visit anytime between October to mid-April and the best time is between February to March, There is a lot of bird activity after the bitter winters, They look for mates for breeding and start building nests.
It is best to avoid December and January since its very cold and the birds fly down to lower altitudes in search of warmer temperature.
How to Reach
The best and easiest way to reach Eaglenest Wildlife Sanctuary is to fly down to Tezpur and then hire a car from there to Lama camp. Air India operates flights from Kolkata to Tezpur which stops over at Guwahati. This flight does not operate every day of the week. The flight is not very reliable and has a history of delays and cancellations.
We flew to Guwahati and then travelled by road. Multiple airlines connect Guwahati to Kolkata and the other major cities of India. It will take about 9 hours by car from Guwahati airport to Eaglenest Wildlife Sanctuary.
If you are travelling by Indian Railways , the nearest railway station is Bhalukpong.
There is a fairly good road network . But the rains damage them to a great extent. Starting from Tezpur, the road steadily travels north beside the Kameng river to reach Bhalukpong at the Assam-Arunachal border. After Bhalukpong the road goes up the mountains towards Bomdila. You will come across Tenga before Bomdila. There is an unpaved road to the left from Tenga market leading to the Lama camp, Eaglenest pass and Bompu camp.
Entry fee and permits
Indians not residing in Arunachal Pradesh need an "Inner Line Permit" to enter the state. Foreigners need a "Restricted Area Permit" to enter Arunachal Pradesh. The office of the Deputy Resident Commissioner issues these permits. A suitable guide or travel agent in Arunachal should be able to arrange these permits. The permits are checked at Bhalukpong, which is at the border of Assam and Arunachal Pradesh. Indians can apply for fresh permits at the circle office at Tenga, Singchung, Bhalukpong and Bomdilla.
Arunachal Pradesh is governed quite differently. The indigenous tribes have a say in the administration and development of the area under their jurisdiction. The 26 major tribes and more than 100 sub-tribes form a part of the governance and administration of this state. Visitors need to seek permission from the tribe head or administration. The Eaglenest Wildlife Sanctuary comes within the jurisdiction of the Bugun tribe of Tenga and the Sherdukpen tribe of Rupa. They charge an entry fee of INR 100 for Indian nationals and INR 500 for foreign nationals. These funds go a long way in the social welfare of the tribe.
Accommodation and food
Accommodation at Lama and Bompu camps is very basic. If you are visiting Eaglenest , you have to make do with just the basics. Camp cots fitted with ply boards and a rechargeable LED table lamp on a plastic table is all that is there in the tents. The ablution facilities are shared.
Be careful of the occasional leech that crawls in those moist spaces! The staff usually provides you with hot water on request for a bucket shower. Trust me , the exhilaration of finding a rare bird will make you absolutely at ease with the arrangements.
Food is basic, warm, vegetarian and healthy. The staff does consider your dietary preferences if any and is always glad to cook you a warm meal or pack a lunch. The region is really remote and a hot meal at the end of the day is really welcome.
Camera Equipment for Eaglenest Wildlife Sanctuary
Needless to mention , you need some really fancy special camera equipment for Eaglenest Wildlife Sanctuary. Telephoto Zoom lenses with at least 400 mm of zoom is a must for good bird photography. The light condition can just change in minutes. It can go from being bright and sunny to dark in a very short time. Even if it is sunny outside, when you are following a wren babbler inside the bushes, the sun is of little use. In addition to that, the birds are small, difficult to focus and very agile. High shutter speed is a must to capture these species.
If you sum up the conditions mentioned, one will need a camera body which has the ability to focus faster under low light condition (e.g. Canon 7D Mk-II or 1DX). A crop sensor body will provide a better zoom for the user. The lens needs to be fast. Any aperture number higher than f4 might be useless in certain scenarios as there will no shutter speed for the right image. The light condition at Eaglenest Wildlife Sanctuary demands a fixed aperture lens with f2.8 or f4.
Clothing and necessary stuff for Eaglenest Wildlife Sanctuary
The winter months are February to April ; You need to dress warmly in mornings and evenings. It might rain from time to time which necessitates carrying a raincoat and gadgets to protect the camera equipment. Full length shirt and trousers along with trekking boots can protect you against leeches and insects during treks. Avoid colorful clothes to blend in with the woods. Use of strong deodorants can attract insects so avoid them during treks. It will be dark at night hence carry a torch, and/or head lamps. The tents do not have electricity but the common dining area has facilities for charging. It is better to carry a cell battery charger and an extra camera battery.