Road Trips in India – Crossing a waterfall
Being a self-drive enthusiast, we always try to sneak an opportunity from our day jobs and take a road trip in India. A similar opportunity cropped in during Diwali 2017 for a self drive in India to West Sikkim. Frustrated by the road conditions, we had not driven to North Bengal and Sikkim for quite some time. Since the last year, I was hearing from my self-drive community of friends about the changing road conditions. The change was for the better and hence we decided to take the self drive in India to Kaluk and Peling in West Sikkim.



Places to Visit
We did not plan to visit many places, but just to spend a leisurely weekend gazing at the snow-capped Mt. Kanchendzonga and the mountain range from our room. We stayed at a place called Kaluk near Rinchenpong. Once we reached, we planned to visit the Pemayangtse Monastery near Pelling and the Rabdentse ruins. We did not visit the Rinchenpong monastery , just a quick drive by .
Pemyangtse Monastery at Pelling
Located just above 2000 mts in altitude the Pemyangtse monastery is a three storey structure founded in 1705. It is one of the oldest monasteries of Sikkim and the most famous in west Sikkim. When we visited the monastery there was an ongoing  festival with monks old and young chanting hymns . Metalled roads reach till the gate of the monastery where there is a small parking area. Unlike most other Buddhist monasteries, you do not have to climb a lot of steps or slopes to reach anywhere.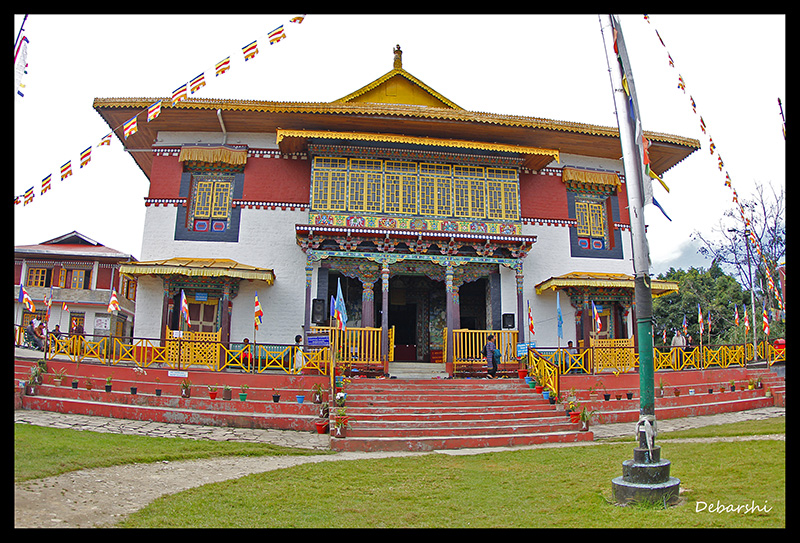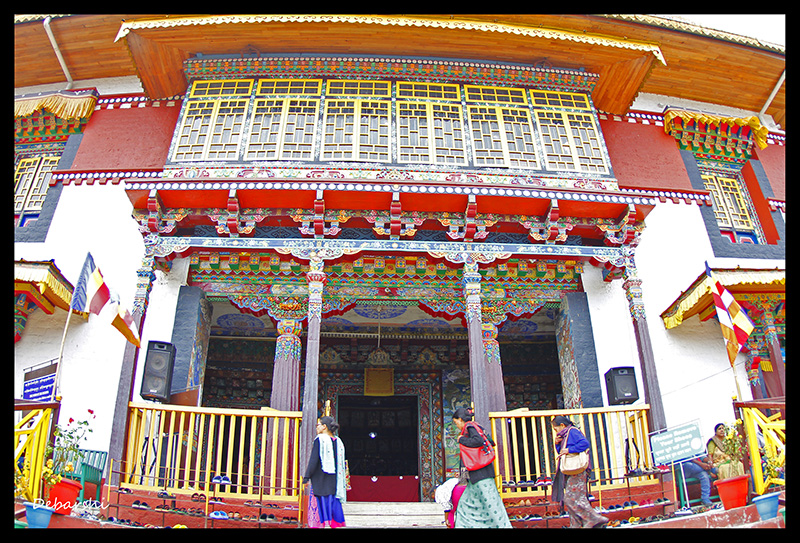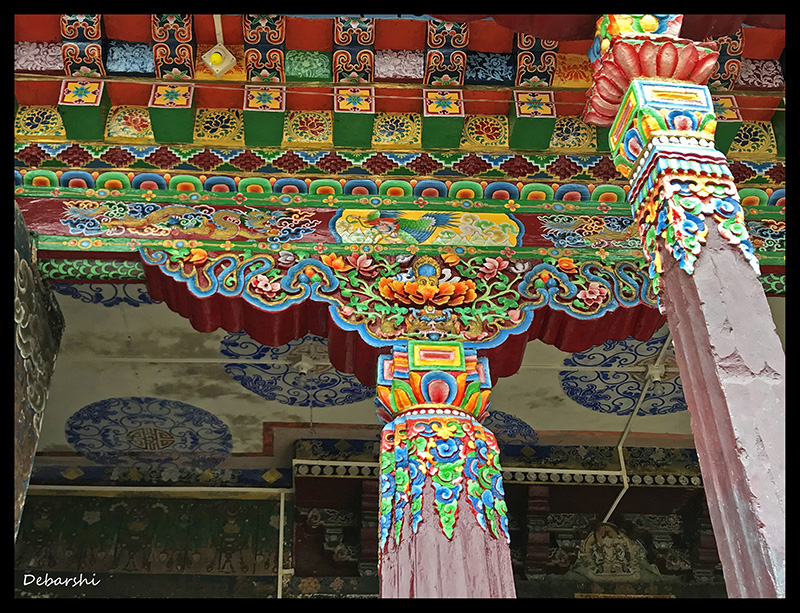 Rabdentse Ruins
The Rabdentse ruins are actually the ruins of the second capital of Sikkim from 1670 to 1814. What remains today are the huge wall structures of the palace with a commanding view of the Kanchendzonga mountain range. To reach here, one has to trek a distance of about 800 mts to 1 km from the gate. The trek takes you through moss laden stone track within a jungle of chestnut trees.
Where to stay
We stayed at "Ghonday Village Resort" and were very satisfied with the hospitality showered on us. We occupied the "Kokthang Cottage" which offered amazing and unrestricted view of the Kanchendzonga range from the bed with birds chirping and playing in front of us. There is a road going very steeply down after the main market 'chowk' at Kaluk. All the three good hotels are accessible through this road. The first one is "Ghonday Village Resort" followed by "Green Hill Resort" and "Mandarin Village Resort". The road downhill is pretty steep with as 13 degree gradient as shown by the meter on the Endeavour. All three places offer a very good and exclusive view of the mountain range but Ghonday being on the top offers a little bit better view.
Is it better to stay at Kaluk than Pelling ?
Yes. If you look at the topography and geographical location, Pelling is on the mountain slope which is not facing the Kanchendzonga range. Kaluk on the other hand is on a slope that faces the Kanchendzonga range. So even if the hotels in Pelling might be better, a stay in Kaluk will offer a better view.



Road Trips in India: Road Conditions – as on Oct 2017
We took the following route as shown in the map below: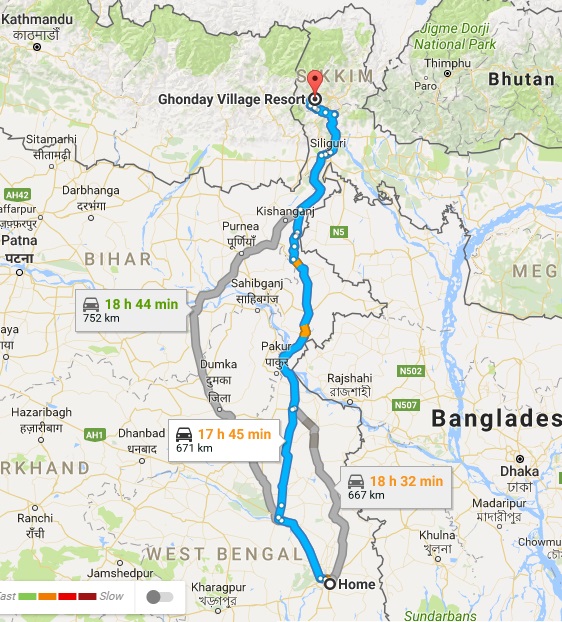 Kolkata > Burdwan > Bhatar > Kuli > Moregram > Farakka > Malda > Raiganj > Botolbari more  > Rudel > Goagaon > Dhantola > Islampur > Bagdogra > Siliguri > Sevoke > Melli > Jorethang > Soreng > Kaluk.
For our road trip in India to West Sikkim, we drove at night and covered from Kolkata till Sevoke in 10 Hrs and 30 Mins. We started around 6:00 PM from Laketown, Kolkata and reached Sevoke at 4:30 AM in the morning. Sevoke to Kaluk took about 4 hours more, thus making it to 14 Hrs and 30 Mins. While returning the same trip took around 16 hours at a stretch as we drove during the day. I reckong about five years back making the same trip to North Bengal took in 16 hours with undivided and bad roads.
This road trip in India from Kolkata to Kaluk can be divided into the following sections:
Kolkata to Burdwan :
Nothing to say about this stretch. Superb roads that will take you from Dankuni to Burdwan in an hours time.
Burdwan to Moregram :
Expect congestion in Burdwan town and even more congestion from the right turn at Burdwan station till sometime after that. After that the SH7 road surface is very good till a place called Kuli. After Kuli the road surface goes missing giving you a superb off-road experience. The bad stretch lasts for around 15-20 kms which is enough to take about an hour of driving time.
Moregram to Botolbari more (after Raiganj) :
Most of the road has been converted into a 4 lane divided highway barring portions before Farakka, Malda and Raiganj. The surface is not as good as the Durgapur Expressway but is good enough. From around Itahar the divided highway ends. The road surface after Itahar has also been patched up.
Botolbari road to Dhantola :
The 60 odd kms road stretch has a superb road surface. For the initial 25 kms, the road is very narrow and difficult to overtake wide vehicles. This road crosses through villages and will let you bypass the jam at Dalkhola which occurs without notice. At night we covered this distance in an hour. There are police patrols and local pickets in most of the places at night. The same distance took us 1 Hr 45 Mins during the day time.
Islampur to Sevoke (via Siliguri) :
Mostly divided highway till before Bagdogra. The road surface is very good in this stretch.
Sevoke to Melli :
Once you start on the hill, the surface starts getting bad, sometimes worse. The main hill road is not the same that it used to be. Expect bad stretches very frequently.
Melli to Jorethang :
There is a road surface on and off. Long stretches have been washed away in landslides and are missing surfaces. The Rangeet river runs on one side of the road. The nullas (stream) that drain the mountains into the river keep crossing the road. Before and after the nullahs, there is no road surface.
Jorethang to Kaluk (via Soreng) :
Google showed us the route via Soreng. I did not know how the route was before we started climbing. For the first 6 kms, the road took continuous hairpin turns at a very high gradient of 11-13 degrees.  The road is very narrow as well. With the wide-bodied Endeavour climbing at that angle and passing other vehicles became issue a couple of times. After Soreng the road surface till Kaluk was pretty bad as well.
Alternate route from Jorethang to Kaluk :
While returning the route mostly remained the same except for the stretch from Kaluk to Jorethang. Armed with local information, we took the following route Kaluk > Rinchenpong > Takuthang > Reshi > Jorethang. From Kaluk to Reshi through this road the surface is fantastic and the road gradient is normal unlike the Jorethang-Soreng road. From Reshi to Jorethang is about 15 kms and to be true there is no road. Small cars will suffer like hell and even with the Endeavour it might have taken us close to an hour to navigate this stretch. Small price to pay for a wonderful experience and another unforgettable road trip in India.
For more on our self drive in India and other countries, please visit our blogs.