Etosha is the oldest and most visited National Park in Namibia. The word Etosha literally means "Great White Place" referring to the Etosha Salt Pan. As the travel bug bites us often , in June 2017, Debarshi & I drove across Namibia. Needless to mention, Etosha National Park was one of the main highlights of our drive. Etosha was established in 1907 and was the world's largest game reserve at 100,000 km² subsequently has now been reduced to 22,270 km².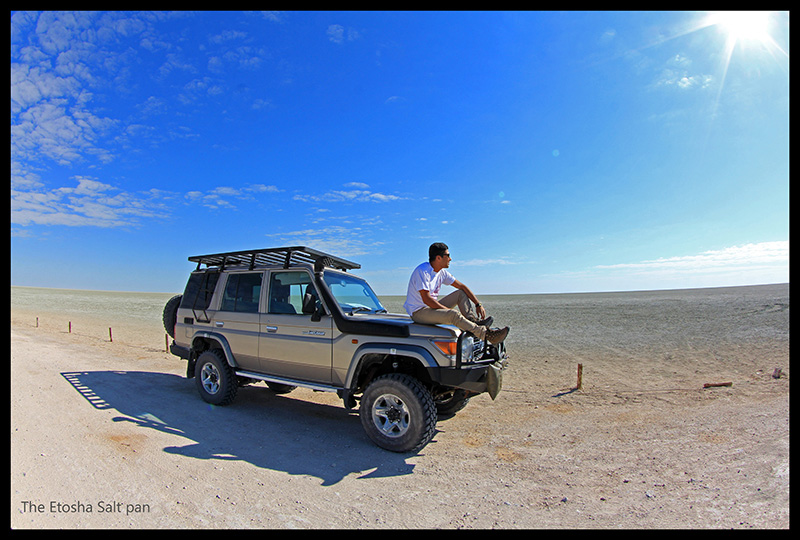 Etosha Salt Pan
First of all , Etosha's main highlight is the ginormous Salt Pan also visible from space. The Etosha Pan spans an area of almost 4731 km² and covers about one third of the Park. It is a unique sight and standing in front of the Pan makes you feel like standing in front of a dry sea bed with a faraway horizon. You would also get baffled by the mirages in the distance. The salt pan is mostly dry with scarce intermittent puddles of water. During the rainy season (summers). Water fills part of the Pan and it is a wonderful photo opportunity with the flamingos and pelicans feeding. The sight is quite reminiscent of Lake Nakuru in Kenya.
The vegetation and landscape in Etosha National Park is quite unique. You get to see the arid salt pan, camel thorn (Acacia) and Mopani trees as well as real cheetah country in the wide open Savannah grassland.



Etosha National Park Facts
Watering Holes
The novelty of Etosha lies in the fact that the waterholes are in large concentrations in the Southern Fringes.Therefore, you will find larger numbers of game especially in the dry summers around these waterholes.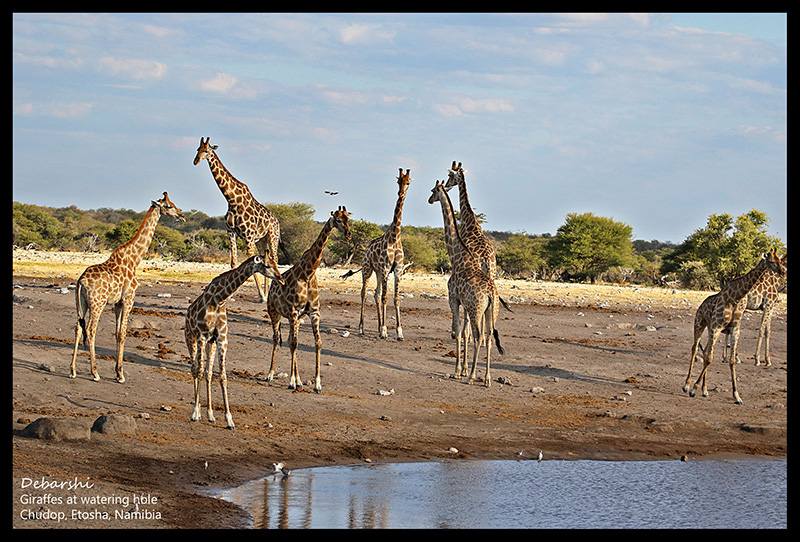 Three types of springs are primarily responsible for creation of these waterholes .
Artesian Springs – Form deep pools with grass and reeds E.g.: Klein Namutoni & Chudob
Contact Springs – E.g.: Okerfontein
Water level Springs – Dependent on water table level. E.g.: Klein Okevi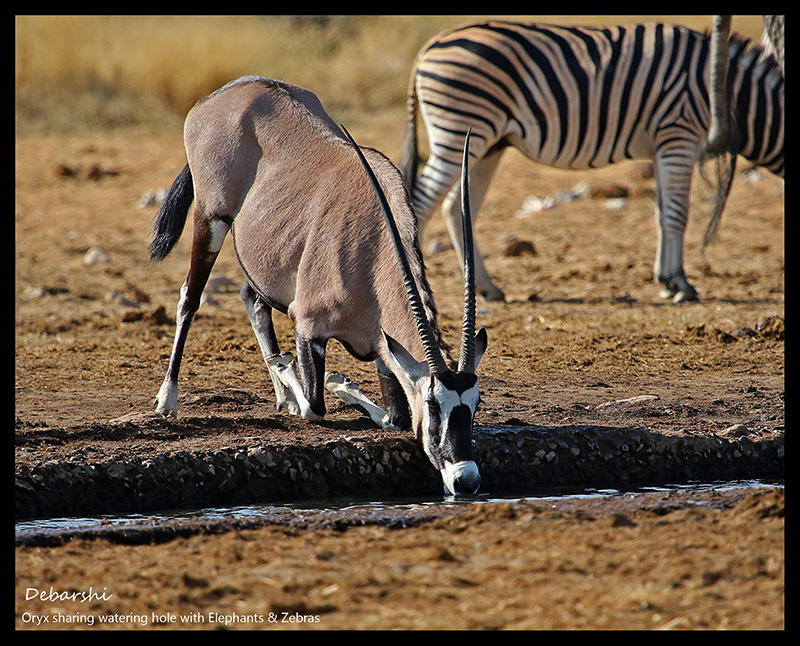 Our Experience
We left very early while it was still dark to avoid the queues at the gate on all days. The days we were staying in Onguma Treetop Camp, we drove about 14 km on way to reach the Von Lindequist gate. We had an early breakfast at the camp; for lunch we drove back to the Namutoni camp. You can also choose to carry a packed lunch from your resort. Initially we decided to drive covering all the waterholes till Halali, but later decided to spend more time on the following waterholes.
To get an idea of the waterholes and plan the driving time please consult the map of Etosha National Park. The map of the Western part and Eastern part are available as well.
Klein Namutoni
Giraffe drinking water at sunrise.
Tsumcor
Female Elephants with families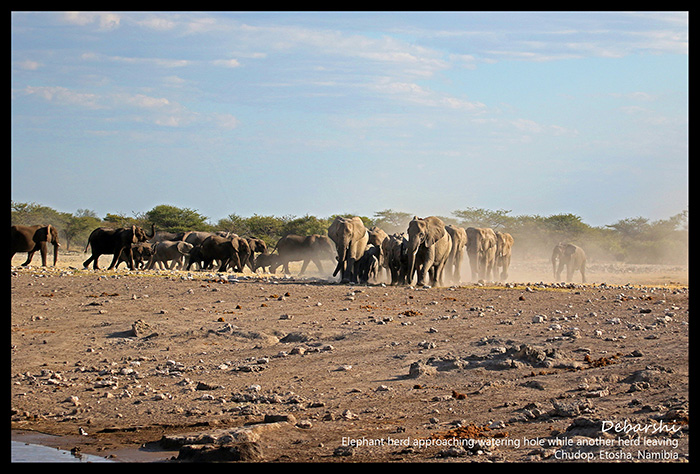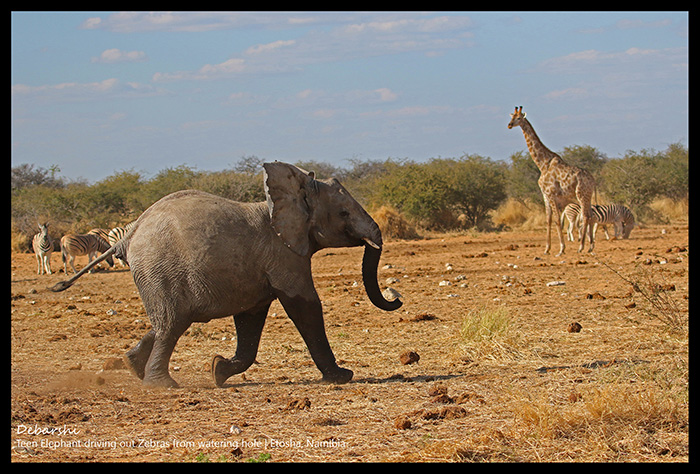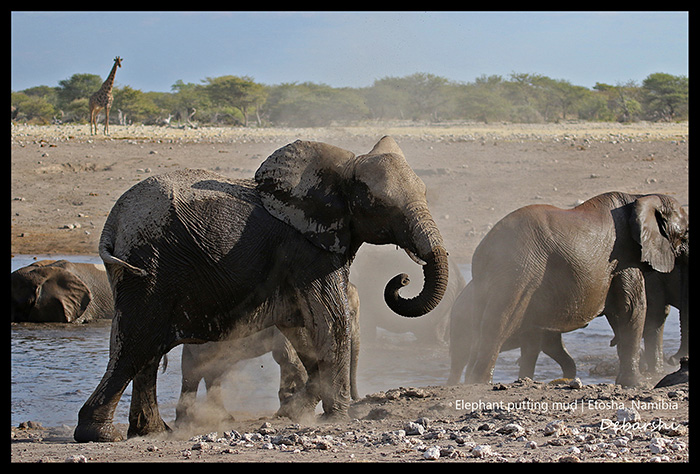 Okerfontein
3 Bull Elephants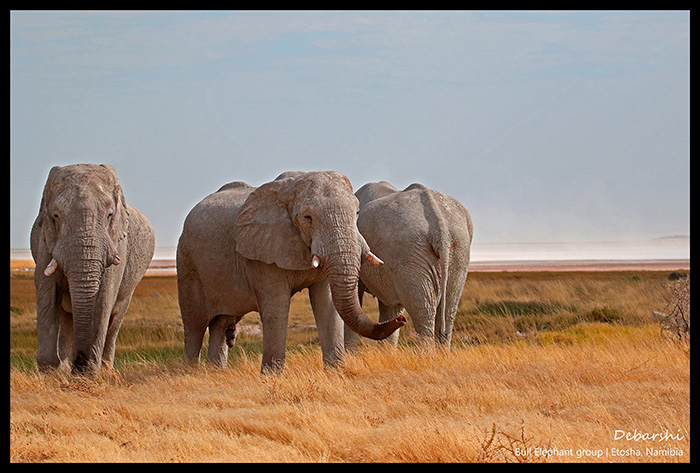 Chudob
Highest concentration of animals – Giraffes, Elephants, Lions, Zebras.
Springbokfontein
Wildebeest, Gemsbok, Springbok.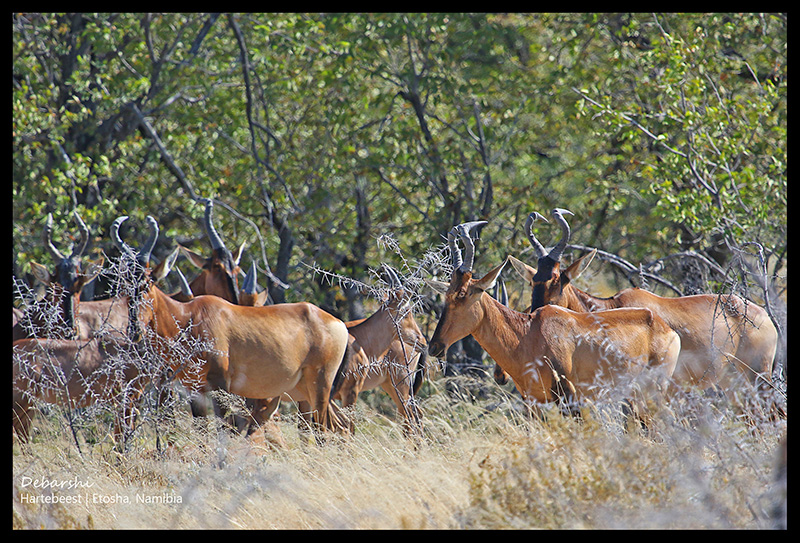 Sueda and Salvadora
Cheetah
Cheetahs were spotted in Sueda. I heard this from a South African Couple . We did not view them here though.
Nebrownii
Best game viewing in Etosha . We saw a Pride of Lions in the Nebrownii Waterhole.
We also heard of good sightings of lions in Okondeka Waterhole and Kalkheuwel.
The next day, we drove to the Okaukuejo Camp and exited through Anderson's Gate. You can stop for lunch in Okaukuejo.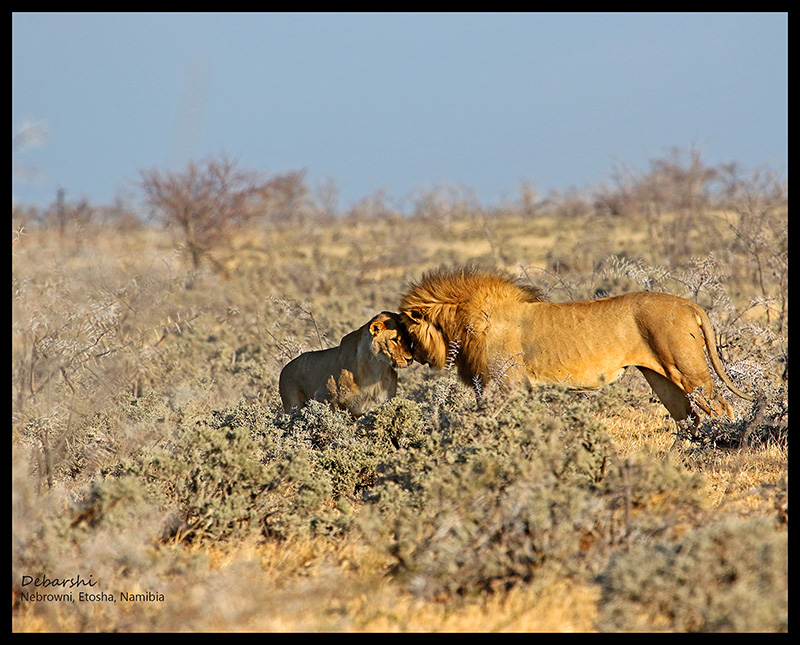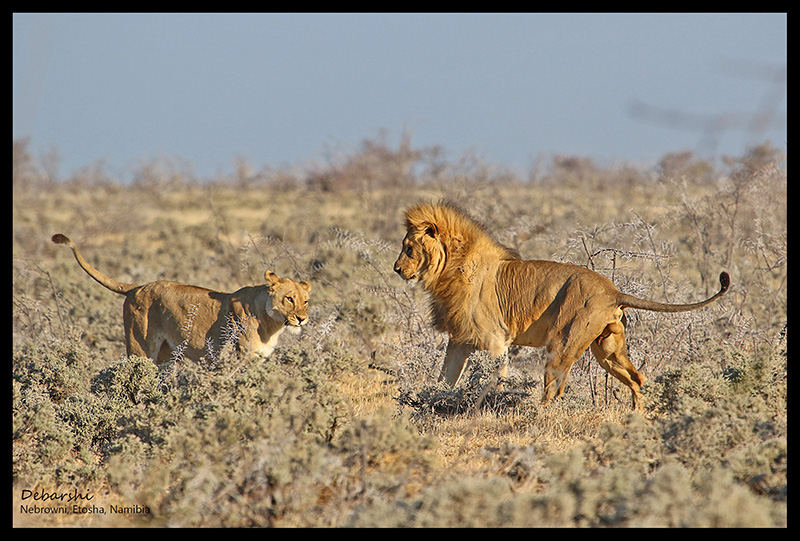 How did we get so lucky? Well, our rental car guide in Windhoek had earmarked some of these watering holes to us and we also garnered from the collective safari experience of fellow travelers we met in the lodges.



Birds
The avian diversity is remarkable in Etosha . You can spot about 35 species of raptors here . We spotted the following birds all across Etosha along the road and also in various watering holes. Especially relevant for bird watchers – Watch out for Ostrich, Korhaan and Sandgrouse in the two road stretches – one from Okaukuejo to Okondeka and from Namutoni to Tsumcor.
Pale Chanting Goshawk
Southern Yellow-Billed Hornbill
Southern Red-Billed Hornbill
Lilac-Breasted Roller
Black-Headed Heron
African Hawk Eagle
Pearl-Spotted Owlet
Helmeted Guineafowl
Kori Bustard
Blacksmith Lapwing
Crowned Lapwing
Namaqua Dove
Marico Flycatcher
African Pipit
Egyptian Goose
Crimson-Breasted Shrike
Cape Glossy Starling
Red-Crested Korhaan
Northern Black Korhaan
Namaqua Sandgrouse
Lanner Falcon
Shaft-Tailed Whydah
Red Headed Finch
Southern White-Crowned Shrike
Sociable Weaver
Ostrich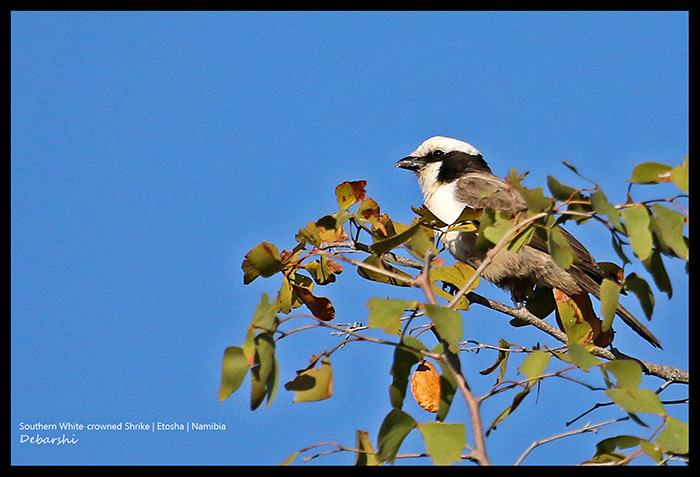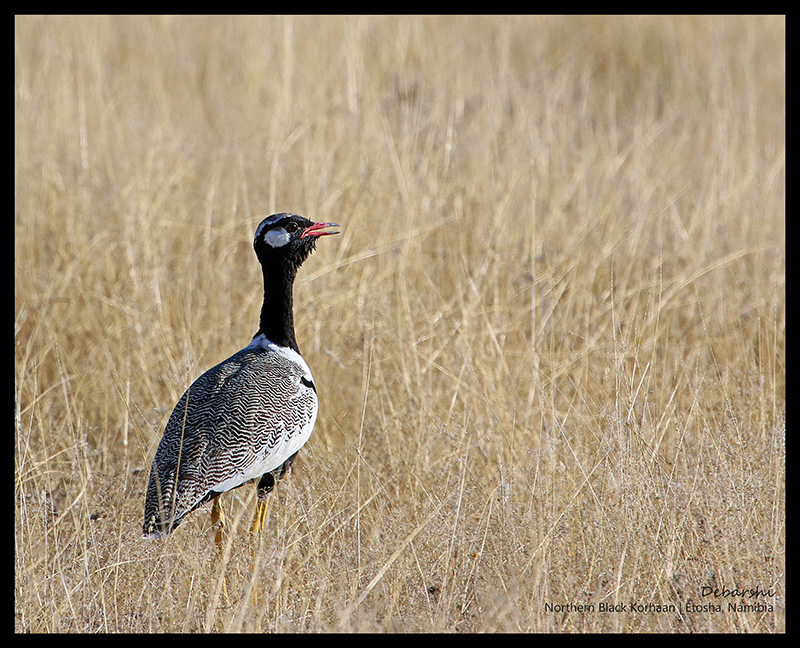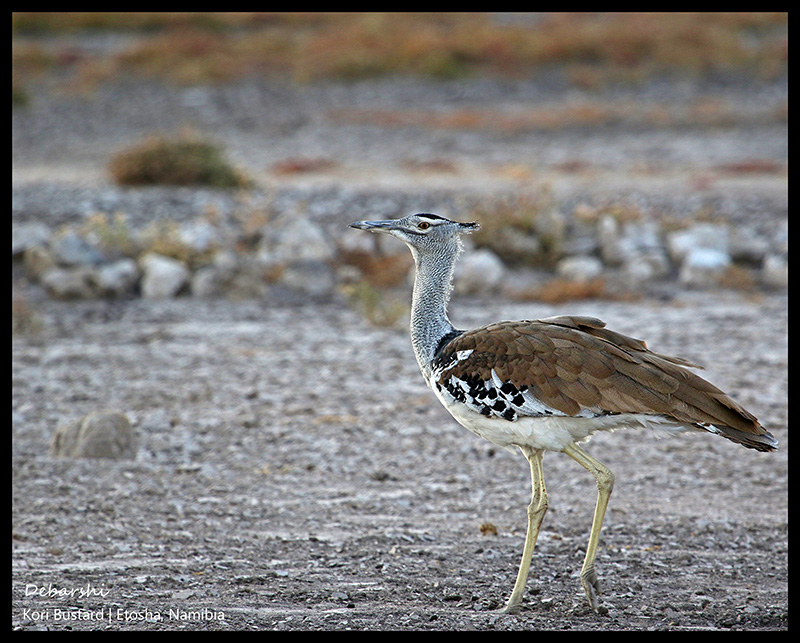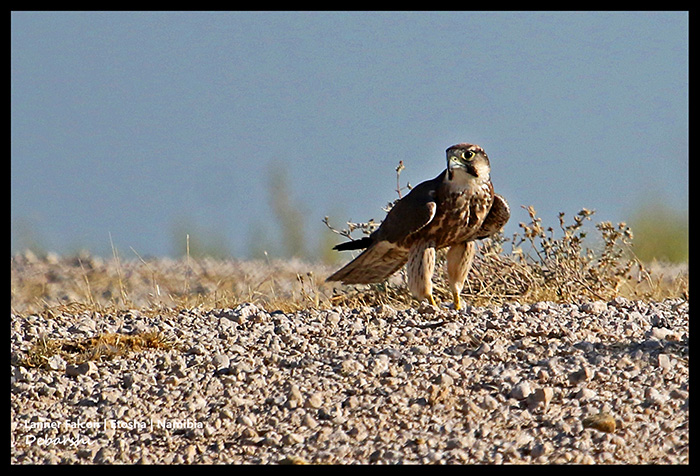 Especially relevant for bird watchers, is a great opportunity you will see all across Etosha are the large nests of sociable weavers.
Sociable Weavers
The Sociable weaver is an unassuming sparrow like bird with a pale bill black face mask, scaly back and white belly endemic to Western Southern Africa either living in semi-arid Savanna or Karoo scrub.
There are 4 sub species of Sociable weavers. We were fortunate to spot two – Philetairus socius socius, in Kalahari and Philetairus socius geminus, in Etosha.
What the makes this bird so notable? Well, their nests.
These birds nest in colonies beginning from 10 to about 500 birds! They are massive structures hanging from tall structures like Electric Poles or sparsely branched trees. And they are multi species colonies with other breeding "guests" – Raptors like African Pigmy Falcons, White-backed and Lappet-faced Vultures, Verreaux's and Spotted Eagle Owl or Pied Barbets, Rosy-faced Lovebirds, finches, sparrows, tits.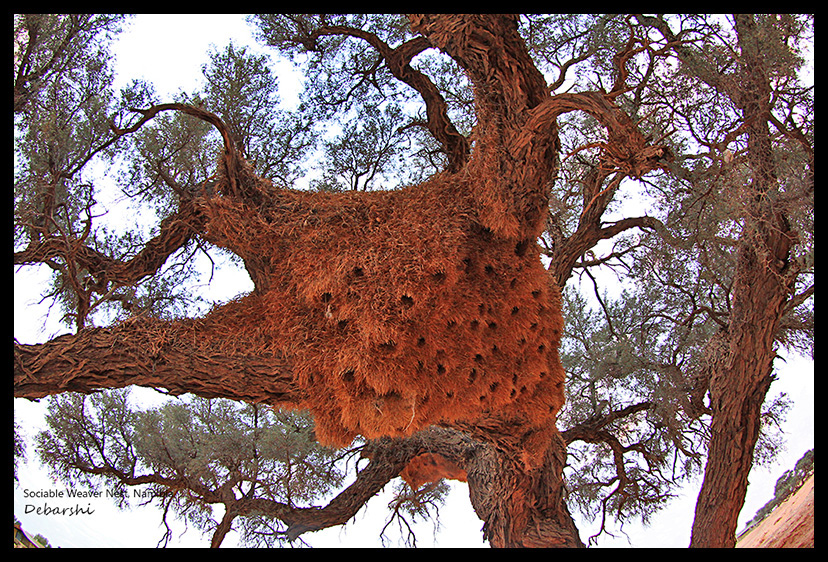 This is actually the heights of a symbiotic relationship in the wilderness. The raptor birds protect the chicks and nests from predators such as the Cape Cobra, Black Mamba or Boomslang. The Barbets and Love birds emit high pitched screeches to ward off Baboons and Rats.
The outer nest structure is made of larger twigs or branches placed angularly or downwards with grass or straws to secure it firmly. The inner nesting chambers are lined with soft cushioning matter like fur, cotton or fluff.
The nest is also an efficient temperature buffer against low temperatures in winter nights or high temperatures during the day.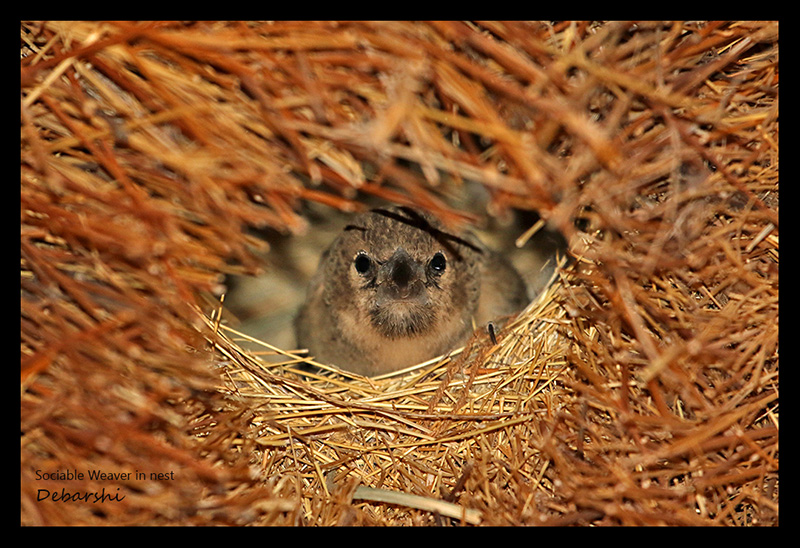 Etosha National Park Best Time To Visit
This depends completely on your wildlife interests. For mammals & game viewing, the dry season is of course the best time (June to October). With the smaller pools drying up, most mammals move to the watering holes near the Pan. This is also a good season for overall bird viewing.
If you are interested in aquatic birds like the flamingoes, then the rainy season (December to March) is quite beckoning. The Pan fills up by now and is quite a spectacle with wild flowers blooming all across.
How Many Days to Spend?
Well, you could spend 7 – 10 days in Etosha covering various parts of the Park. Most tourists spend roughly 2 nights per camp and staying at any of the 2 camps. I have covered more about the camps in details in a later section.
Road conditions
You can drive only at a speed of 60 km / hr inside the Park. Factoring in game viewing and clicking experiences Namutoni to Halali will take anything between 2 to 3 hours , Halali to Okaukuejo would take roughly the same time . These are the main two stops for all travelers in Etosha.
We also drove through the relatively newly opened Western side of the Park from Okaukuejo to Galton gate. We stopped Midway at Olifanstrus. The road from Leeubron to Olifanstrus is quite a bumpy ride taking a toll on both your spine as well as the vehicle suspension. The road is noy just gravely but to make matters worse is corrugated like a tin roof.
Once in the park you are free to drive in any of the marked roads or stop to observe wild life or click photos. There are designated rest areas but other than that all tourists are strictly forbidden from alighting from their vehicle.
Etosha National Park Entrance Fees
There are multiple categories of entrance fees which can be paid at any of the gates. The fees are calculated on a daily basis and hence one would pay on the number of days they are staying or entering the park:
Foreign Adult tourists pay NAD 80, SADC pay NAD 60 and Namibian Nationals will pay NAD 30. Children under 16 year are free.
Vehicles are charged at NAD 10 per day with less than 10 seats and can go up to 300 NAD in case of 26 – 50 seats in the vehicle. All Vehicles are checked at each gate and we had a refrigerator in our Land cruiser which was also thoroughly checked.
Entry permits are issued at the gates but you would need to pay them at the nearest rest camp.
All gates open at sunrise and close 15 to 20 minutes before sunset.
The Gates
Von Lindequist Gate
We drove down from Otjiwarongo, Okonjima Plains Camp via the B1. The nearest town to stop for a gas refill and a coffee shop is the quiet town of Tsumeb. There is a clean reliable Engen Service station with an adjoining Wimpy's restaurant. You can also fill up on your supplies from the nearby supermarkets – SPAR & Shoprite, and there are branches of Bank Windhoek, Standard Bank & Ned Bank.
The Von Lindequist is in the east and connects to the B1. From B1, one can take the C38 to reach the Namutoni Camp or Mokuti Lodge or the D3001 to reach the Onguma Private reserve. In case you need to refill your fuel tanks, you can do so at the Mokuti Lodge Gas station.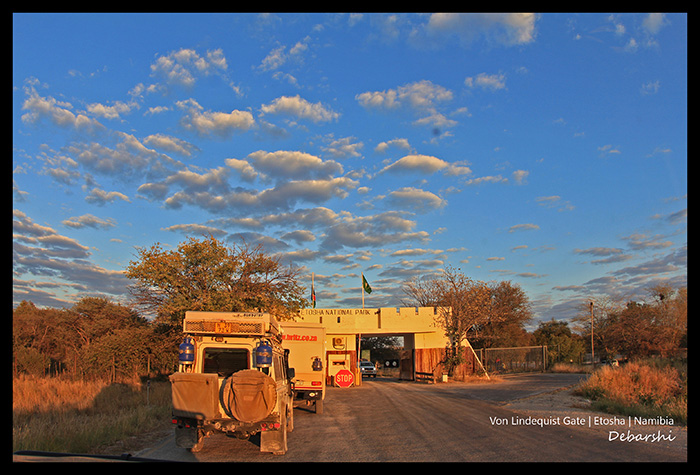 Anderson Gate Etosha
This is to the South of Etosha and again mostly used by tourists to exit the Park. The Okaukuejo camp is situated near and operates this gate. This leads out to the town of Outjo on the C38. Our Plan was to return to the Park and exit through the Western Most Gate, hence we renewed the Park tickets from here.
Galton Gate
The Galton Gate Etosha is seldom used, unless you plan to drive across the entire the park like we did or staying at the Dolomite camp. This gate was opened only in 2014 for public access. The waterholes in the western part of Etosha are slightly spread apart but very close to the main road. A noteworthy feature is that the vehicle you are driving in completely sprayed with disinfectants and the tires are washed before letting you out of the car.
King Nehale Lya Mpingana Gate
This is the North Eastern Gate near Andoni introduced in 2003. The road is about 17 km to the B1 north of Tsumeb.
Etosha National Park Camping
Namibia Wildlife Resorts operates a number of camps inside the National Park .It is a really great experience as well to stay at any of the camps for at least two nights.
Onkoshi
This was inaugurated in 2008 and is an exclusive camp away from the self-drive routes. The 14 chalets and one Honeymoon Chalet are perched on stilts and overlook the Etosha Pan. It runs mainly on solar power. There is not much game viewing here, but and is incredible for views of sunrise & sunsets over the Pan and stargazing at the clear Namibian skies.
Namutoni
This is on the eastern side of the park and closest to the Von Lindequist Gate. This camp is built inside an Old German Fort and offers a high view of the King Nehale Waterhole for game viewing and for bird watchers. There are various options for stay here – Chalets, Double rooms and camping areas, two restaurants – African Fusion and The Steakhouse, supermarket , Curio shop and more importantly a gas station to re fuel.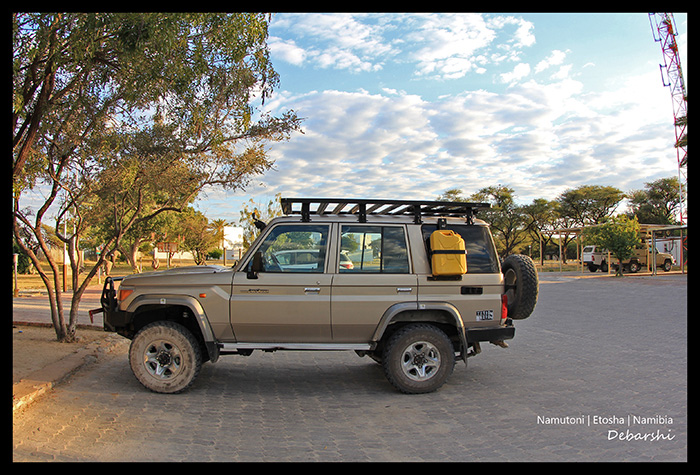 After a long day at the park, we had stopped for some hot lunch in the Steakhouse and enjoyed a little rest in the well-manicured lawns for the afternoon,
Historically, Namutoni was created in 1897 as a the mad cow disease (BSE) epidemic control post , then functioned over the years as a police outpost and as South African army base. Tourism opened up much later in 1957.
Halali
This camp is almost midway between Namutoni (75 km) and Okaukuejo (70 km) and is the smallest of all the camps. Literally it means traditional ending of a hunt in German. This camp is also a great stopover for lunch or cold drinks or just a fuel stop. The accommodation options are similar with Bush Chalets and Double rooms. The camp has a dolomite kopje within the camp which can be accessed through a signposted trail – Tsumasa and has a floodlit waterhole.
Okaukuejo
This is the administrative center of Etosha, but among tourists is famous for its floodlit waterhole always abuzz with animal activity. There is a signature stone tower in this camp with a warning sign for climbing as well! There is an inviting swimming pool, restaurant serving hot meals a bar as well as amenities like the gas station and supermarket.
At dusk, the endangered black rhino can often be seen drinking alongside lion and elephant and hence is a great crowd puller. The elephant and the jackal is guaranteed viewing while the lion & rhino are regular visitors; all oblivious to the bright lights and noisy humans.
I recommend this as a must visit , equipped with assorted stay options – Waterhole Chalet, Bush Chalet, Double Rooms and Campsite.
Olifanstrus
Probably the one to offer only camping experience (10 campsites, open to day visitors), this is the newest addition. The name translates to 'Elephant's Rest' and has an artificially constructed watering hole frequented by elephants and often rare species like the black rhino and black-faced impala.
Olifanstrus is in the remote western side , almost midway. This is like an oasis in the sparse western side. Olifanstrus is roughly 60kms to Galton Gate and 130 kms to Okaukuejo .We stopped here for a cool drink and spotlessly clean restrooms while driving from Okaukuejo to Galton.
Dolomite
The most noteworthy feature of this camp is that it leads you to the less visited western side of the park and hence only few visitors. Due to the same reason, rare species such as black rhino and black-faced impala have established themselves in the area. The camp is unfenced thus, animals roam freely between the chalets and the common areas. There are 20 well-appointed safari style tents atop a little hill. The camp is set among dolomite rocks and has views over the entire Savannah from the reception, lounge and Infinity pool.
Etosha National Park Accommodation
To begin with, we did not opt for a stay inside any of the NWR camps within the forest for want of a more exclusive experience stay. We stayed for two nights each in Onguma and a night in Taleni.
Onguma Tree Top Camp
Right beside the Eastern gate in Etosha National Park is the enormous private Onguma reserve. The entrance is through a fortified gate and covers about 34000 hectares of forest right beside the Fischer's Pan. There are multiple types of rest camps suiting different budgets in Onguma after a 9 km drive – Onguma Bush Camp , Onguma Leadwood Campsite , Onguma Tented Camp , Onguma Plains : The Fort , Onguma Etosha AOBA and finally after about 14 km , the Onguma Treetop Camp where we stayed .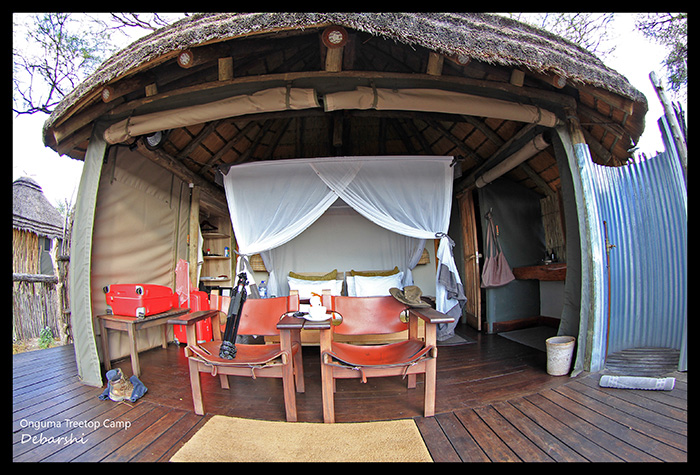 The Onguma Treetop Camp has only 4 Tree houses on Stilts surrounding a large Waterhole connected through a wooden Drawbridge and walkway. Truly giving you a living in the Bush experience! After sunset, you are warned not to walk down alone to the parking lot since it is frequented by Lions & Hyenas. The tree houses are thatched and canvas walled. And they face the waterhole .Truly give you an experience of being in open bush. Another added feature is the outdoor showers with 24X7 hot water facilities. The bar, lounge and dining hall are with an open kitchen. All the guests have dinner together and you have a great community feeling.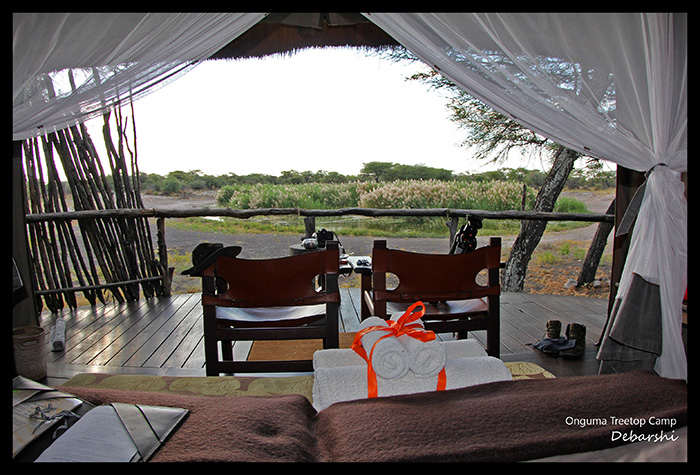 We met an older couple from South Africa, a young back packing couple from Sweden and a much older English couple who were travelling along with their driver guide. In addition , children below 10 are not permitted for safety reasons.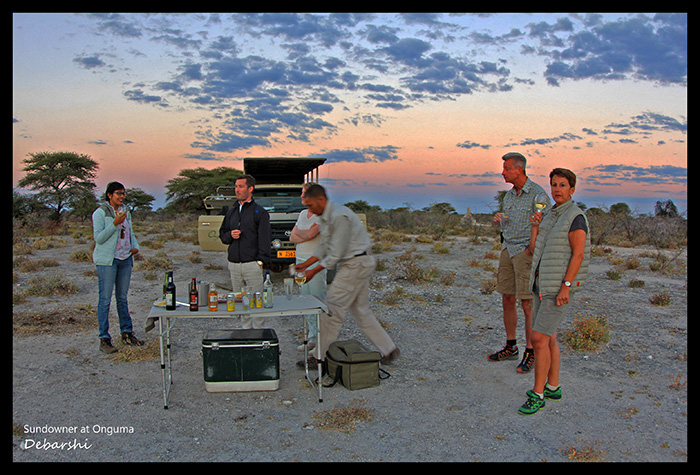 Viewing Giraffes & Hyenas from the bed
Our most notable experience was viewing wildlife in the watering hole from the comforts of our bed. So the first night as we just retired to our rooms, we saw a pack of hyenas at the floodlit watering hole. In addition, the next night, we woke up around 2 am with a rustling sound. This night we were feeling slightly nippy consequently we had dropped the transparent drapes. There was family of 7 giraffes who had come to quench their thirst and were standing right in from of our tree top camp. One of the inquisitive ones also peered into our tree house! It was a certainly exhilarating experience.
Taleni Etosha Village
As you exit from the Andersson Gate on the C38, a drive of 2 km will bring you to this village styled lodge. Not an exclusive experience as the Treetop Camp, but a really comfortable stay. Individual tented spacious air-conditioned chalets with a patio and personal attached parking lots make this quite a convenient lodge. All the chalets are well spaced with mopane trees and equipped with creature comforts – well fitted bathrooms with toiletries, comfortable beds & duvets, mini bar and beverages.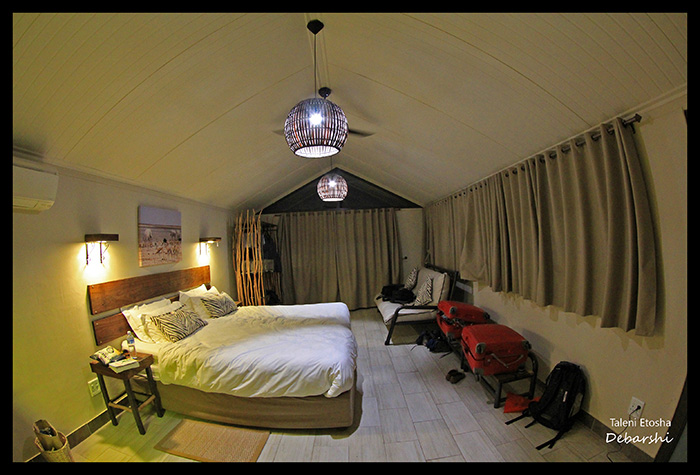 There is small curio shop along with a wide range of camping goods and groceries. There is a 24X7 Refreshment Station with a selection of Rooibos Teas, Coffee, Hot chocolate and small eats.
The breakfast & dinner buffet spreads are enormous served in 3 large separate dining areas. Furthermore,your table is assigned to your room number. There is a live counter which rustles up a mean meal in addition are the salad, dessert, main course and of course the breads spread,
During dinner, the live section served various kinds of grilled game meat – Kudu, Oryx, Ostrich, Wildebeest, Eland, Impala and Zebra along with a live noodles counter. At breakfast the same live counter served up eggs, pancakes and waffles.
Particularly inhabited by large families or individual travelers , Taleni Etosha offers the best value for money.
Debarshi and I have travelled to various national parks across the globe.
Most notably, what did we love about Etosha ?
We especially loved the feeling of independence and sense of autonomy. You can drive at your own tempo and observe nature at its best. In addition , camp where you want for the night under the stars (in designated camping areas). Etosha really is one park catering to the genuine wild life enthusiast, you are left on your own and an honest to God wild life enthusiast knows best not to intrude, but let nature follow its own pace.
Read more about Namibia in our other travel blogs.