Introduction
The prominent British writer Rudyard Kipling pronounced Milford Sound as 'the 8th wonder of the world' in 1890s'. One of the major tourist attractions and natural wonders in New Zealand is the breath taking Milford Sound. About one million tourists come here every year to see the soaring peaks from the waters, gushing waterfalls and wonderful wildlife.
Having traveled to Norway, I did sail across many a fjord there. But Milford Sound outranks them all and I would label this as the first or second scenic fjord of the world.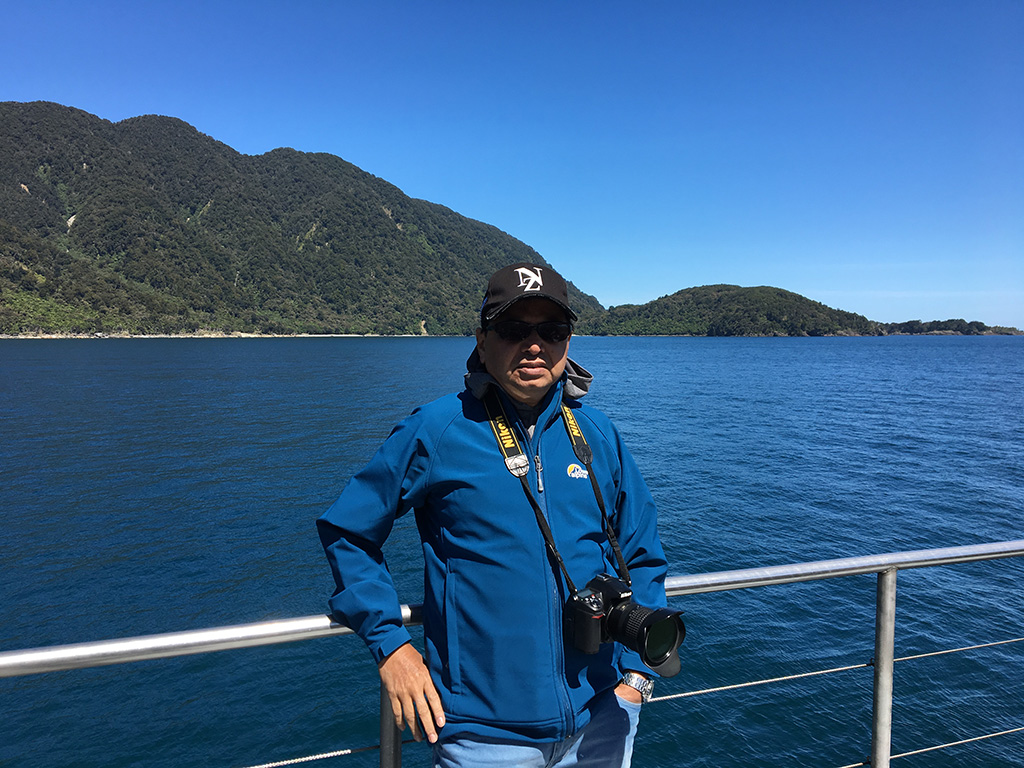 History of Milford Sound
The indigenous Māori tribes in the South Island discovered Milford Sound more than 10 centuries ago. They gave a beautiful name for Milford Sound – Piopiotahi literally meaning a single piopio.
Legend says that when the Māori warrior Maui died, "a single piopio" (An extinct native bird) flew here mourning his death and great deeds.
In recent times, this fjord was named Milford Haven by Captain John Grono in 1812, the first European explorers after his native land in Wales. It was John Lort Stokes who coined the name used today – Milford Sound.
In 1880, Donald Sutherland and John Mackay discovered the Mackay and Sutherland Falls followed by the McKinnon Pass in 1888.
Facts on Milford Sound
This is the most recognised and accessible among the Fjords in New Zealand. Another striking one is the Doubtful Sound (though we did not visit here).
Sheer rock faces outline Milford Sound rising more than 1200 meters above the water levels. The highest peak is the 1692 meter high Mitre Peak.
Milford Sound is probably the wettest inhabited place in New Zealand with an approximate annual rainfall of 6800 to 7000 mm and thus amidst rain forests .
You may be lucky to see a few temporary waterfalls and will absolutely see the permanent waterfalls – Lady Bowen Falls and Sterling Falls.
How was Milford Sound formed?
Many million years ago, tectonic activity moved the earth's crust upwards creating sedimentary deposits – limestone, sandstone. These eventually rubbed, scraped and shifted giving way to form the craters and mountains in Milford Sound. Much later during the Ice Age, the sheer weight of the glaciers moving from the mountain to the coasts of the Tasman Sea created the crevices known as the Fjords. And then centuries ago, when the ice melted, the picturesque Milford Sound was created.
How to reach Milford Sound?
You can reach Milford Sound from Queenstown or Invercargill or Te Anau by road or can also take a flight over the Fjords. It is about 288km from Queenstown and 121km from Te Anau.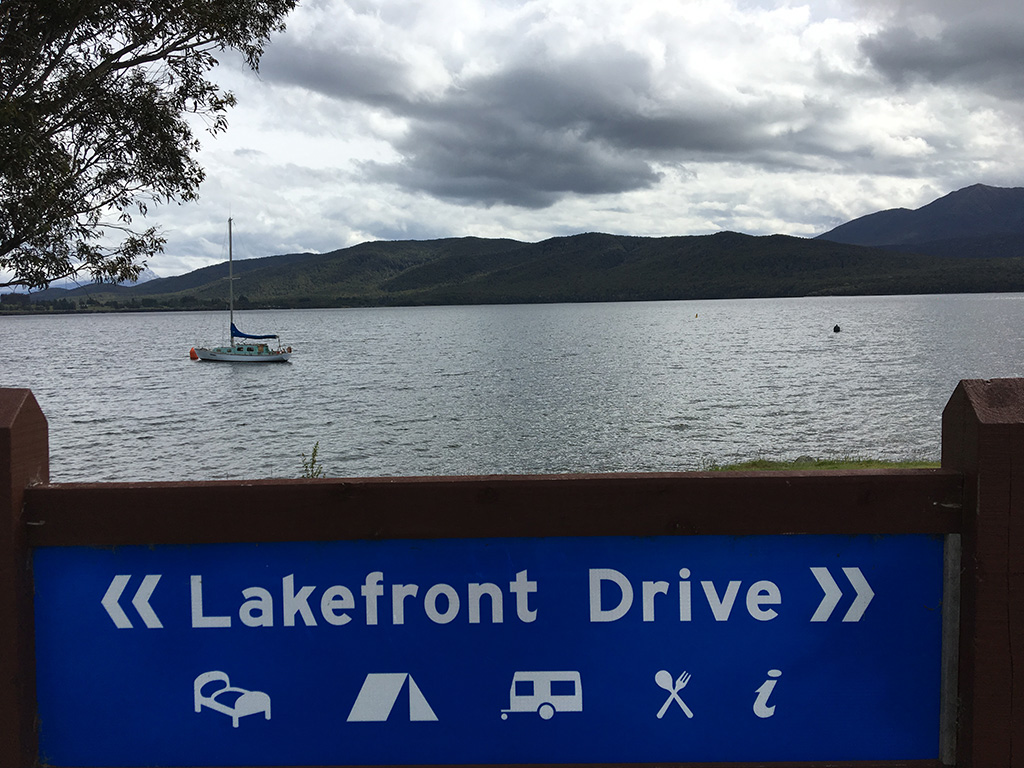 I would suggest staying at Te Anau and driving down the next morning .The road to Milford sound is truly one of the most scenic routes in New Zealand. In 2016, Debarshi, Chandrima & I had embarked on a road trip across New Zealand. We lodged at the Edgewater Motel for two nights in Te Anau .
We started at 7:45 am from Te Anau after breakfast .Climbing through the Southern Alps, State Highway 94 is one of the highest and most scenic state highways in New Zealand. The Milford Road, part of SH94, took us from Te Anau through Fiordland National Park to Milford Sound.
There are at least 6 scenic stops on the way with clear road signs in each of these stops – Knobs Flat , Mirror Lakes , Eglington Valley , The Chasm , Monkey Creek and of course the 1.2km long engineering marvel Homer Tunnel. The tunnel has been operating since 1954 and is open for two-way traffic during avalanche season and signals operate from 9am to 5pm to prevent traffic blocks.
It was William Homer and George Barber, who discovered the Homer Saddle in 1889 and suggested building a tunnel here for easy access to Milford Sound.
Debarshi & Chandrima went for a stroll through native beech forest on the Chasm Walk on the way back. While I watched the naughty playful Mountain Keas (Alpine Parrots) in the parking lot.
Weather in Milford Sound
It rains on an average 183 days in a year, but we were one of the lucky ones to be on the cruise on a sunny day. But worry not. The rains bring out an ethereal incredible beauty in Milford sound as well. You get to see numerous temporary spectacular waterfalls flowing into the fjord.
Temperatures do vary here depending upon the season from an average high of around 19C in summer to 9C in winter.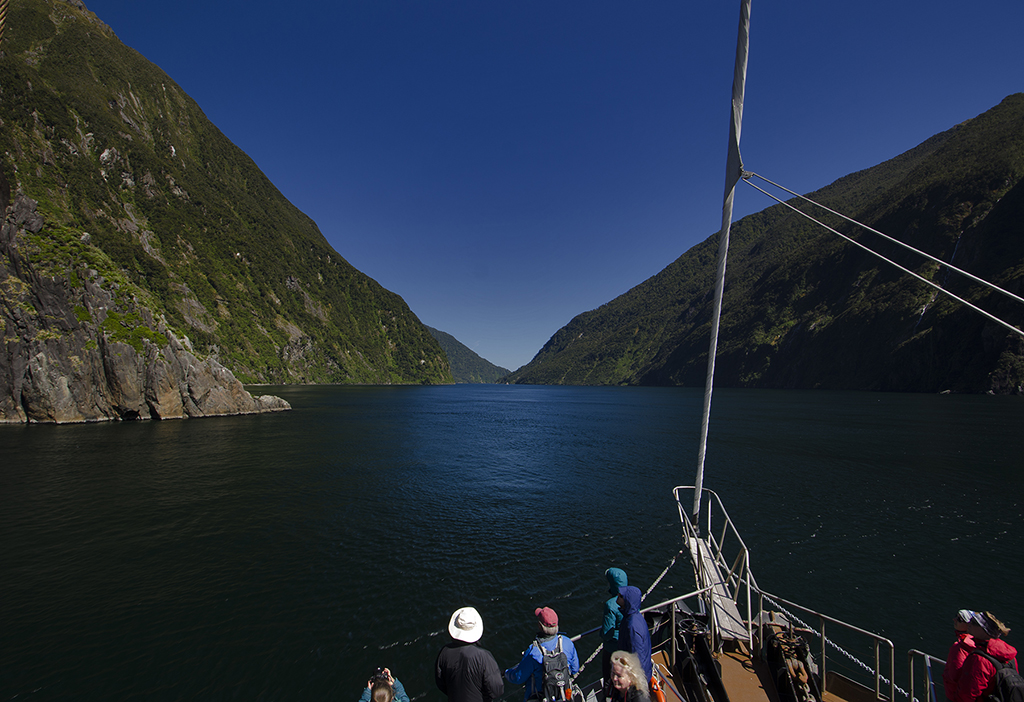 Our Experience
Milford Sound Cruise
We had booked the Milford Sound Nature Cruise – Real Journeys . Our cruise was scheduled at 11 am from the Visitor Terminal and we checked in by 10 am. The cruise is about two and half hours.
There are several other operators like Cruise Milford, Southern Discoveries, Mitre Peak Cruises, and Jucy Cruises. There are also a number of Kayak cruises ( Real Journeys , Southern Discoveries , Go Orange )and we did see many kayaks floating out alongside our larger boats.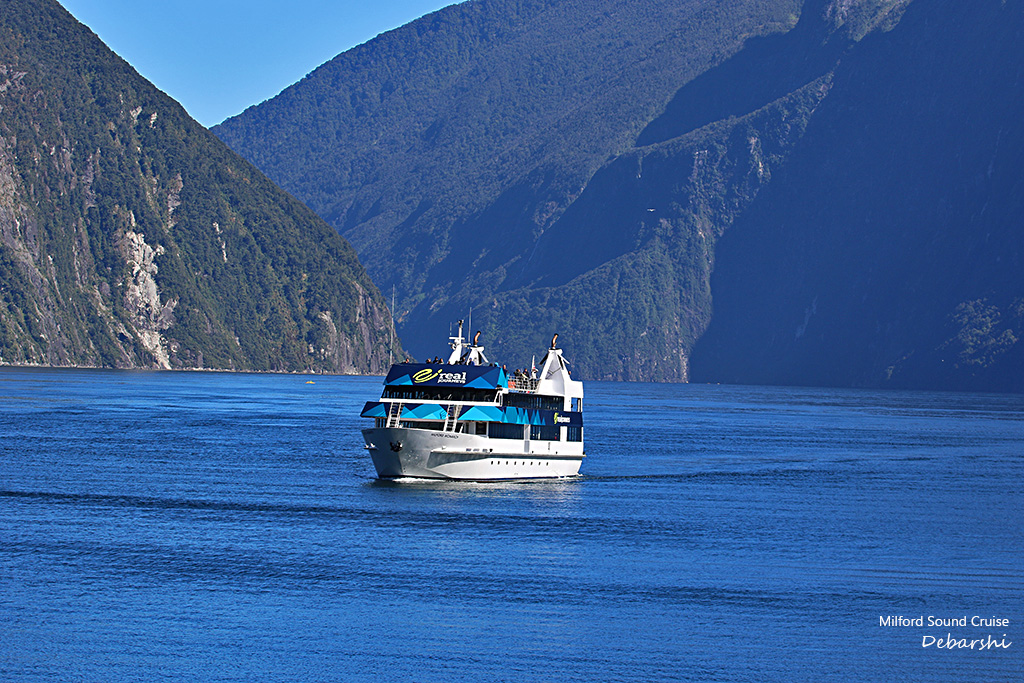 Our fare included a boxed picnic lunch . Needless to mention, it is quite a sumptuous treat – Cold cut Sandwiches, Fruit, Wafers, Nuts, Chocolate Bars, Crackers with Cheese, Drinks and a lot more.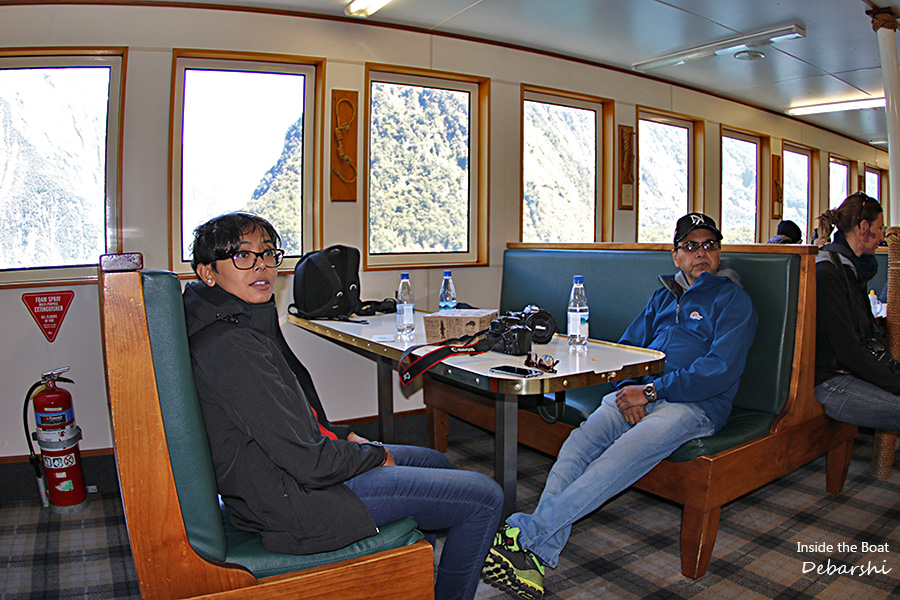 We were blessed with a glorious sunny day, so almost all the tourists were on the upper deck clicking away all the while. There were also a couple of specialist nature guides speaking on the history of Milford Sound as well as showing us the look outs for penguins and fur seals.
We began by seeing the Lady Bowen Falls sailing quite close to that and then later on to the Sterling Falls. There were also a few smaller waterfalls. The cruise goes for about 16 kilometres inland till we reach Dale point, the mouth of the fjord opening out into the vast open Tasman Sea.
Debarshi, Chandrima and I travelled across the length of charming New Zealand starting from Auckland in North Island to Stewart Island. Unsurpassed scenic roads, myriad landscapes, countless sheep, lofty mountains, rolling hills and meadows, clear sapphire lakes and great food made this a dream vacation .