Road Trips in India – Leh Manali Highway
Introduction
The Leh-Manali Highway in North India is one of the most treacherous yet ruggedly picturesque highways probably in the world. As the name suggests, this highway connects Leh, Ladakh in Jammu & Kashmir to Manali in Himachal Pradesh. The highway spans about 500 km (490 km precisely) and was built by the Border Roads Organization . This important stretch of road connects the Manali, Lahaul, Spiti and Zanskar Valleys.
This highway is quite dramatic in its landscape replete with snow crossings, completely broken roads, rock formations, water crossings, landslides, mountain passes above 5000m and sometimes a flock of befuddled sheep.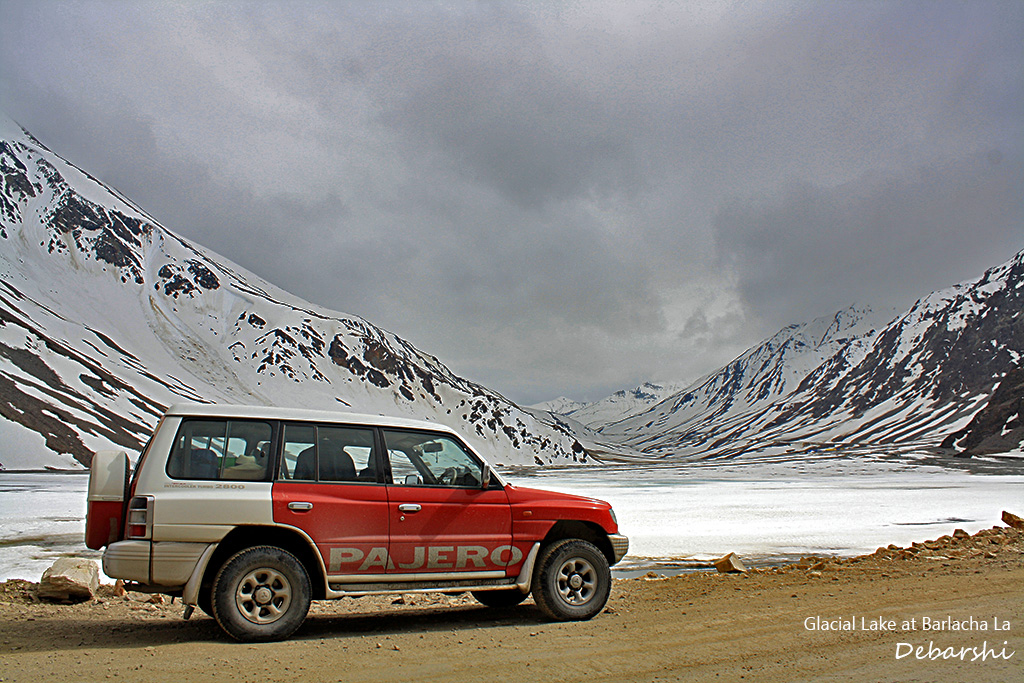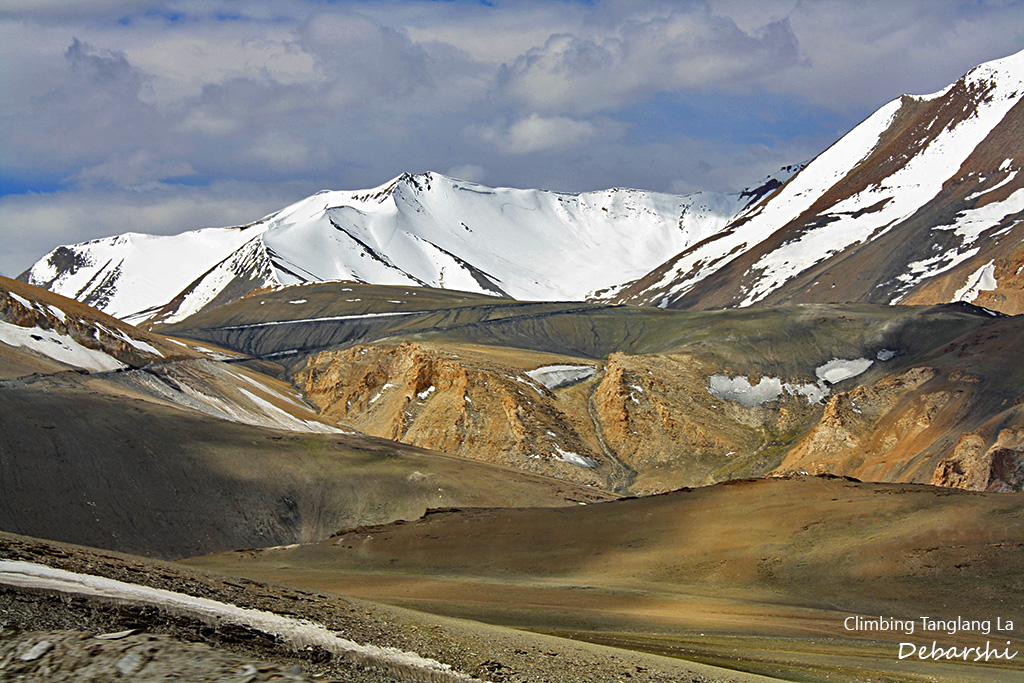 Our experience
We have crossed this highway twice in our lives both on our way back from Leh in 2012 and in 2014. I have added anecdotes from both the times.
Following were the places on our route we drove through:
Leh -> Karu -> Upshi -> Rumtse -> Tanglang La -> More Plains -> Pang -> Lachulung La -> Nakee La -> Gata Loops -> Sarchu -> Baralacha La -> Zingzingbar -> Darcha -> Jispa -> Keylong -> Rohtang La -> Manali
We covered the highway both times in two days, with a night halt in Jispa. This route consists of 4 of the highest passes – Tanglang La, Lachulung La, Nakee La and Baralacha La. I recommend doing it in two or three days to enjoy this rugged beauty.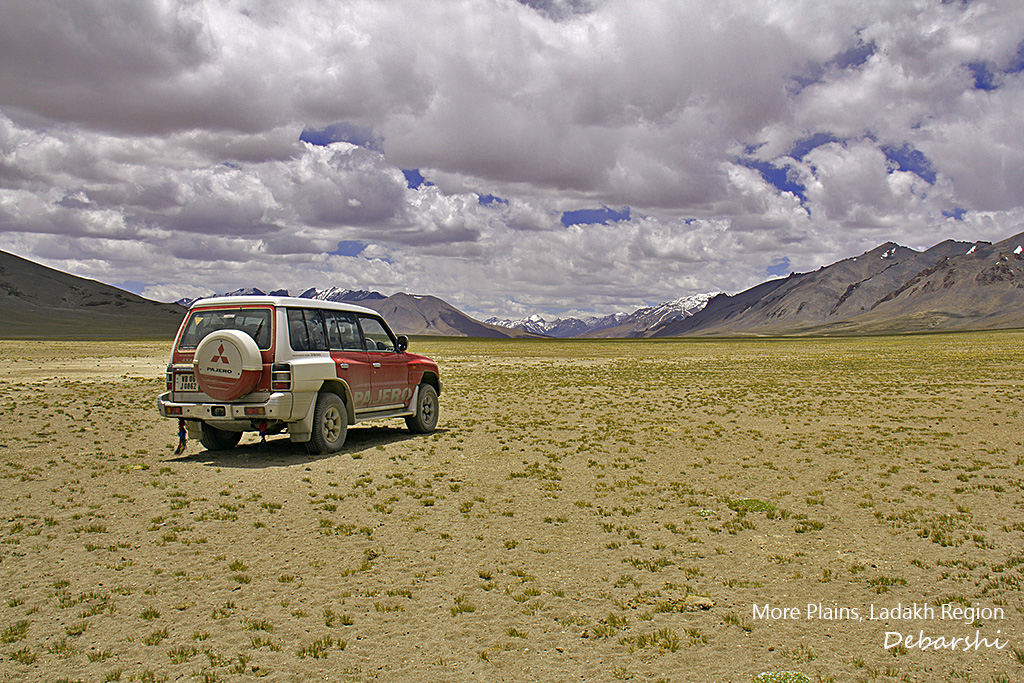 Leh, Karu & Upshi
We were staying at Ladakh Sarai in Leh (Saboo Village) owned by our good friend Rigzin Namgyal. He started out with Ladakh Serai and now owns several other resorts in Ladakh. A very energetic happy go lucky fellow, and always a pleasure to interact with. He also gave us packed sandwiches, boiled eggs & parathas as we left at sunrise.
We crossed the Shey Palace, Thiksey Monastery on our left and the renowned Hemis Monastery on the right. I will cover details of all the monasteries we visited in Ladakh in a separate blog.
Karu has a check point and crossing, the road to the left goes towards Pangong Lake crossing the Chang La. We took the other road and drove towards Upshi .Crossing the Upshi Bridge, we realized something amiss with our car. To my dismay, I found one of the tires fully deflated. On a closer look, I realized that the sharp rocks on the way had slashed the tire probably beyond repair. I replaced the tire and then hoped that bad roads did not mar our journey in this route, we still had to cover 300kms to Jispa without a spare tire.
We also learnt an important lesson in this trip in 2012. We now always travel with 2 spare tires both in India & abroad on our self-drive trips.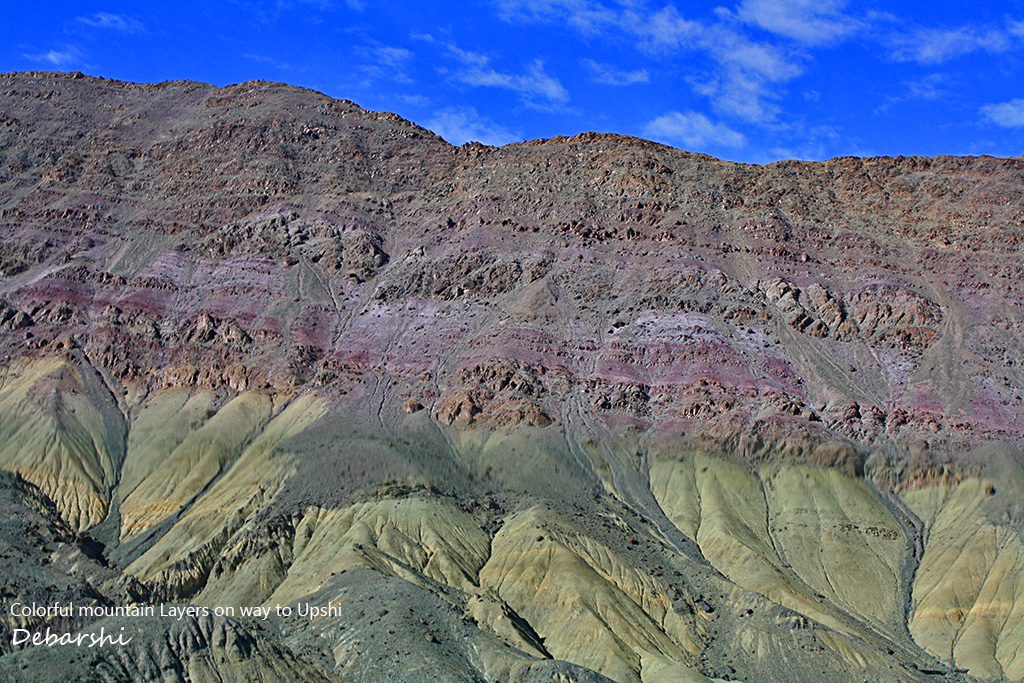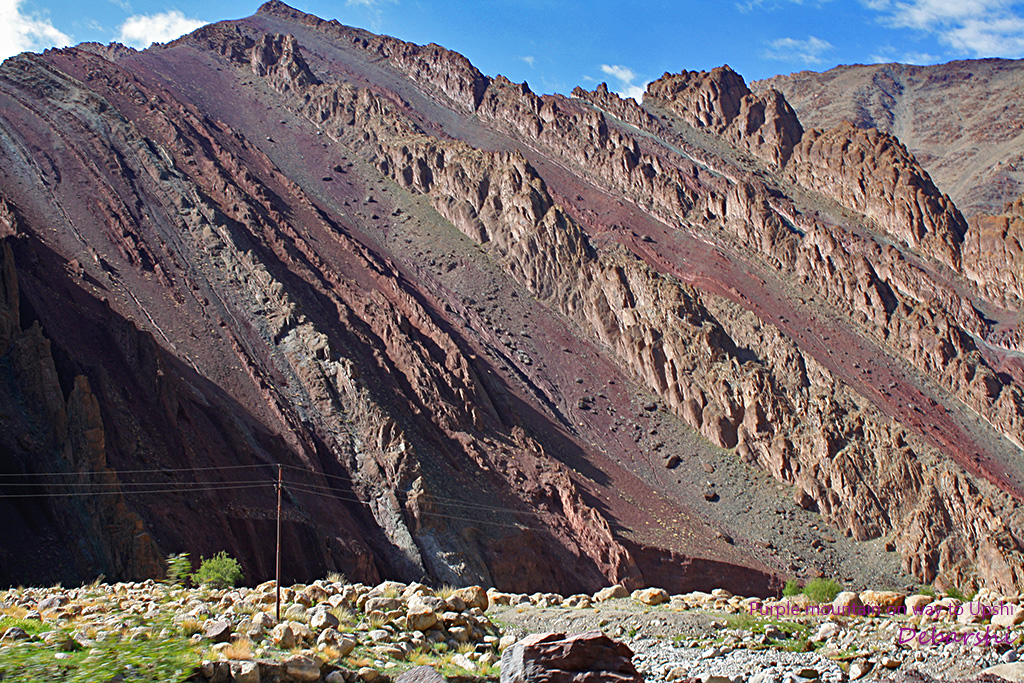 Tanglang La
Throwing Caution to the winds, we drove on. After Rumtse, the climb towards Tanglang la was rough. The road has many broken unpaved stretches. This is a common phenomenon in the Himalayan roads. The Himalayan range is one of the youngest mountain ranges and is ever changing. Thus, BRO has an unenviable task of continuously maintaining and constructing these roads.
As we crossed Gya and Rumtse, we did see a few village hamlets amidst the formidable mountain range. We soon commenced our climb to the pass. We saw an oil tanker had turned turtle the previous evening or so and was lying on the hairpin bend below. The roads leading to this reportedly second highest mountain pass in the World were broken and it was at best an off road. Our Red Rackham managed these bad roads with ease and descended towards the More plains.
Tanglang La is at an altitude of 5328 meters. The milestone on the pass mentions that this is the second highest pass, but we later found that to be a misnomer. Nonetheless, the drive is truly remarkable.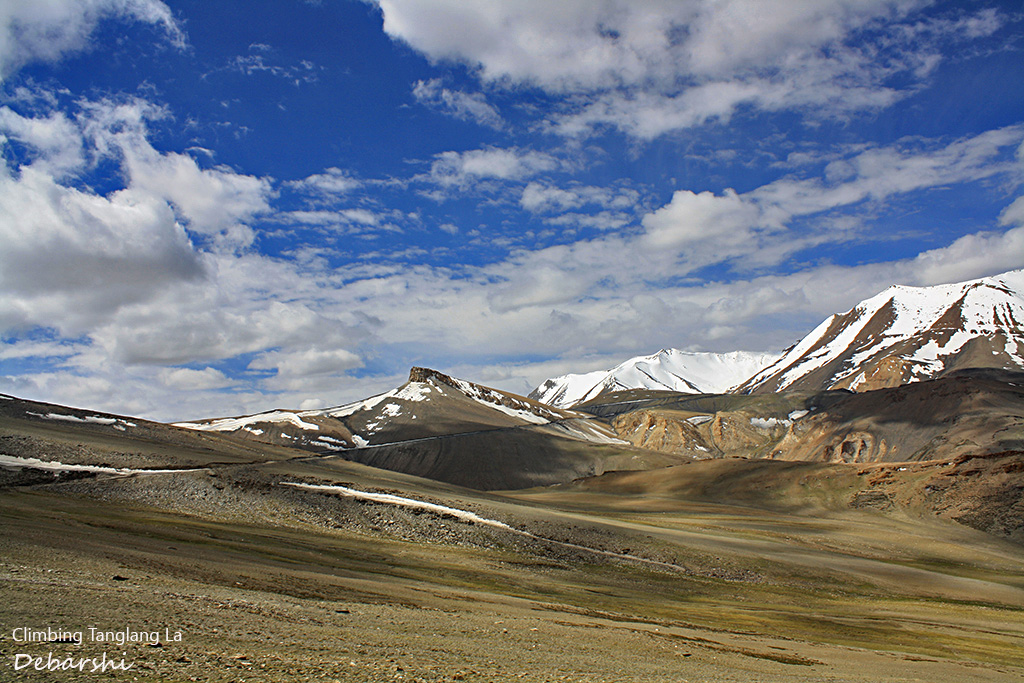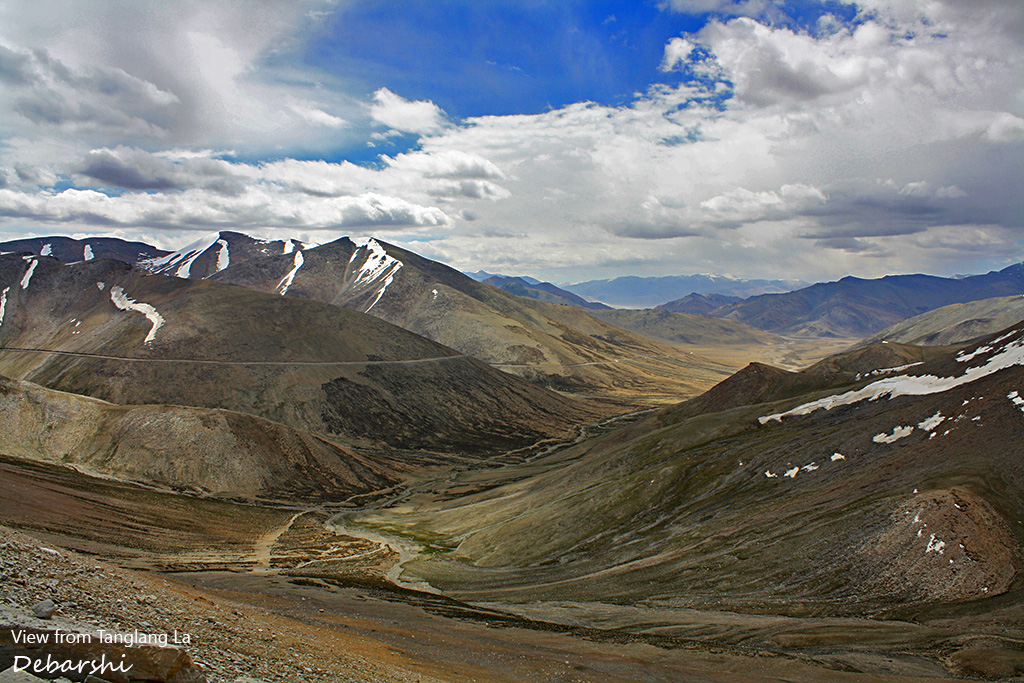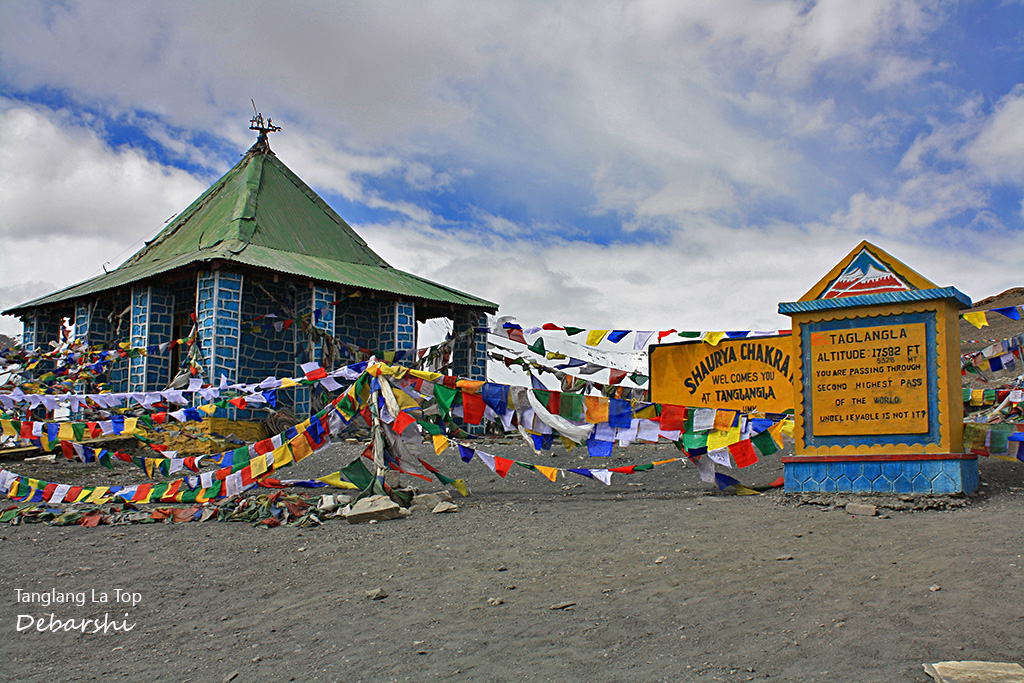 More Plains & Pang
The More plains is an unusual flat land at an altitude of about 4500 meters, extending for about 50kms girdled by low hills. It is a wonder of nature at such an altitude and one can spot herds of Kiangs (wild asses) here. You will also drive along the Sumkhel Lungpa River at places. Driving through these plains at Himalayan altitudes is very surreal.
This is a good place to stop for some roadside tea and breakfast.
In 2014, we had some funny incidents here. As we stopped for our packed sandwiches one of our friends zoomed in with a following cloud of dust, locked his car (Skoda Yeti), left the keys inside and casually slammed the door as he stepped out! I smashed open of the rear windows, and climbed in to retrieve his keys.
Meanwhile another friend of ours driving a Mahindra Thar was trying to fix his tire mount . It had completely come off on travelling on the broken roads . His pet Rottweiler , Joey was languidly sitting down beside him.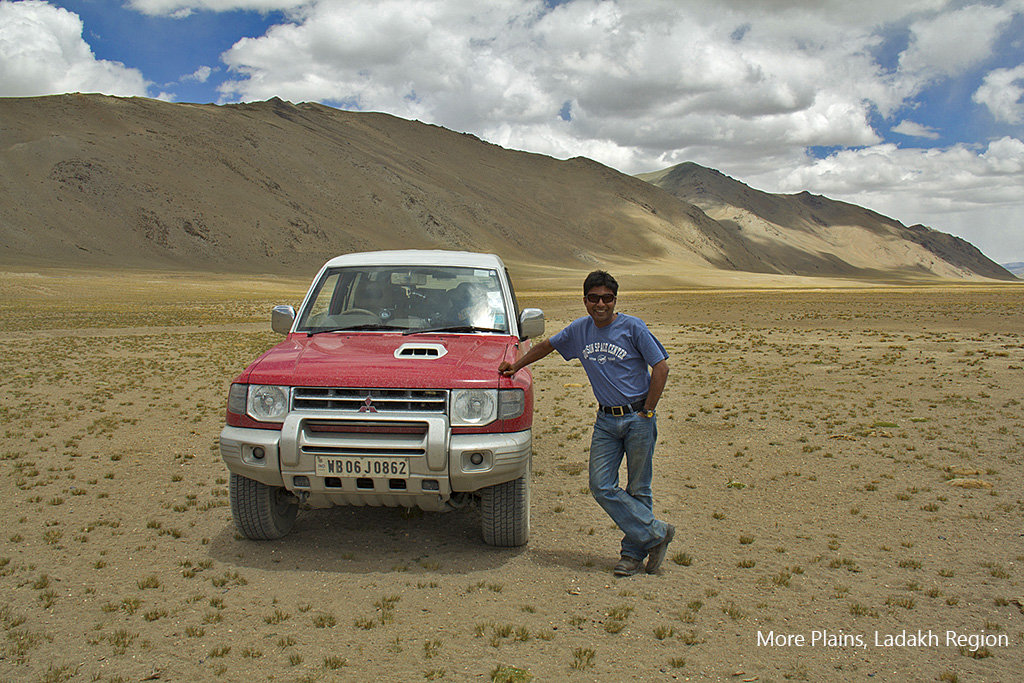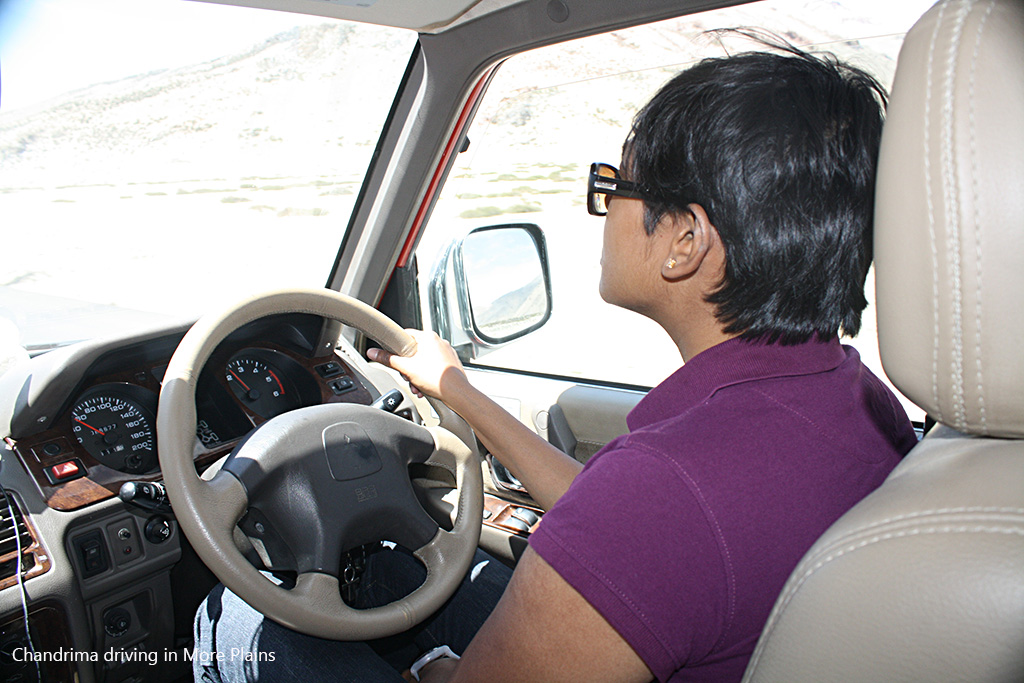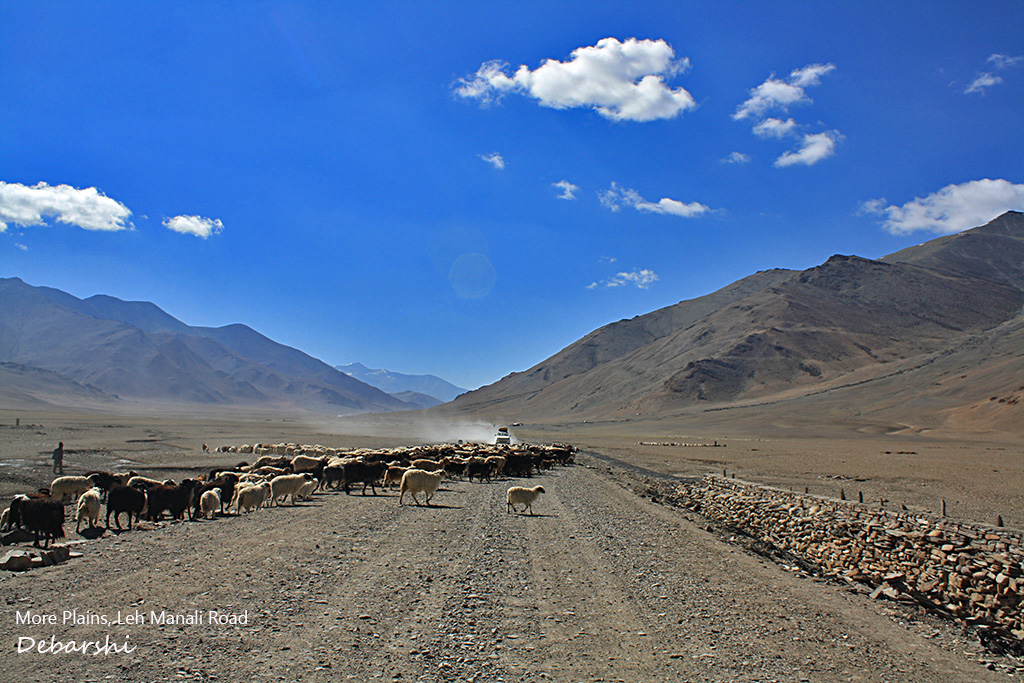 As you drive along towards Pang, the region becomes barren and dusty in different shades of brown. Pang is another example of breathtaking landscapes and rock formations and wind eroded mountains. The gorge carved by the Tonza and Lachulung River is quite a view and so are the extraordinary shapes on the mountain cliffs. Pang has an army base and you can seek help in case of medical emergency.
The entire way is dotted with BRO worker camps building roads which wash away every winter from the glacial formations. We were stopped at many places by these construction workers asking for food and drinking water. We readily gave them bottles of the water and the food we were carrying.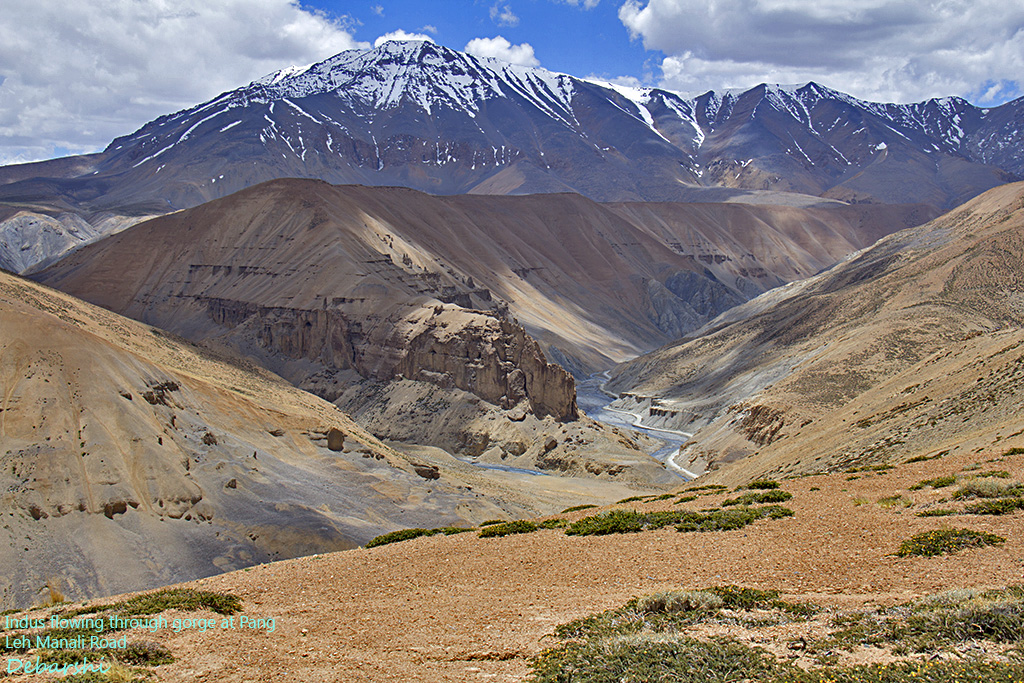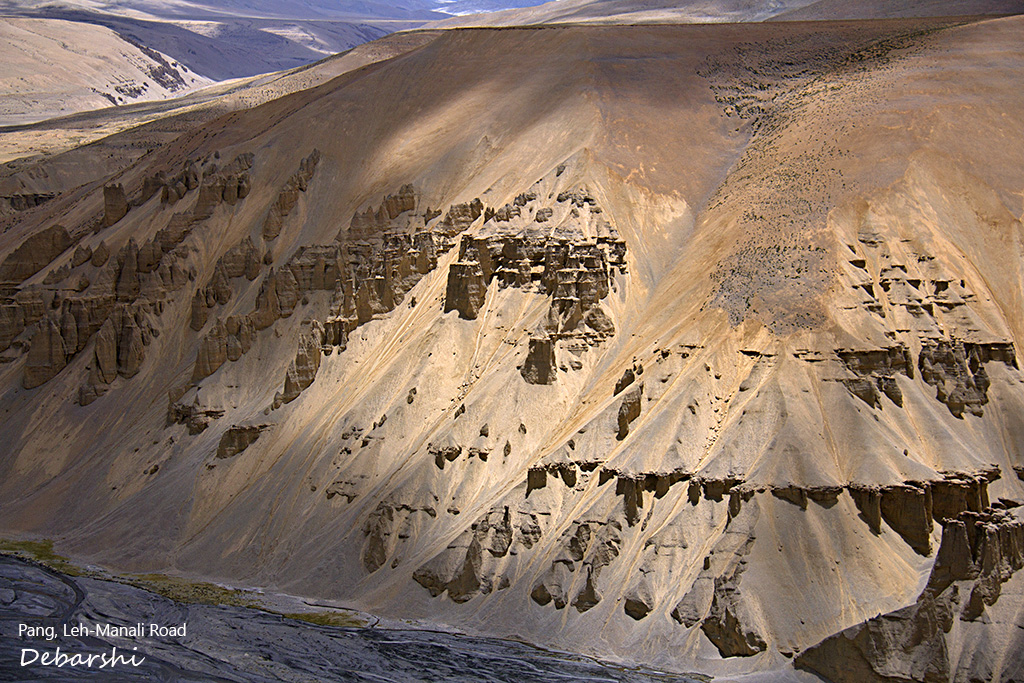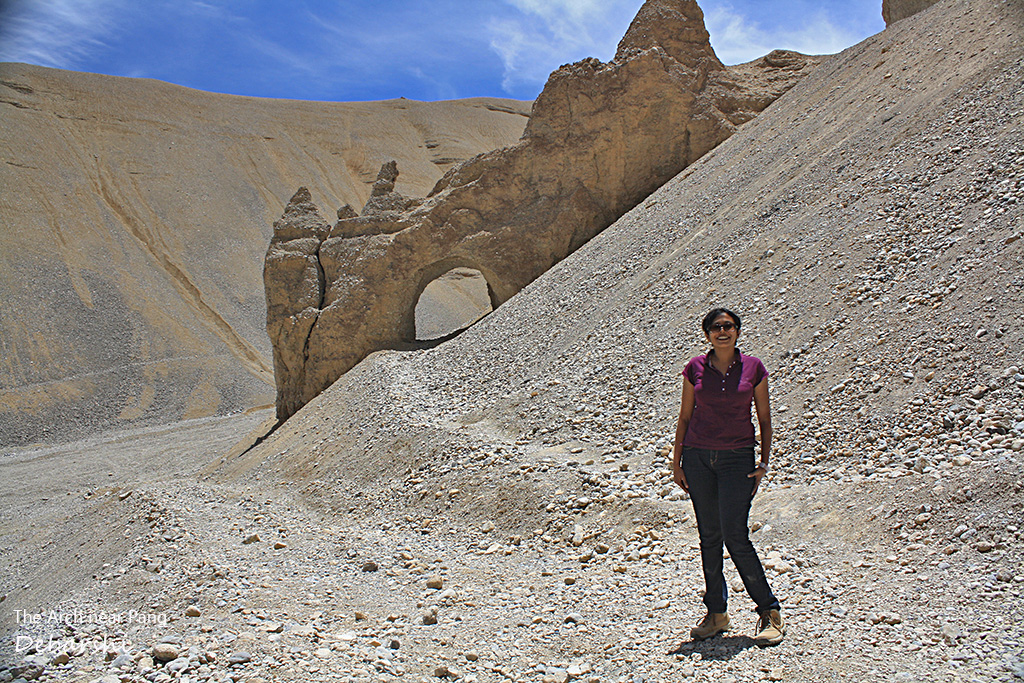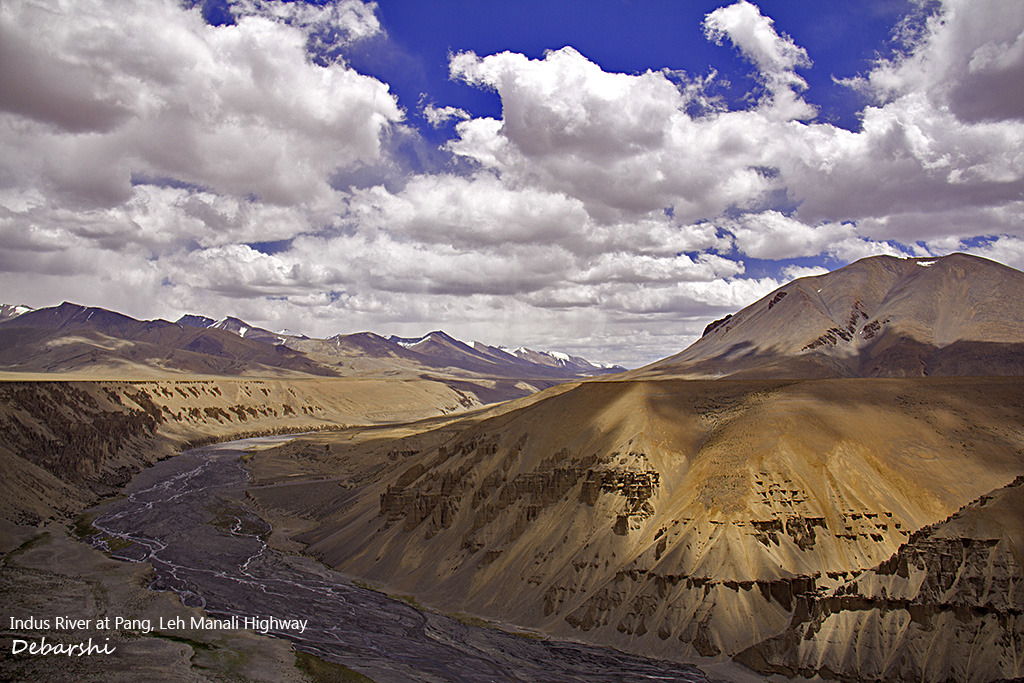 Lachulung La
We geared up for crossing the Lachulung la pass at 5100 meters. The road is quite jagged at places and at times you will see trucks travelling only at 15 to 20 km/h due to the road conditions. It becomes challenging as you drive along as you see the road steeply dropping into ravines right at your side to several hundred meters!
We descended from this spectacular pass onto a river bed. The road was completely washed away and we drove through the stream bed. Red Rackham was immensely glad. A few vehicles sought our help and we towed them out from there.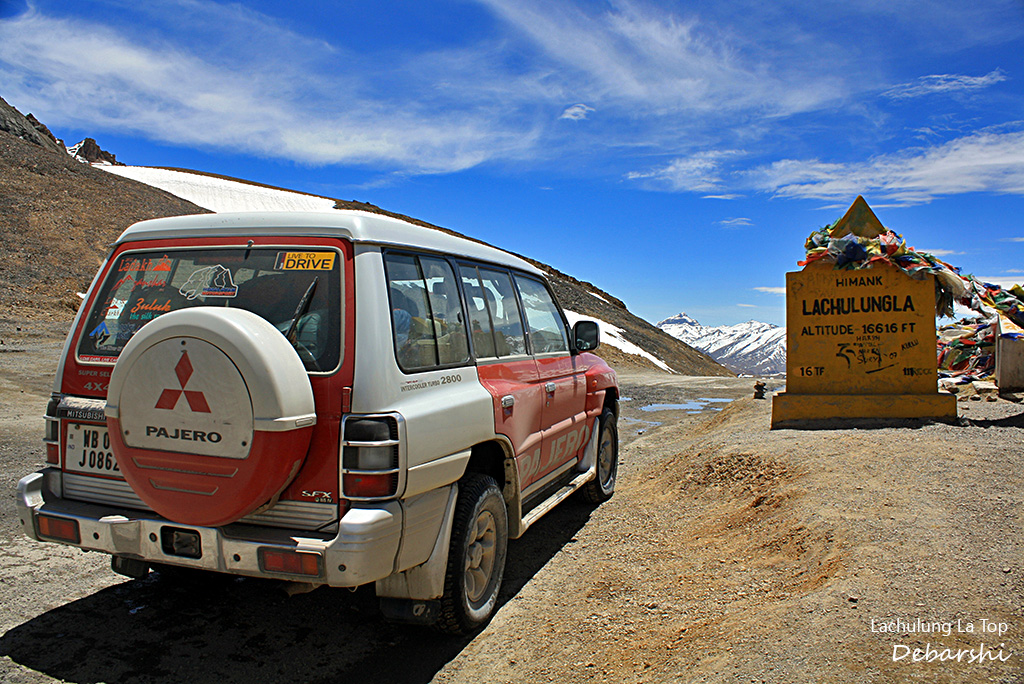 Nakee La and the Gata Loops
Soon, you will not even realize that the road immediately starts ascending for the rocky Nakee la at 4800 meters. The road surface is paved but only in gravel sections in some places. There are many sharp hair pin bends rapidly ascending to Nakee la past some jagged and rocky cliffs.
There were a few intimidating places when you wait on the side of the road for a truck to pass as you gaze down at the ravine straight dropping down. But truly, many tourists do not even notice while crossing this pass.
In 2014, we did also come across some patches of ice which make this road slippery. Fortunately, the 4 wheel drive mechanisms of our vehicle pulled us through smoothly.
And then you come to the fabled 21 Gata Loops. These are very sharp hair pin bends with one loop leading to the other bringing you down from 4980 meters to 4250 meters. You may also read about the ghost of the Gata Loops, but we did not encounter any!
In 2014, our friend JD got so tired of navigating the loops that he just drove his Thar down hill and waited for us at the base.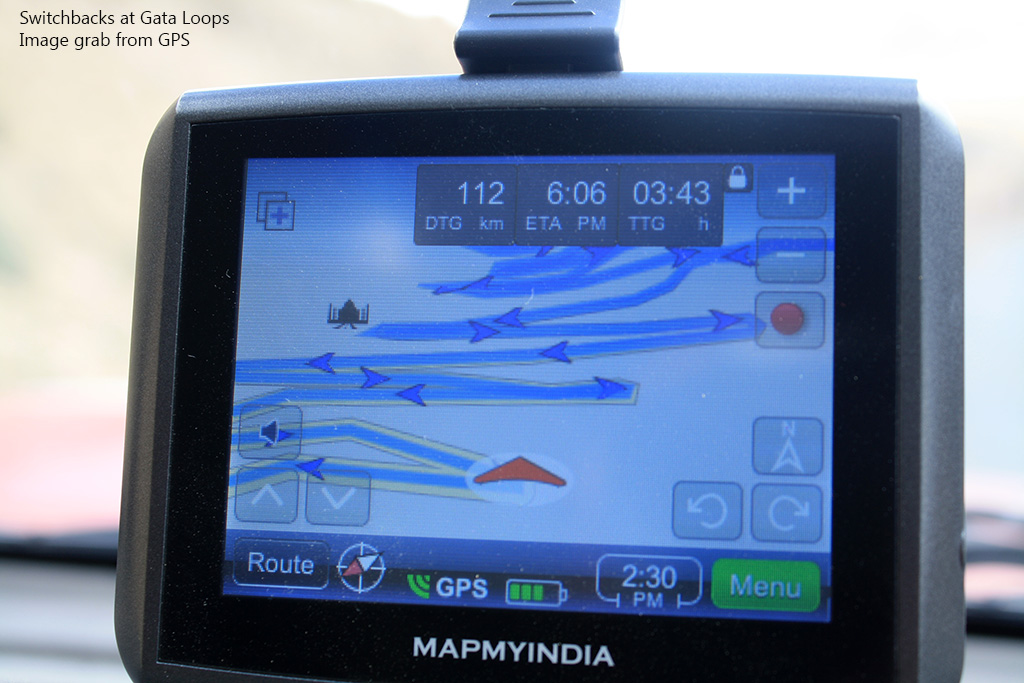 Sarchu
Sarchu is another valley with rolling grassy plains at about 4200 meters. The Yunam Chu flows through this valley between the Himalayan and Zanskar ranges creating a beautiful river gorge.
Compared to More Plains, this is much more lush & green and thus you will find several Tented Accommodations and Roadside Tea Stalls. This is a good place to stop for a tea break with instant noodles and hot tea at any of the makeshift shops.
You can also choose to camp here with your own tent or stay in any of the tented accommodations ( Adventure Camp, Antrek Camps , Dorje Camps to name a few)
Baralacha La
Brace yourself for the most magnificent pass hereafter! You will soon start ascending towards the marvelous Baralacha La at an elevation of 4,890 meters. We drove through absolutely no roads, with walls of blue ice on both sides of the path and even crossed a few melted glacial streams. The bikers driving alongside were really having a tough time on these roads.
This pass links the Pir Panjal range with the Zanskar valley and the Great Himalayas and meets the Chandra, Bhaga and Yunan rivers.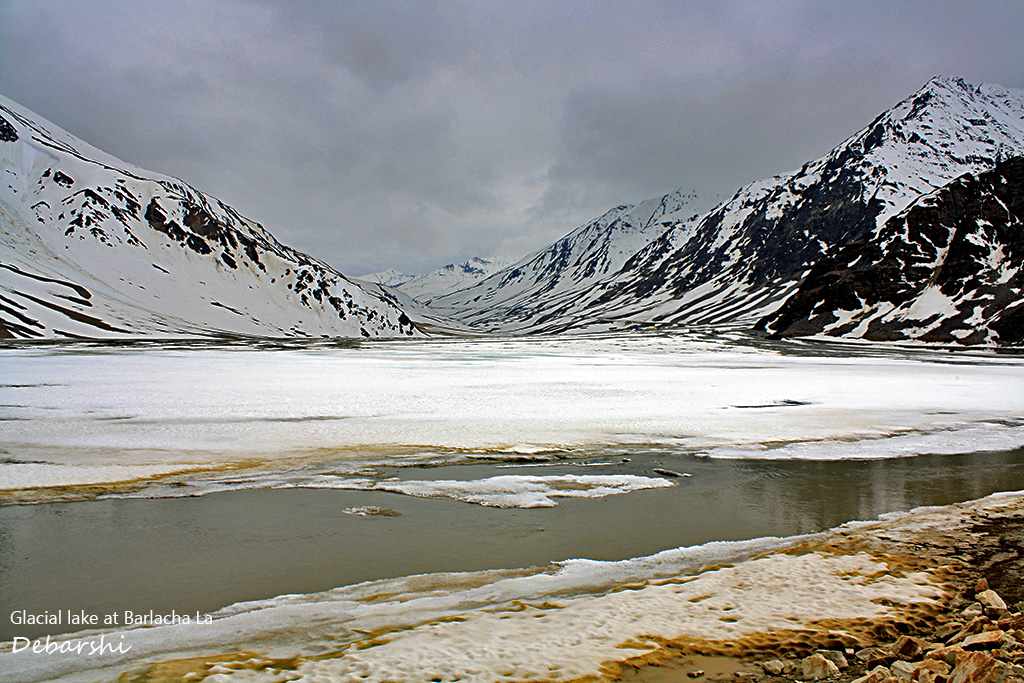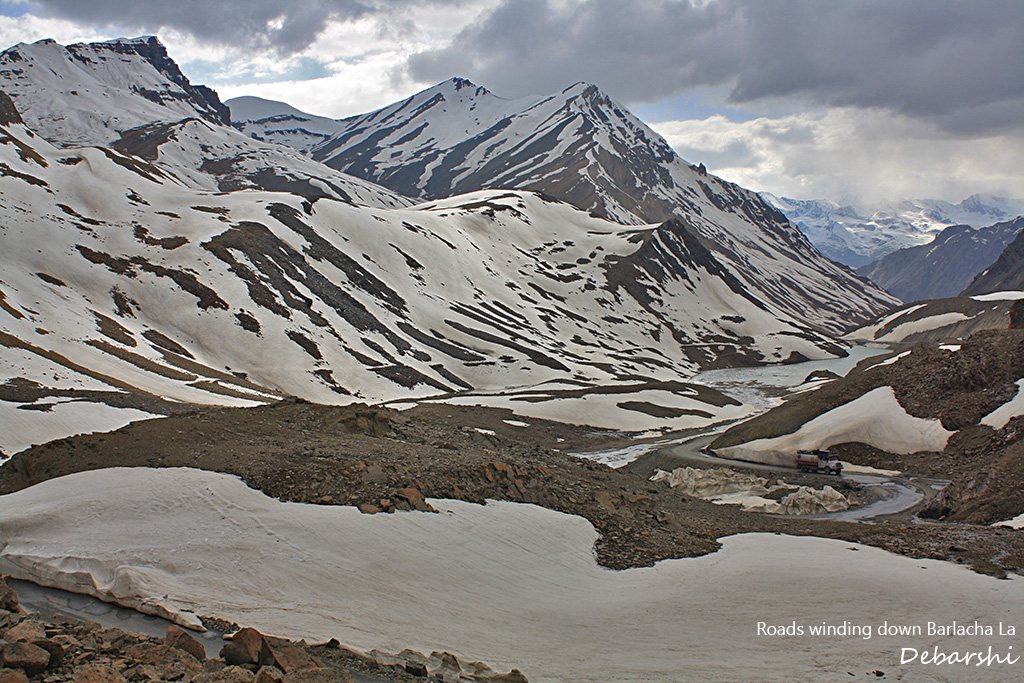 Several trekking routes also start from this point (e.g. a week's trek to the Chandra Taal). For us both the times, we found the pass to be snow covered even in June. Just a fair warning! The weather is quite capricious and can change from sunny to overcast and can snow even in July at this location.
Just a few km below the Baralacha-la is the stunning Suraj Taal (Sun Lake). The lake is a treat for the eyes and I recommend a must stop here to enjoy this unmatched topography. The lake is also the source of the river Bhaga.
With mighty mountains all around and the snow cover, it is truly and abode meant for the Gods.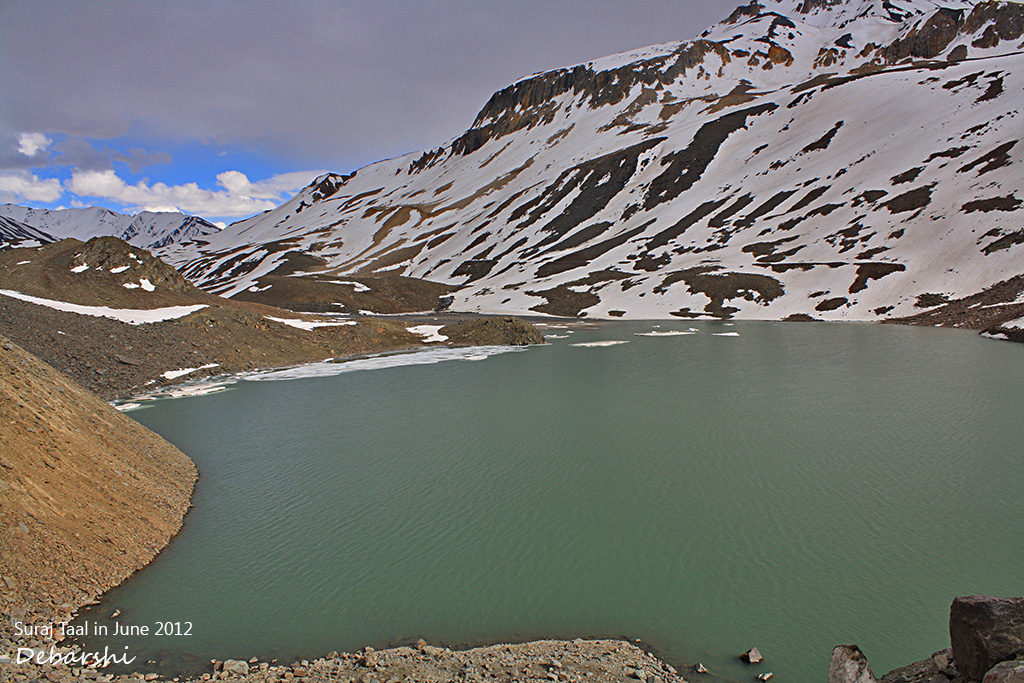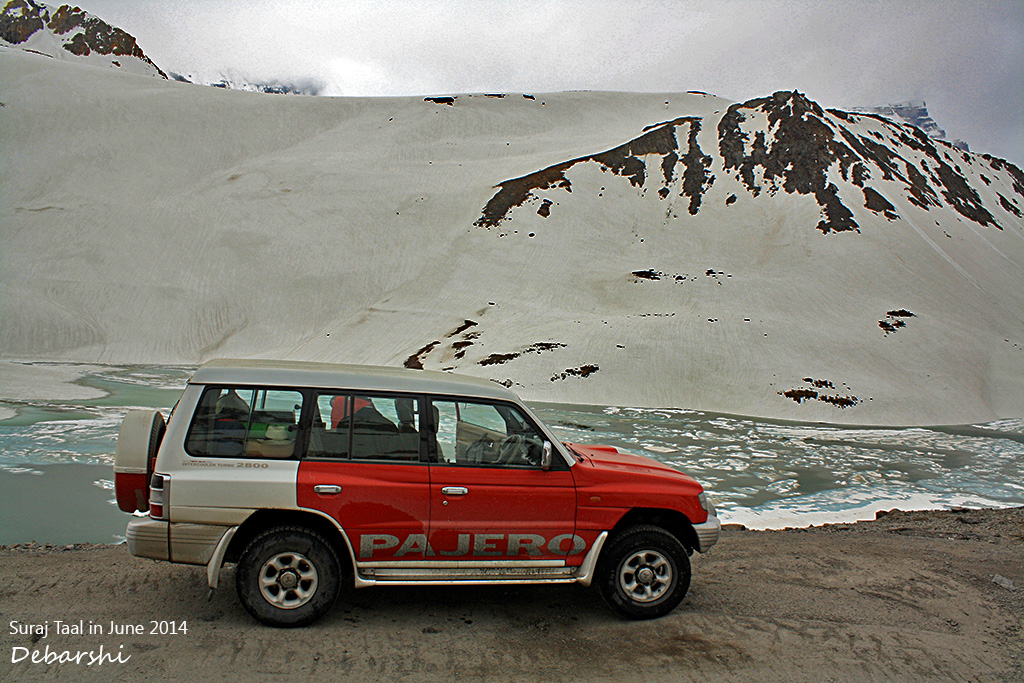 Following are some images of road cut through ice walls left over by the last winter at Barlacha La and Suraj Taal: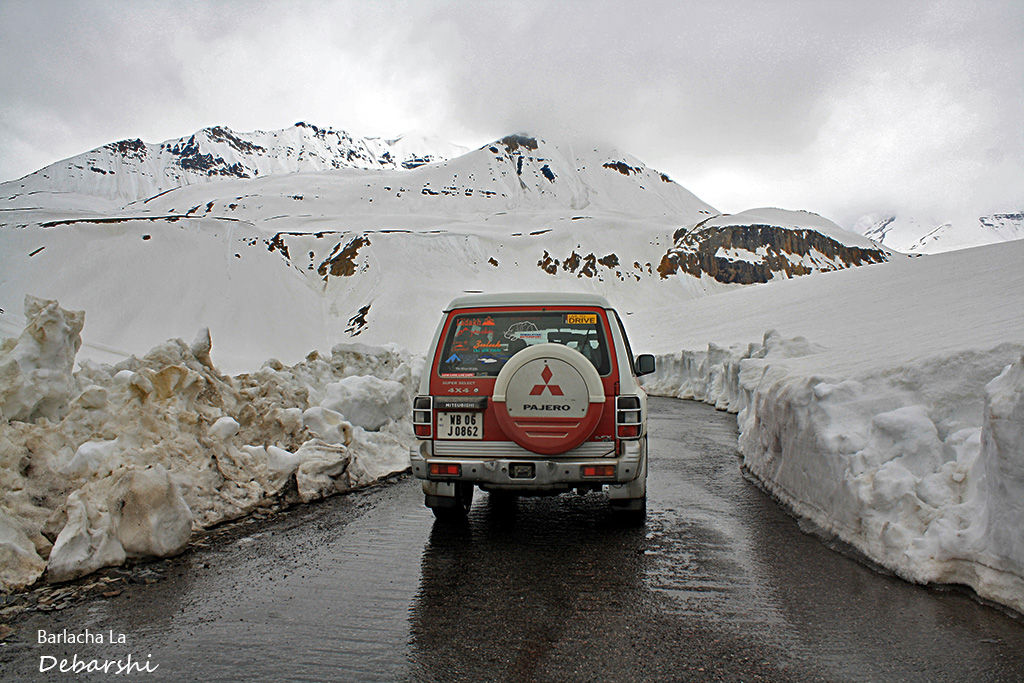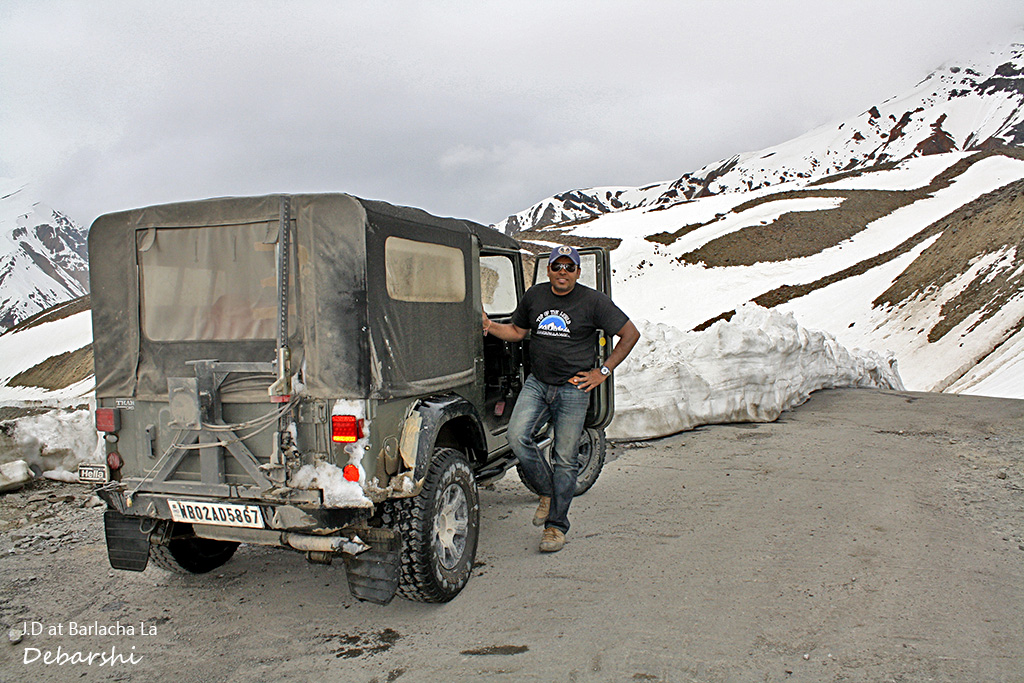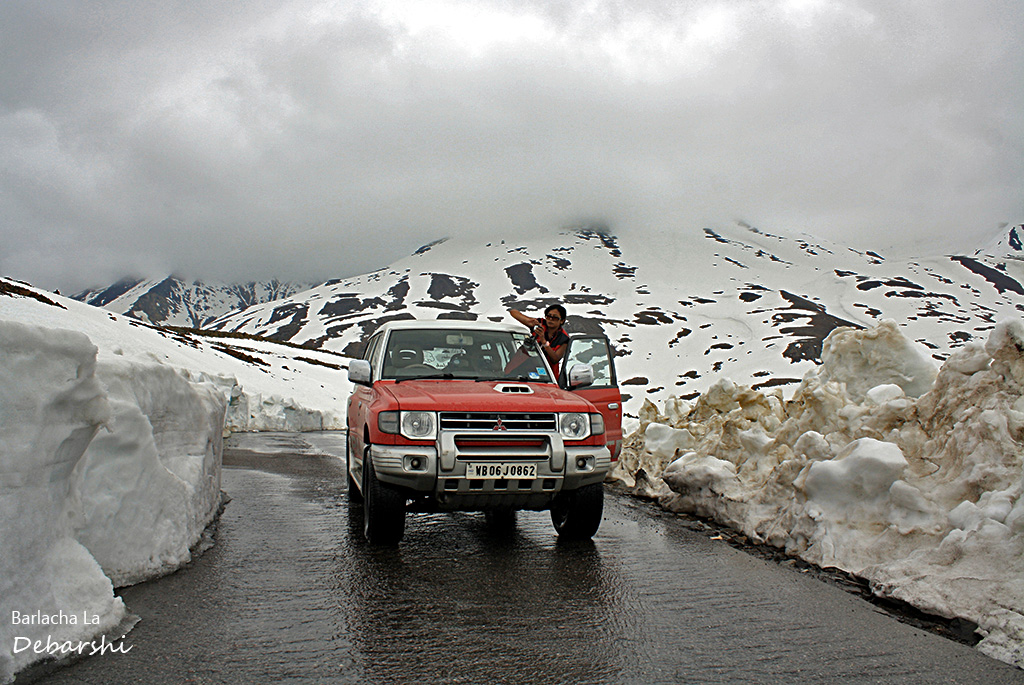 Zingzingbar
The Leh – Manali Highway is badly damaged every year owing to the heavy snowfall. BRO has the unenviable task of repairing this since it is a tactical highway . Zingzingbar has the BRO worker camps.
You can stop for a cup of hot tea after this strenuous drive. But a fair warning since this place is a perpetual construction and thus extremely dusty.
I remember our friend JD & his Rottweiler, Joey both alighting from their Thar – one completely sooty black and the other's black coat completely ashy grey!!
Darcha and Jispa
About 40kms from the Baralacha-la lies Darcha.
Both the times, we found the roads to be completely broken and narrow. In 2012, at a point we had to reverse our vehicle for about half a kilometre to pass an oncoming truck. We also crossed a river bed here. There are a few makeshift tire repair shops here.
In 2012, we had stopped to repair our damaged tire (remember the one in Upshi), but could not.We finally reached Jispa by evening. Both the times we have stayed at the Padma Hotel, which has rooms and nice tents. There is also another one – Hotel Ibex.
Jispa is a nice little settlement with high snow capped mountains all around and situated at an altitude of 3200 meters. There are some good tire mechanics here and one was able to fit a tube on my ripped tire. It became good as a spare tire for the rest of the journey.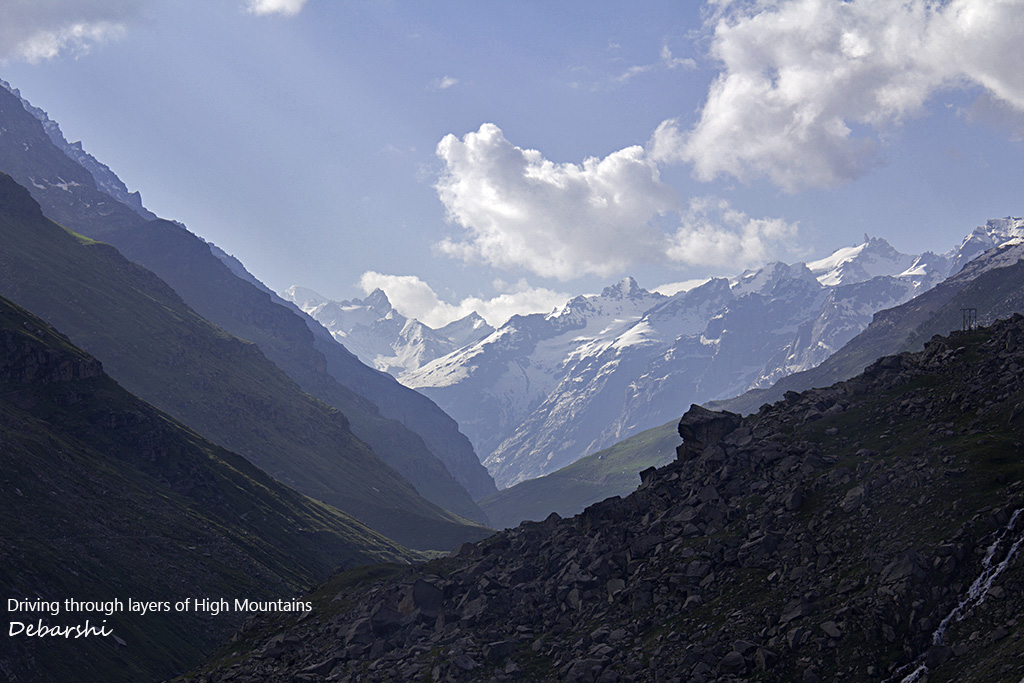 Keylong and Rohtang La
Traffic starts building at the Rohtang La very early. Hence, we left Jispa very early around 3 am. The climb to Rohtang La from Keylong was slushy and I had to deploy the 4 wheel drive mechanism. While coming down as well, the slushy road demanded a 4 wheel power for stability. I was quite perturbed to see a sedan sometimes even a small hatchback navigating this slushy road.
I remember an interesting anecdote in 2012. We were driving down a paved undamaged road and suddenly saw two lambs and kept wondering – Where did these two come from? Lo & Behold! We turned a hair pin bend and were right in the middle of a huge flock of sheep, a befuddled shepherd and a mountain stream across the road. The only way out was the sheep crossing the stream and ascending up the mountain and they were completely reluctant to wade in that icy cold glacial stream. As the shepherd guided them and they dipped their hooves in the water, the air was filled with "Maa! Maa! Baa! Baa!"

I did drive pretty fast as per mountain standards and we reached Rohtang La quite well in time for the sunrise. Our thought was – Why is this place so empty ? We have been to Rohtang La multiple times and this was quite unusual.
We crossed the pass and realised there was a land slide and we were caught in a massive traffic snarl. After 2.5 hours near the glacier, a narrow passage on the road was finally cleared and we started towards Manali.
Manali
Manali has a number of places to stay as per different budgets and a few local tourist attractions. You could also stay at Solang and indulge in quite a few activities – Paragliding, White water Rafting, and Angling. Solang is relatively less crowded than Manali and also has a few upcoming resorts worth staying in.
Manali-Leh highway opening time
Needless to mention that the Manali-Leh highway is really strategic and experiences high snowfall.
The highway is declared officially closed every year on October 15 and opens again in summer any time from mid -May to June depending upon when the snow can be cleared.
Points to remember
Fuel Stations on the Manali – Leh Highway
Do remember to fill your tanks in Upshi / Karu near Leh. After this, you will only find an IOC gas station in Tandi after Jispa. There is no other Fuel station on the highway.
Alternately, you can also carry one or two Fuel Tanks in your vehicle. We purchased two from Olive Planet (read our blog How to prepare your car for Ladakh) and they have been of great help.
ATMs on the Manali – Leh Highway
Do remember to carry enough cash on you while travelling on this route. You will be able to get ATMs only in Manali & in Leh and if you make a detour to Keylong.
Tire Repair
I speak from firsthand experience. I could find a good mechanic only in Jispa to repair our slashed tire in Upshi,. En route, you may find mechanics in Sarchu, Darcha and of course in Keylong.
Accommodation
Since you will do this Road trip in 2 – 4 days, you can stay overnight at Jispa, Sarchu or Keylong. All the places have affordable homestays and Tents and provide for a good night's rest.
The Leh-Manali Highway was designed as a strategic route capable of supporting the heavy army vehicles. But if you are a biker or an avid off road enthusiast, this would feature in your once a life time travel plan.