Solitaire is a quaint desert town literally in the midst of nowhere. It is located in the Khomas area in Central Namibia close to the famed Namib-Naukluft National Park and Sesriem,Deadvlei andSossusvlei.
The colorful car wrecks artistically strewn across the desert will catch your eye from afar.
How to reach Solitaire?
We were driving from Swakopmund to Sesriem and crossed Solitaire. The distance from Swakopmund to Solitaire is about 261 km. We drove on the wonderfully tarred B2 to Walvis Bay for about 41 km and then turned to the gravel C14 to drive towards Sesriem driving on for about 234 km. We crossed the Tropic Of Capricorn about 40 km north of Solitaire on the C14.We crossed the rugged and beautiful Kuiseb Canyon on the way.
If you are driving in from Windhoek , take the route via Spreetshoogte Pass . It is really picturesque .
There is also has a well maintained lime and sand airstrip used by chartered flights and self-fly tourists.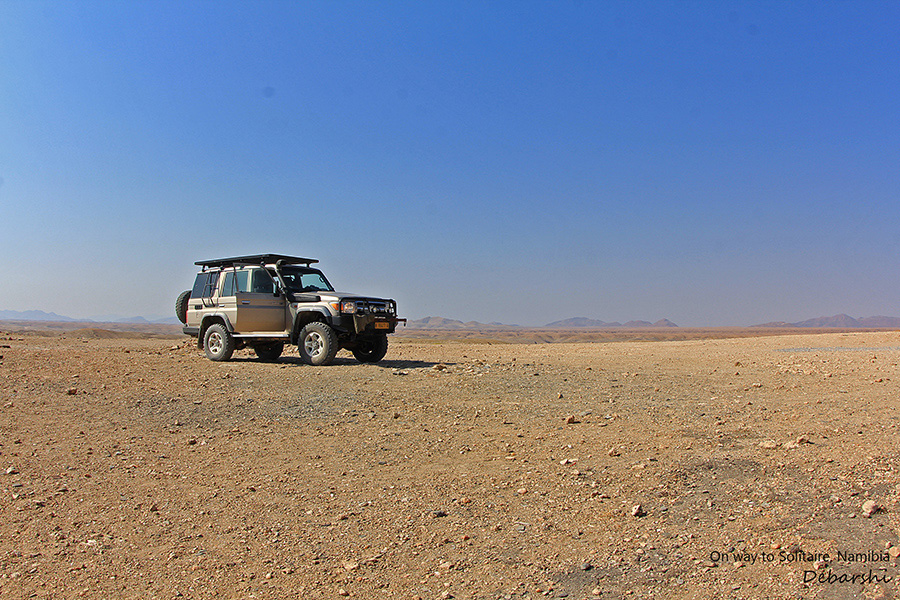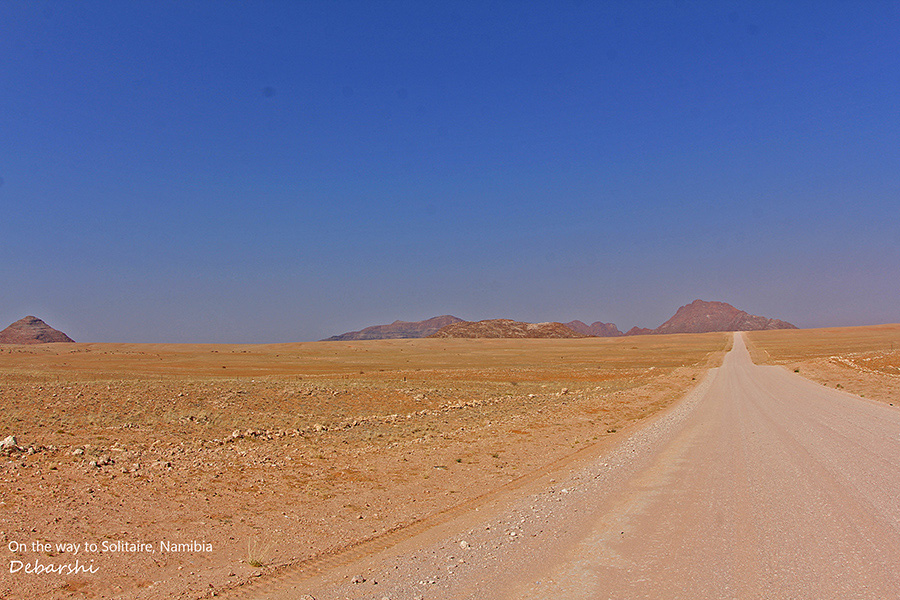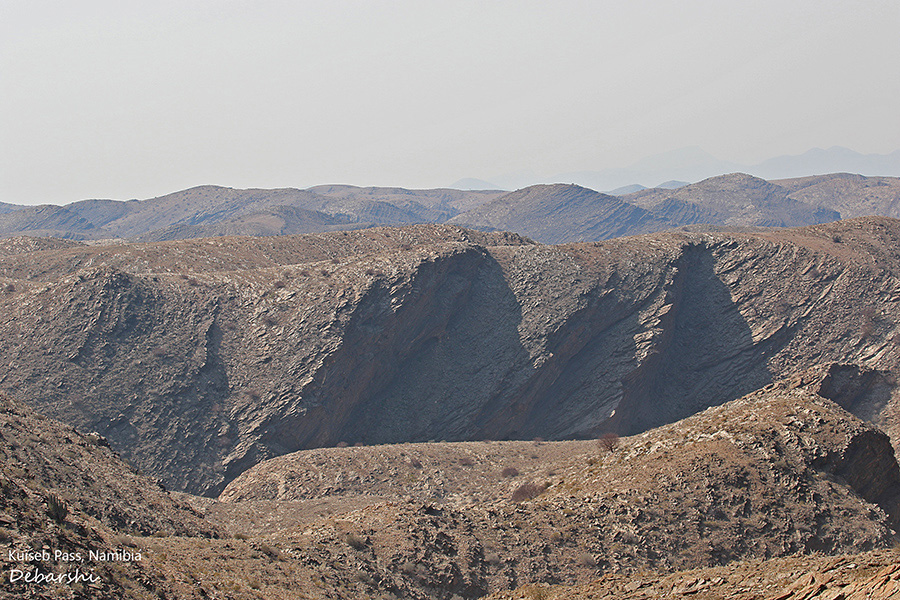 Solitaire Namibia weather
Solitaire is in like an oasis in the midst of nowhere. The weather spectrum is extreme.
Summer days are dry and arid with temperatures soaring to 40 C and an average of 25 – 30 C.
We travelled in winter in July, when the temperature was scorching during the day but became very cold at night some dipping to below 0 C.
Solitaire Attractions
All tourists travelling to and from Sesriem make a stop at Solitaire. Some may stop for a couple of hours to languidly experience the charm of this desert town. A few tourists do stay back for a day or two.
Restrooms
The ablution facilities are the cleanest one would expect and well maintained. There is a tip box near the wash basin to cover the costs of maintenance.
Cafe Van der Lee
The café serves breakfast, lunch dinner and has a well-stocked bar. We had their juicy burgers and salad with fries on the side. The menu also includes steaks, fish and chips and other entrees.
The best part is that they serve at their own pace and are also quite unhurried in bills.
Moose's Bakery
This is also known as McGregor's Bakery in honor of the late founder, Percy "Moose" McGregor. There is an assortment of muffins, cakes, cookies and good coffee to follow it up with. Do not miss their Apple Strudel (served without cream). It is supposed to be the best in Namibia and you will not be disappointed.
Debarshi & I with our sweet tooth did not miss the opportunity of having their famous apple pie along with cups of frothy cappuccino.
The only spoilsport were the flies who need to be continuously swatted away.
General Store
There is a general store where you can get stock up on water, cold drinks or beer, phone cards and other personal items. The store also sells Travel memorabilia like refrigerator magnets, hats and shirts.
Gas Station
Even if you do not fancy an apple pie or coffee, the presence of this gas station ensures that you will stop at Solitaire. This is the only fuel stop between Sesriem and Swakopmund. The next nearest gas station is at Maltahöhe, 166 km away or at Walvis Bay, 232 km away or at Sesriem 83 km away.
Tire Repair
The puncture repair shop will mend or sell tires, lubricants and can also help you in small mechanical fixes or replacements. You can also call +264 63 29 3621 for breakdown service.
You can also visit https://www.solitairenamibia.com/ to know more .
History of Solitaire
I had read this earlier before my travel. In 1948, Willem Christoffel van Coller had bought some land (about 30000 hectares) for Karakul sheep farming and moved in with his family. His wife Elsie Sophia van Coller coined the name SOLITAIRE probably because of its unique solitary location.
He built a cottage with his ranch and farm house and later on built a general store and gas station. It is interesting to know that this shop started functioning as a regional post office with weekly post deliveries. He also built a dam across the river bed and later on a chapel.
Today , the Solitaire Land Trust maintains this entire area of 45,000 acres . The objective is to preserve the grassland and the endemic wild life like the Hartmann's Mountain Zebra.
Solitaire was also brought to prominence by the autobiography – Solitaire written by the renowned Dutch author and documentary movie-maker, Anthony Marinus "Ton" van der Lee about his experiences in this desert town.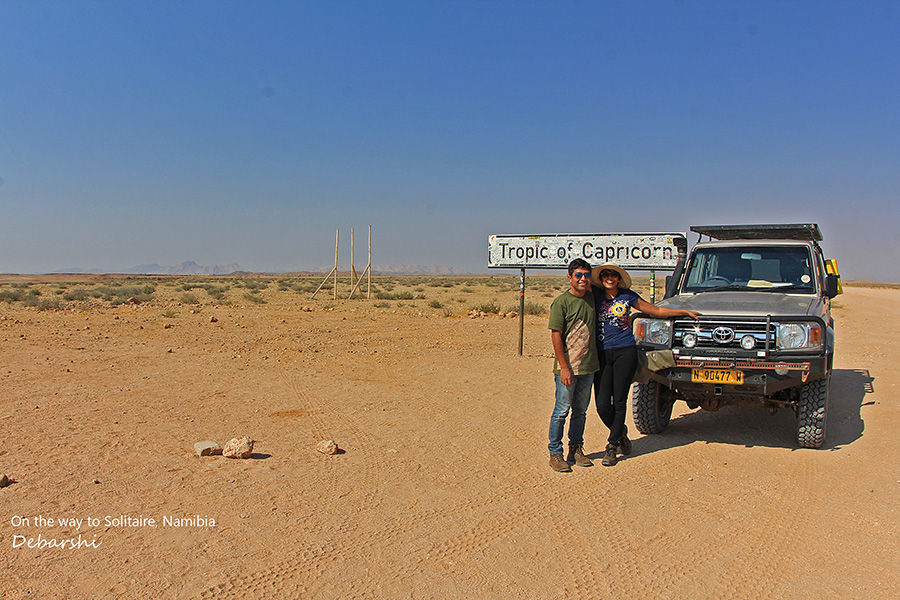 Solitaire Namibia hotels
Like I mentioned earlier, many tourists prefer to spend a day or two in this solitude or set up base to explore the Naukluft Mountains. There are two options – Mid range Solitaire Country Lodge and Upmarket Solitaire Guest Farm Desert Ranch
Solitaire Country Lodge
This is affordable lodge with 25 en-suite rooms with fans and a large courtyard with swimming pool. Situated right next to the gas station, the general store, café and bar are very conveniently located.You can book rooms at their website.
Solitaire Guest Farm Desert Ranch
This is quite upmarket . The private owner manages the guest farm. It is located about 7 km from the Solitaire Gas Station at base of the rugged Rand mountain range with a lookout over the Namib Desert. The original 1950's farmhouse has been remodeled into this Guest Farm .
The room types are a) Single or Double Standard rooms, b) Family rooms and c) a self-catering Luxury Thatched House. They also partner with the N/a'an ku se foundation for the Namib Carnivore Conservation Centre mainly for cheetahs.
There are a lot of nature walking trails for bird watching and nature drives to view the numerous ungulates or even the cheetah, leopard or bat-eared foxes.
Solitaire is a story waiting to be seen, experienced and rooted in your memories along with the unforgettable taste of Apfelstrudel in Namibia's own 'Baghdad Café'.