Gorilla Tracking in Uganda
Gorilla Tracking in Uganda has been on our bucket list for a few years now. Well, we ticked it off in August 2018.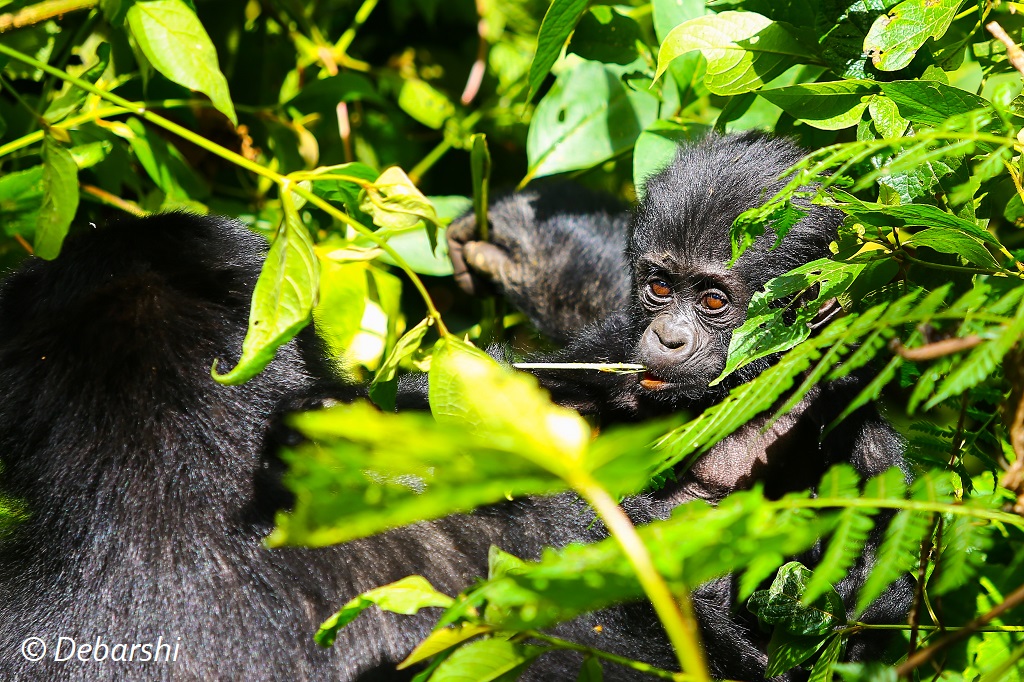 The Mountain Gorillas
Gorillas are the largest living primates today and inhabit the equatorial African rainforest region. There are 3 main races – Western Lowland Gorilla (Gorilla gorilla); Eastern Lowland Gorilla (Gorilla graueri) and the Mountain gorilla (Gorilla beringei).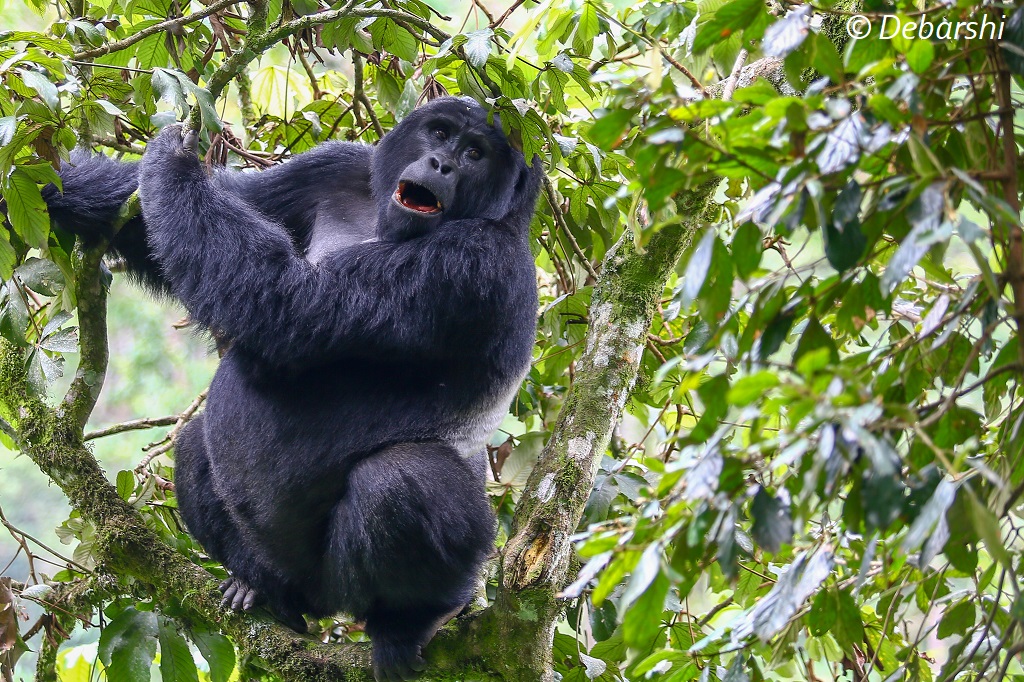 Today's only 850 Mountain gorillas survive in the world. Poaching, War, Disease, and habitat loss are the primary reasons for the dwindling numbers, but there is a slow rise with conservation efforts between Rwanda, Uganda, and DRC.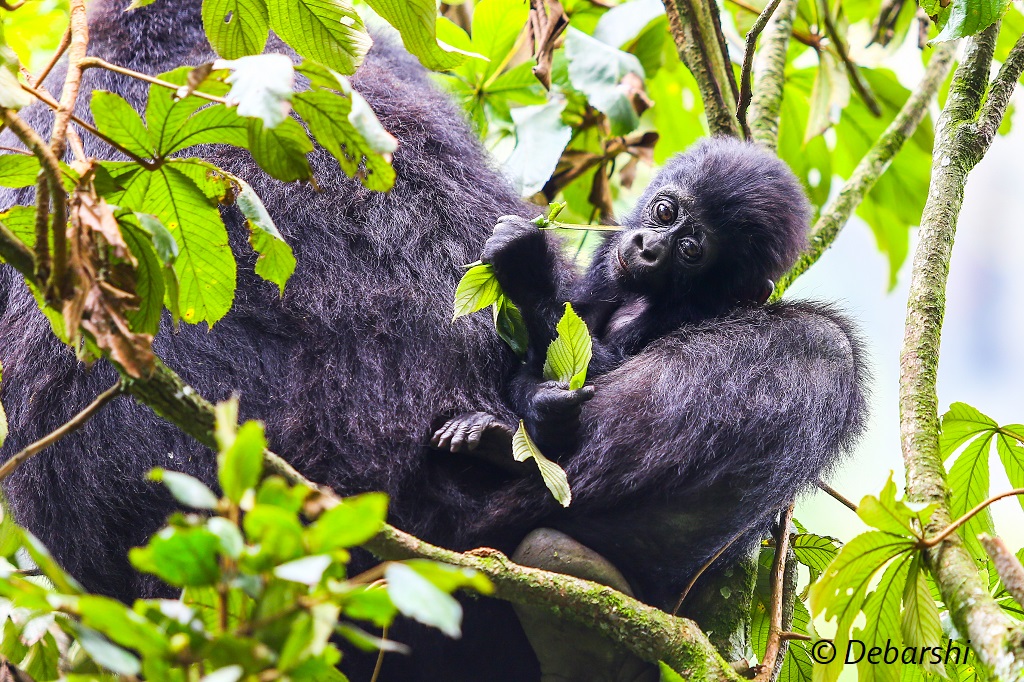 Location
Plainly speaking, Mountain Gorillas are found in the Virungas straddling the borders of Uganda, Rwanda & DRC. They inhabit the stretch of green , i.e. , Virunga National Park in the DRC, Volcanoes National Park Rwanda, Mgahinga National Park and of course the Bwindi Impenetrable National Park in Uganda.
Social Construct
You will never see a mountain gorilla in the zoo since they cannot survive in captivity. The mountain gorilla is a very social creature and lives in groups .There is generally only a dominant male or Silverback, sometimes one or two sub adult males, a harem of many females and always a few curious young ones. The female is loyal to the male once she has given birth. We also heard tales of many a silverback killing off nursing infants fathered by a different male.
Diet
Gorillas are mainly herbivorous and their primary diet is bamboo shoots. Often , they feed on insects, the favorite being ants .An adult male eats up to 35 kg of leaves, shoots, stems or roots while a female up to 18 kg.
Behavior
Gorillas are very docile peaceful creatures. They rarely get aggressive unless protecting their families. They are usually sedentary and typically move only about a km a day! Gorillas spend the entire day on the ground. However, at night they climb trees, build nests and abandon them in the morning! Each gorilla has a nest to itself and the babies sleep with their mothers.
Where are the Mountain Gorillas in Uganda?
Approximately, 400 mountain gorillas inhabit Bwindi Impenetrable National Park making it the most popular place to trek for gorillas . Bwindi Impenetrable National Park is one of the most biodiverse forests in Africa and is home to 120 mammal, 350 bird (including 23 Albertine Rift Endemics) and even 200 butterfly species.
The main tourist activity of course is gorilla tracking and it happens from four trailheads – Buhoma, Ruhija, Rushaga and Nkuringo.
When is the Best Time to go Gorilla Tracking in Uganda?
You can go for gorilla tracking through the year. However, do remember Uganda is an equator straddling country, which means a humid climate the year round with rains more or less. These are damp rain forests, so best visited during the dry season – June to September and December to February. The wettest months are April – May & October – November.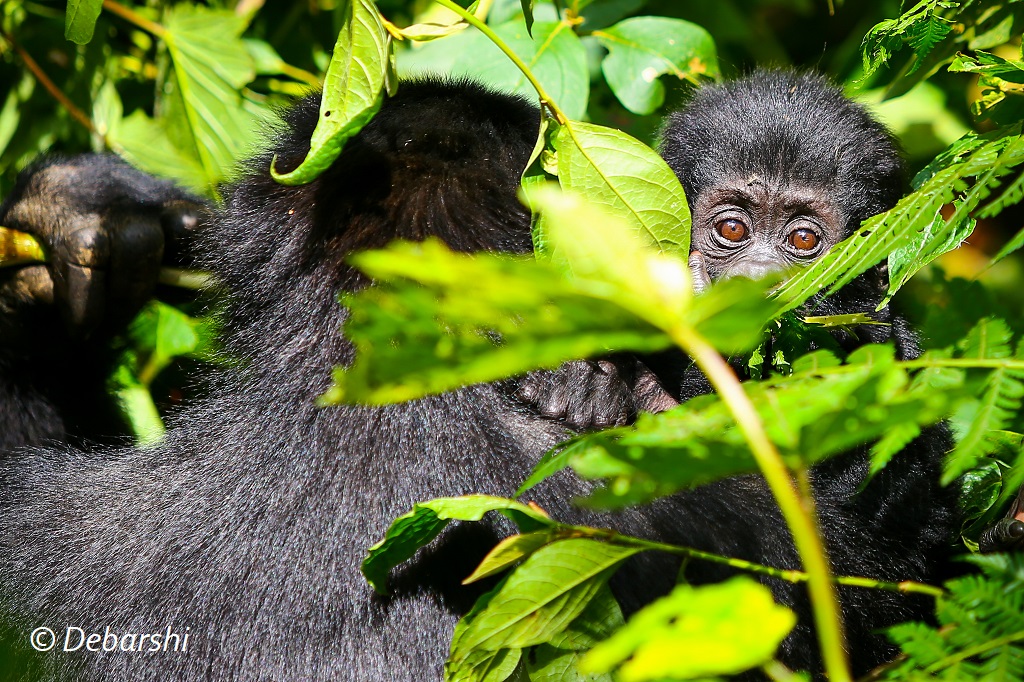 Debarshi & I were doing a self-drive across Uganda & Rwanda (the DRC part was cancelled due to Virunga closing down). Since we did not want rains to spoil our chances, so opted for August. There were some rains in the evenings but the days were dry and we had good sightings.
Visiting Bwindi Impenetrable National Park in the low season is advantageous as well – cheaper gorilla permits!
The cost of the Gorilla Permit
The Uganda Wildlife Authority (UWA) issue the Gorilla permits. There are two types of permits – Gorilla Tracking – $600 high season; $450 low season and Gorilla Habituation – $1500. The permits include park entrance fees, guides and trackers but not porters. Porters come from the nearby villages, cost $15 day, and tip.
We were doing the chimpanzee habituation experience in Kibale, so we had opted for the Gorilla Tracking in Bwindi.
Uganda is by far the best place to do gorilla tracking. Rwanda is curbing the amount of tourists and now have raised the costs to a whopping $1500. The most economical of course is DRC at $400 but stability and security are serious concerns.
How to get a Gorilla Permit?
You will read almost everywhere that you need to get a travel operator or safari agent to book your safari permits since you may end up booking a gorilla family far from your accommodation! This will also cause you to add an extra booking fee of US$60 to US$100 for each permit.
We were doing a self-drive and booking all hotels directly, thus was determined to book the permits directly as well.So I wrote to UWA at info@ugandawildlife.org and called them up, they sent me the bank details, booked my permits, and asked me to collect them when I was in Kampala. It was just that!
We were planning the trip in August; I emailed UWA in October 2017 with 3 preferred date options. Buhoma was already sold out by then and they offered Ruhija. The chimpanzee permits were available for Kibale for all days. Once I had transferred the money, sent our passport copies, and received the mail confirmation, I booked the flight tickets and confirmed the accommodation around those days.
We had kept a day in Kampala – Entebbe to look around the city, get our vehicle and collect the permits. They gave us the UWA smart cards packaged with the tickets and individual permits. It was truly a seamless experience.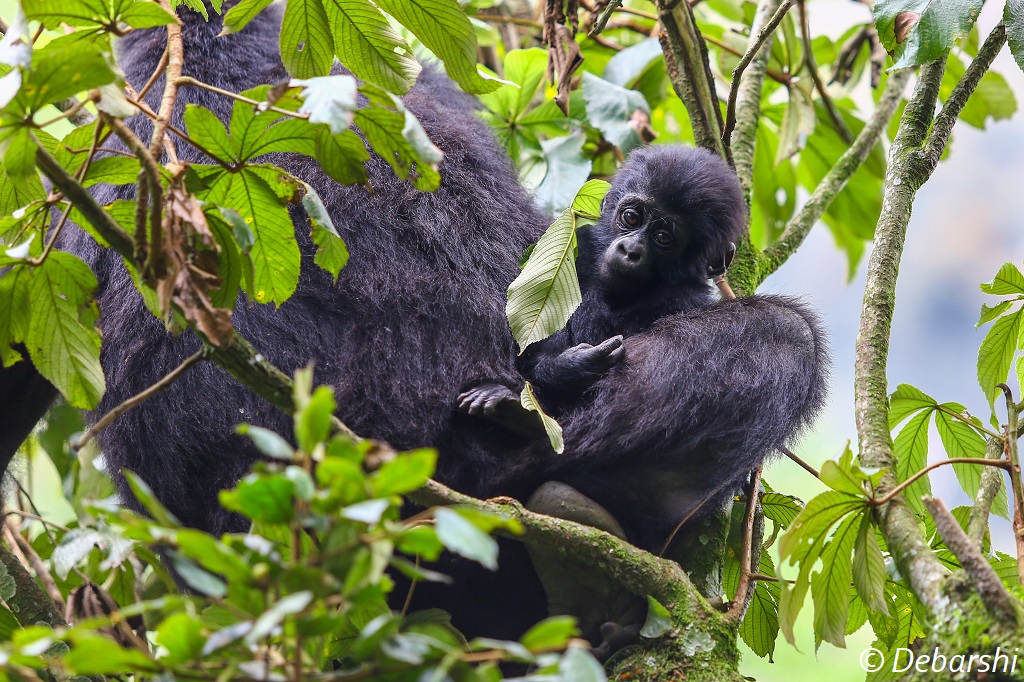 A few pointers to consider:
Permits are booked a year in advance and are limited, so plan early.
I would strongly advise against showing up to the park without permits since you cannot buy one on the spot.
Decide on the zone you would prefer. Buhoma is sold out the fastest since the trek is relatively easier. I will detail out the zones a little later
Book your choice of accommodation after you have received confirmation on the permits. Each of the trailheads are quite some distance from each other (Buhoma to Ruhija is 51 km apart on mud boulder ridden roads), since the trek starts early morning, being closest is of utmost importance.
Which are the Gorilla Tracking zones in Bwindi Impenetrable National Park?
The four zones or trailheads are Buhoma, Ruhija, Rushaga and Nkuringo.
Buhoma is the busiest considering ease of trekking and all the upmarket lodges in the vicinity. We did our gorilla tracking from Ruhija, which apart from the truly impenetrable rain forest also poses the challenge of uphill and downhill trekking.
Nkuringo is probably the most physically challenging trek within Bwindi Impenetrable National Park.
The Gorilla groups are Habituated, Semi Habituated and Research purposes. Apart from this, there are gorillas out there in the wild, which do not fall in any of these categories. There are 226 habituated gorillas out of 400.
Habituated Gorillas
The Habituated gorillas are the ones who are comfortable in the proximity of humans. There are 11 fully habituated group[s today (3 from Buhoma, 2 from Ruhija, 5 from Rushaga & 1 from Nkuringo). There are some more groups in the process of habituation. You get to see these gorillas when you are in the gorilla habituation experience.
Semi-Habituated gorillas
The Semi-Habituated gorillas are used for the habituation experience – the act of training wild gorillas to become used to humans. This is done with groups of people like journalists, conservationists, trackers, researchers and rangers and take a period of 2 to 3 years complete the experience. This is done with only four each day.
This means there are 88 tracking permits are available for gorilla tracking each day and 24 habituation permits for three splinter groups – 1 each in Ruhija, Rushaga and Nkuringo.
What to wear for a gorilla trek?
Lightweight water resistant safari clothes in green , khaki and dark colors to camouflage well within the forest
Long sleeves and full trousers. In addition, layering is important. The temperature keeps changing; the nights and early mornings are chilly while the day is hot and humid.
A rain poncho and a large hat or baseball cap. It may rain one moment and become sunny the next moment.
Gators or long hiking socks. There are fire ants and all kinds of worms, which may go up your trousers. In addition, there are countless flies swarms all across.
Insect repellent with DEET.
Excellent trekking boots – Debarshi used his Salomon boots while I still stuck to my Timberland.
Walking sticks – The resorts always provide you with them. Otherwise, your porter will fashion one out of the nearby branches.
Gardening or Biking gloves not soft woolen mitts. You have to ward away the branches and thorns away from your face as you trek.
A very light travel backpack. Remember you have to trek through some difficult terrain, so advisable to keep it light.
Lots of drinking water and a packed lunch because the gorillas may be near or about 6 hours away.
It is not mandatory to take a porter but is obligatory since it gives a boost to the local economy. They are from the surrounding villages and this provides some income to them. This also helps a lot in conservation efforts, since the villagers have now started learning the importance of tourism.They will carry your heavy camera equipment, water and lunch and will lend a hand to you through the difficult trek. They cost $15 a day plus tips.
Camera Equipment
Most visitors do not carry large and expensive DSLRs inside the forest due to the difficult trek in the impenetrable forest and uncertain weather conditions on the mountains . I was carrying the Canon 5D MK III and 7D MK II camera bodies along with Canon 100-400 mm and 70-200 mm lens for this trip. I chose to carry only the 5D MK III along with the 70-200 mm lens during the trek. This helped me leverage the f2.8 of 70-200mm lens in the low light of the forest canopy. The 5D camera body with full frame sensor performed very well in low light conditions. I had to constantly adjust the ISO and metering options under changing light conditions of light and shade. The background can be very bright with the gorillas sitting in the dark and you must not use a flash.
Gorillas are very difficult to photograph . Consider their jet black fur , sunken eyes , dense forest cover and often rains .
I would suggest that a reasonably fit person who can negotiate the mountain terrain and forest must carry a DSLR camera to get excellent photos. The difference of taking a photo in the difficult light conditions on a cell phone versus a DSLR camera is vastly different. Please make sure the camera bag is water proof or carry a separate rain cover for your cameras.
Having said all that, I would say it is more important to capture this moment in your mind's camera and imprint it for a lifetime.
Where Should I stay in Bwindi Impenetrable National Park?
The cost of accommodation is generally on the higher side – plenty of $500 plus options per night in a lodge or tented camp. There are moderate and budget ones as well. We skipped an accommodation in Buhoma and opted for Ruhija since the early morning drive of 51 km in the dark over bad roads did not appeal to us.
Lodges in Ruhija are down to earth than Buhoma's upmarket ones but they all enjoy terrific views over the Bwindi and adjacent hills. We chose the Bakiga Lodge mainly because it is the flagship for the Bakiga Community Project, an NGO serving to get clean drinking water to the nearby villages. The attractively furnished en suite cottages are cozy with a lookout over the misty mountains, amazing staff and all creature comforts. The evenings around the fireplace are snug and the food is quite delicious.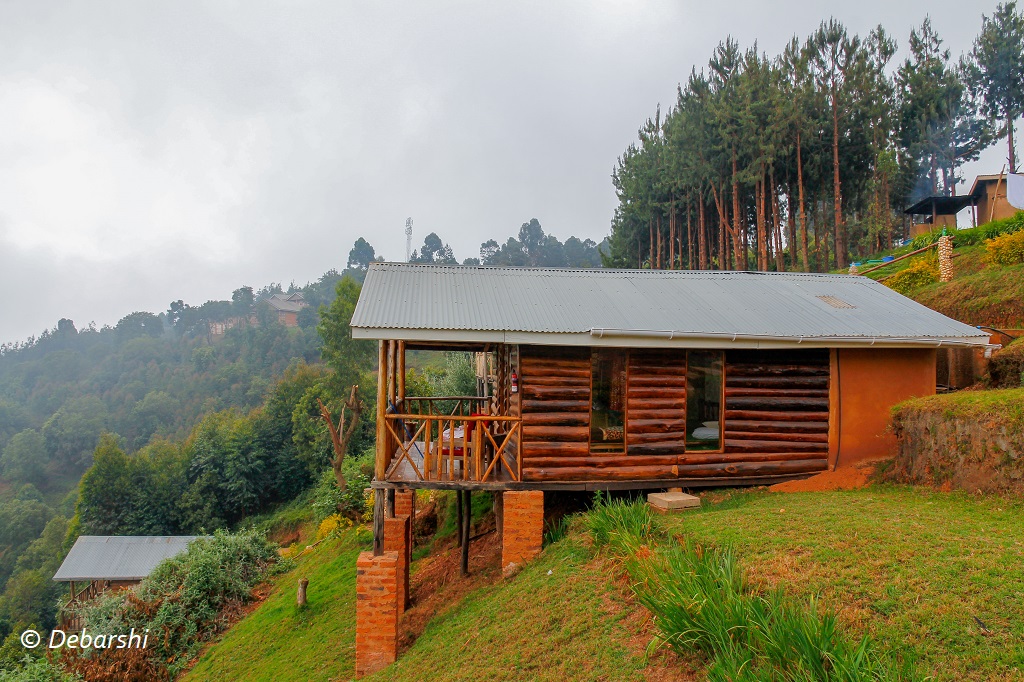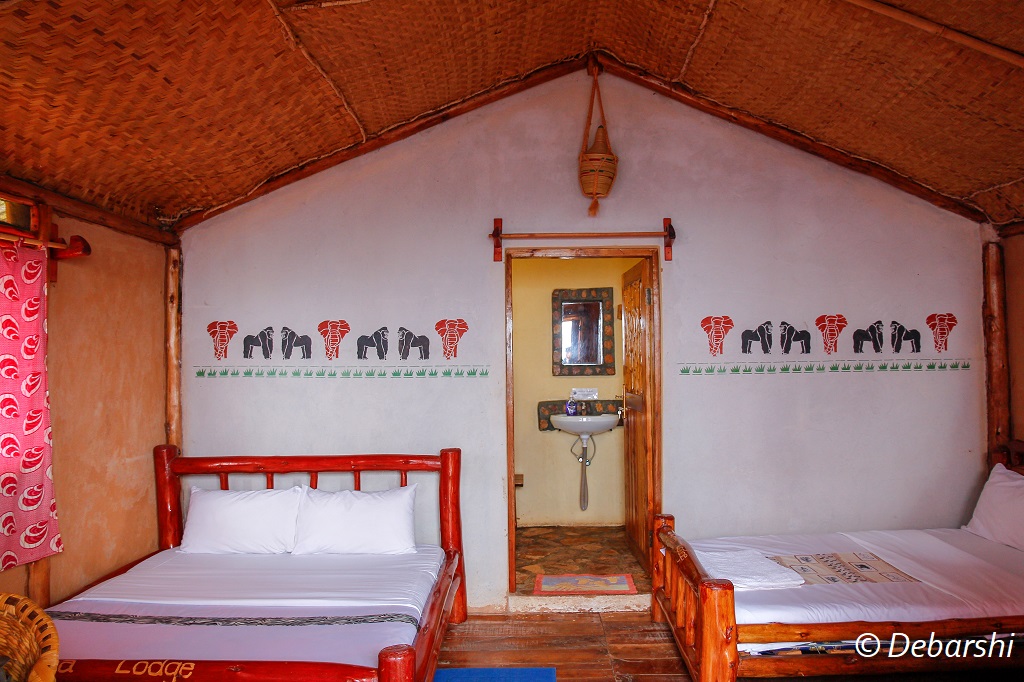 What is the Gorilla Tracking experience like?
Gorilla tracking is not a serious physical challenge to a moderately fit adult but the hike may become tough going as in our case for both chimpanzees and gorillas. You can be so lucky as to be able to spot them within 15 minutes of your trek or as much as 6 hours as in our case. Typically, it is not more than 1 to 2 hours.
You need to report to the Park office by 7: 30 am, have your passports checked and the permits submitted. The Ugandan Wildlife Authority rangers play a short video followed by a gorilla briefing. There is a tribal dance performance by the local women ranging from the youngest to the oldest. The tourist are divided into teams of eight and assigned to an habituated group. Then you start on an unparalleled spine tingling wildlife experience!
There is no drinking or eating around the gorillas and you cannot use flash for photography.
I also forgot to mention about one of the Bwindi Park Rangers, John. We met him at the bar last evening and was great company. He told us a lot about Bwindi, in particular Ruhija. He also put us in touch with a bird guide for the evening and next day when he heard about our interests in birds.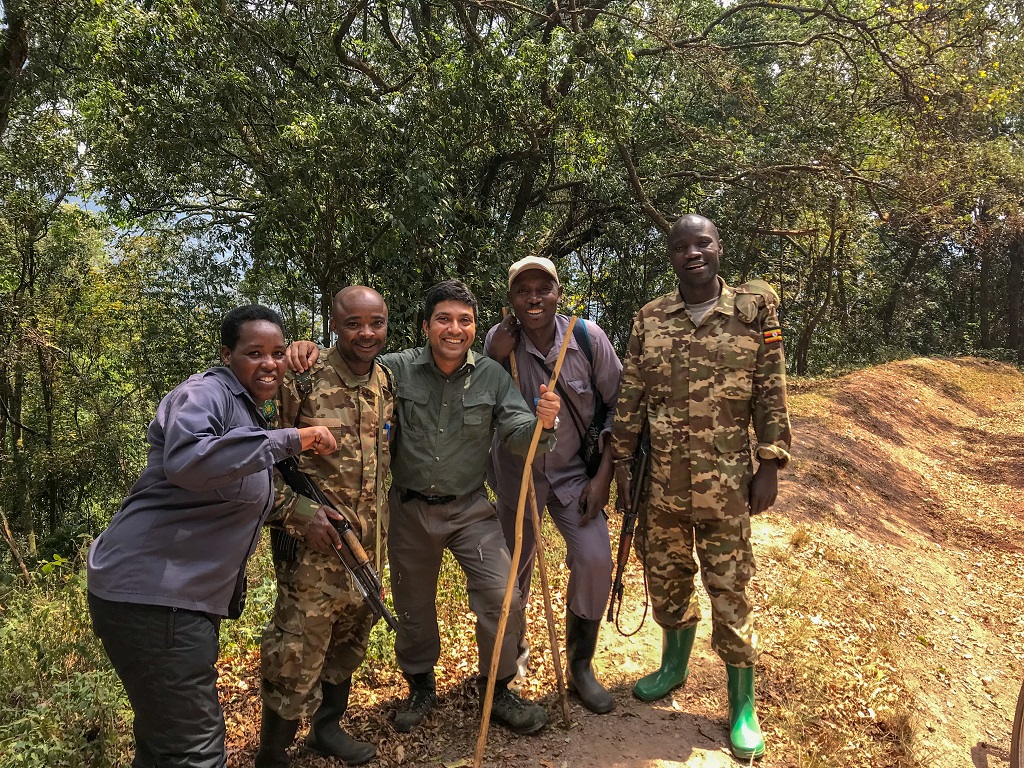 Story of the Mukiza family
The Kyaguriro was the oldest habituated group in Ruhija and originally habituated for purposes of research and Evolutionary Anthropology.
The Silverback Rukina was the head of Kyaguriro family and was killed by Lightning. A young Silverback Mukiza then became the dominant silverback. In 2016, an immigrant Silverback Rukara from the Bitukura family challenged Mukiza's leadership and a fight for leadership ensued. This led to the formation of two groups – Kyaguriro A led by Rukara and Kyaguriro B led by Mukiza.The Mukiza group had 20 members. However the numbers change – births, deaths, migration from other groups.
Currently, Mukiza is the family Silverback along with adult females – Mugwere(oldest female), Twijukye, Korugyezi, Mugenyi, and Bwebisha. Kanywani is a friendly sub adult male along with Kanoel and Tonvi as juvenile females and two infants a year old Gorodi and 6 months old Nyabakara.
Our Gorilla tracking experience
Some may start their trek from the park office or drive to a starting point into the forest. Since we had our own vehicle, so the short drive was quite manageable along with our guide and porter.
Porters, two rangers and three armed guards(to protect against wild elephants) accompanied the eight of us.
Once we reached the spot and parked, well it was time to trek. Our guide told us that the trackers had already set in previously at dawn and had located the nests of our group. The direction of the leaves being trampled and fed upon act as the beacon for the rangers to locate the gorillas.
We followed our guide, through the impenetrable forest and up and down the rolling hills of Uganda. Let me mention that gorillas do not follow a track and the search for them had to be through the thick foliage.
Soon we received word that the trackers had lost the group and were now looking for it afresh. Something about wild elephants driving them away. Therefore, we stopped and chatted with our group – four Americans and two retired yet fit Australians . After an hour, we received news that the Mukiza group had been located.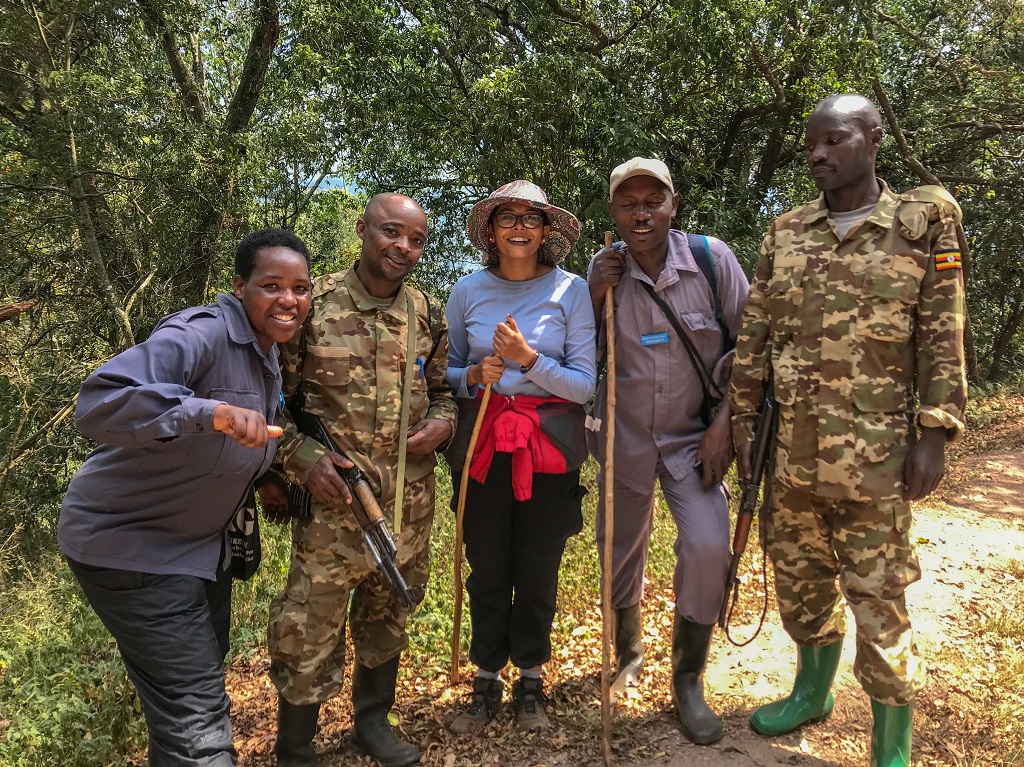 The Gorilla Human Interaction
The rangers warned us that the route would be treacherous and downhill. The porters and the rangers kept slicing the branches with their sharp Katanas and trampling through the impenetrable foliage and swarms of flies and muddy trails, we reached the Mukiza Family. They were up on trees and we soon found ourselves as well hanging on the opposite branches crazily staring at them.
The indecipherable attitude of gorillas towards humans is very different from any other wild animal I have ever seen. Anyone who has visited the gorillas will tell you that there is a mystical sense of recognition. These gentle giants break off from munching on leaves and shoots to stare into your eyes. We never once felt like we were in danger with these mighty animals.
We also experienced something hilarious. Do listen on to the videos I have attached and you will soon realize the sound other than clicking cameras is that of farting gorillas!
Once they had finished off their meal atop the trees, the gorillas started climbing down, so we soon followed them on a muddy skidding path where they settled down. The female infant Gorodi was on her mother's back and curiously staring at our cameras. And lo and behold, the silverback Mukiza came right in front with his back towards us just a breath away and then the females and juveniles passed away.
You can spend an hour with the gorillas once spotted. Soon the hour was up. We then embarked on our return uphill journey. We soon reached the place where we had parked our vehicle. A different group of UWA rangers was waiting there with our certificates. We received the completion certificates and returned famished yet so fulfilled.
We met John again in the evening at the bar and he told us that he had assigned the nearest easiest group to us. Somehow, with the wild elephants driving them away, our group had to trek the most to reach the gorillas!
Is Gorilla tracking ethical / How Can I Help the Last Mountain Gorillas?
I have often wondered that on the dilemma of wildlife tourism (Lions in Africa or Tigers in India) contributing to conservation or taking away more of their habitat by building tourism infrastructure like hotels or highways.
The recent 2018 census show that numbers have increased from 850 mountain gorillas.
The money from the permits is largely spent for gorilla protection and habitat conservation for their survival. The local communities also earn through porters, hotels, sale of handicrafts. These communities have realized the importance and protecting the gorillas from poaching and hunting accidents.
On the other hand, there is the risk of exposing gorillas to humans. Gorillas share 98% DNA with humans, hence are highly susceptible to infections. The UWA briefing was that we were to always keep a distance of seven meters from them. But , the gorillas do not know that!
The primary risk is transmission of infection from humans to the gorillas. Thus, you maintain a distance from them (although their curiosity brings them close to you) and you cannot trek if you have the mildest cold or fever.
During our holiday in Uganda & Rwanda, we interacted with several locals – rangers, guides, staff in hotels and local villagers. They truly care about the preservation of wildlife.
My thought is that Gorilla tracking is just not another extraordinary African wildlife experience. It is your contribution towards the conservation of these animals and contribution to the local rural communities.