Continuing from the last log , this one chronicles our Self Drive in China – Kunming to Lijiang.
Kunming is the Spring City or City of Flowers. The weather was balmy with a slight nip in the air in the early morning.
Driving out from Kunming
We started on the drive to Lijiang from the Heri Jun hotel in Kunming. The distance is about 520 km and we left right after breakfast by 7 am.
There was some early morning office traffic but were soon on the interstate highway.Today being the first day of drive, Kevin was seated in the front passenger's seat and guiding Debarshi through AMAPS, the Chinese navigation app.
Crossing the city of Dali , we drove through numerous tunnels – Bijiquan tunnel , Xixipo tunnel , Caiyun tunnel & Pingdi ; we stopped on the way at the Pu He Rest Area for some light lunch and reached Lijiang by 3 pm.
Lijiang Old City
Liwang hotel was our stop for the night in the Old Town; we dropped our luggage and immediately moved out to explore the Old Town, a UNESCO World Heritage site.
It ceases to amaze us how time locked Lijiang was. There are babbling brooks, blossoming foliage, cobblestone streets, rickety wooden houses and shops and teeming with young tourists.
Debarshi & I love to relax over a cup of steaming coffee, Now China is famous for its varieties of teas, but Lijiang being a tourist hotspot had nice coffee bars as well . Kevin took us to N's Kitchen serving hot coffee & pastries.
Old Market Square
We ambled our way through the Old Market Square soaking in the smells, sights & sounds. The square sells a cornucopia of knick knacks and food. There were many bacon stalls with assorted kinds.
The Yuquan spring now the Black Dragon Pool Park feeds these canals.
Lijiang is the homeland of the Naxi minority tribe for the last 1400 – 1500 years; thus the museum of Naxi Dongba Culture and the Mu family mansion.
Lijiang was completely destroyed by an earthquake in 1996 and renovated , opening again in 2003.
We loved a quaint little eatery near our hotel and the owner was kind enough despite swelling crowds to give us a nice outside seating amidst flowers . We savored the local plum wine – qing mei jiu along with delectable local cuisine.
Our escapades
Kevin retired after dinner and had a conference call with another prospective customer . Debarshi & I ventured out to explore Lijiang after dark , although we were slightly skeptical not knowing the language and chances of getting lost in the maze. But we go caught up in the headiness of it all and explored more of the Old City , clicked nice photos of the local crafts and shopped some too.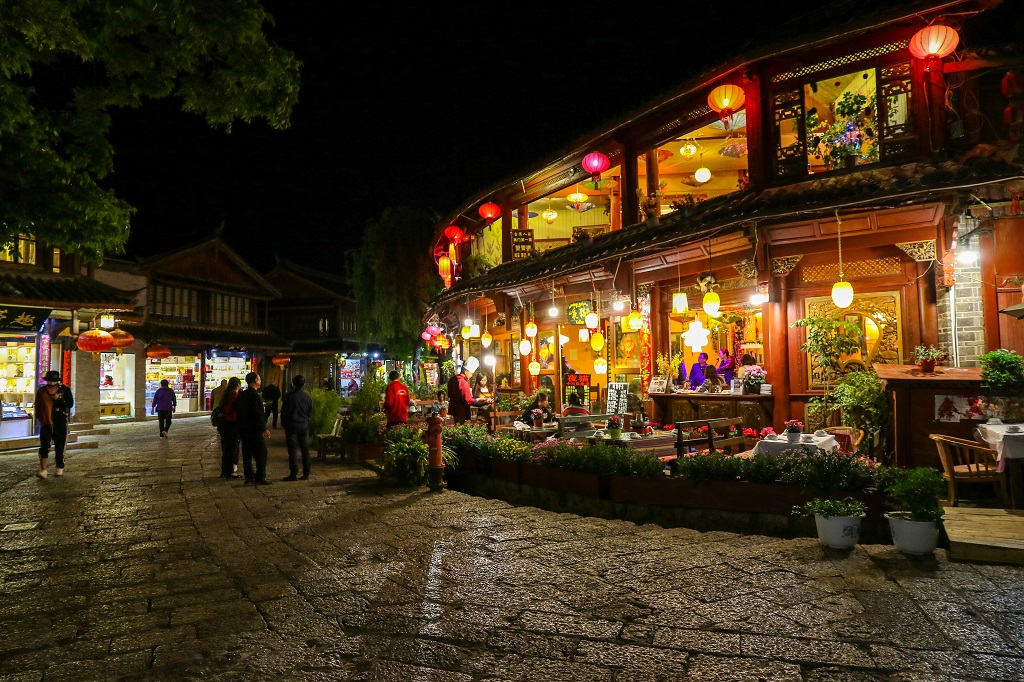 Restaurants in Lijiang open for dinner
A pretty shopkeeper was selling musical instruments and playing a set of drums superbly. A tiny piglet was darting across a shop selling bacon and the irony of it all left us in splits !
Any ways , we soon retired to our hotel and were raring to wake up in the morning for the drive to Shangri-la.