A change in our travel program brought us a day earlier in Dêgê; we spent the next morning in the Dêgê Gompa. I have written separately on it.
A welcome co passenger
We loaded our luggage and set off after breakfast for Garzê. A lanky young gentleman approached us and started speaking. Kevin translated he was from near Chengdu; his car had broken down in Dêgê; his friend was driving down to rescue him from Manigange and if we could drop him there. We were fine with that and told him to hop on.We started driving down the same route we had taken earlier via Cho La Mountain tunnel, but this time we planned to stop at Yilhun Lha-tso.
Spotting Griffon Vultures
Debarshi suddenly spotted some large birds. We stopped to click images and soon realized that they were the Near Threatened species of the Griffon Vultures. There were two of them opposite a narrow stream and Debarshi kept walking and following to get closer images. This made them hop up the dirt track and soon we found the pair sitting beside a resting goat . we laughed at this and then walked back to our vehicle.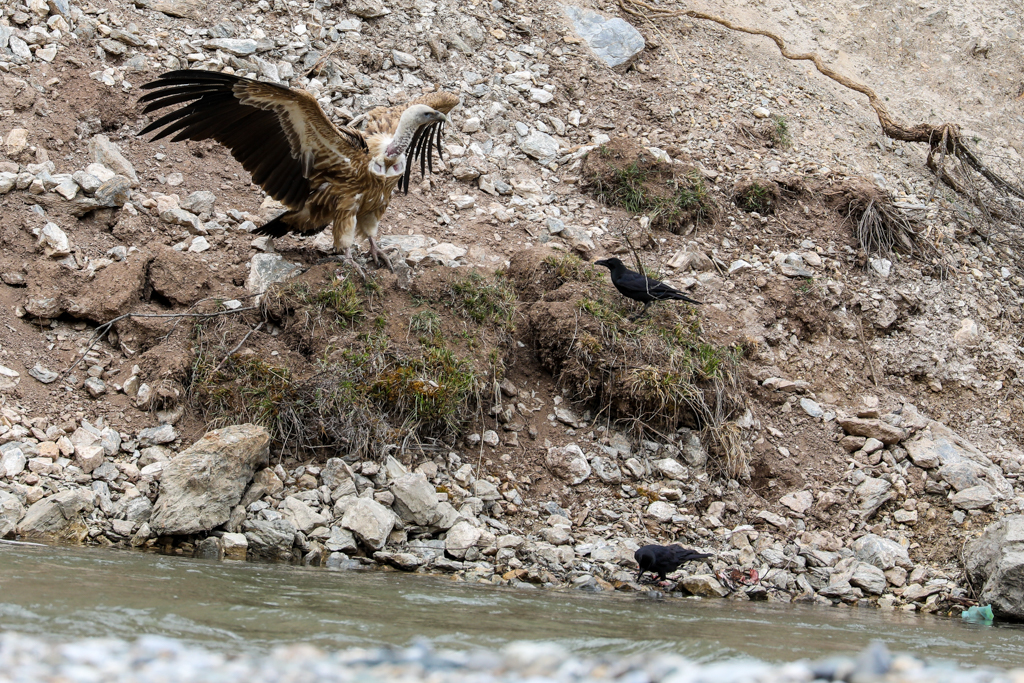 Yilhun Lha-Tso
Yilhun Lha-Tso is this astounding turquoise blue glacial lake which is frozen from September to March.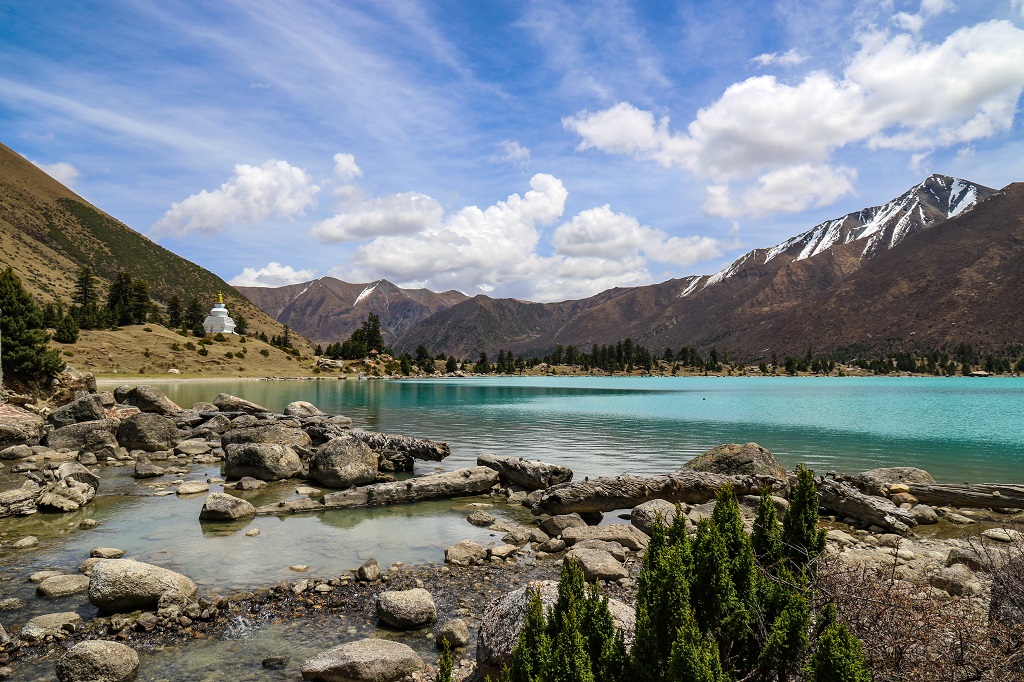 It is supposed to be a holy lake and often monks can be seen around them in summers. We did see one solitary monk crossing the wobbly bridge.
We parked our vehicle by the side of the highway in a rest area and started trekking down the dirt track. Our co-passenger told us that locally it is known as Xinlu Hai and is a part of the Xinlu Hai Natural Reserve.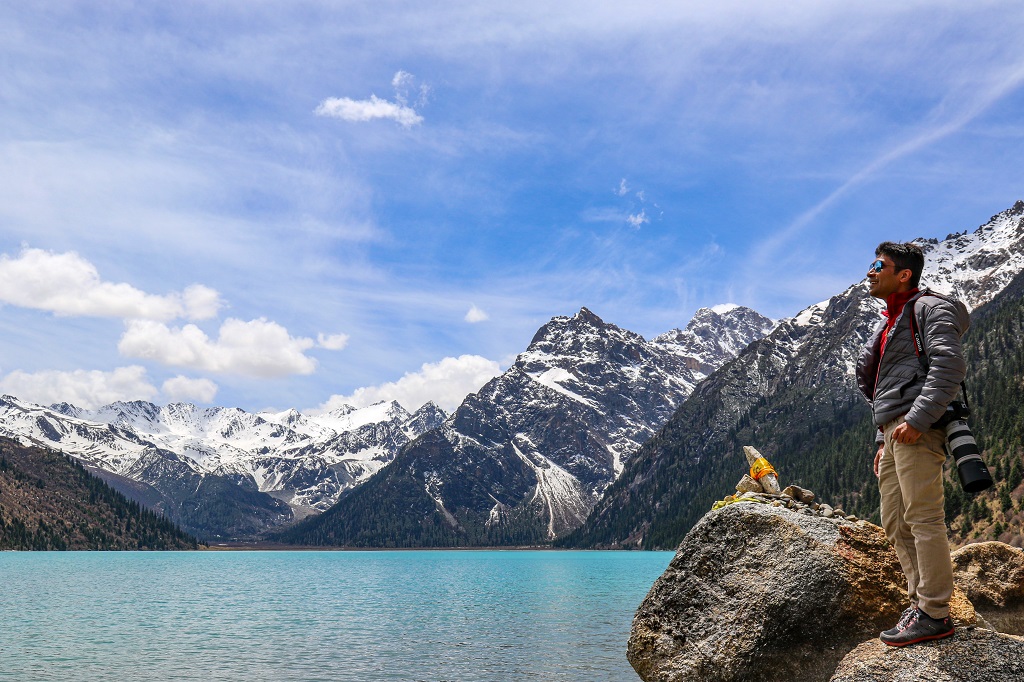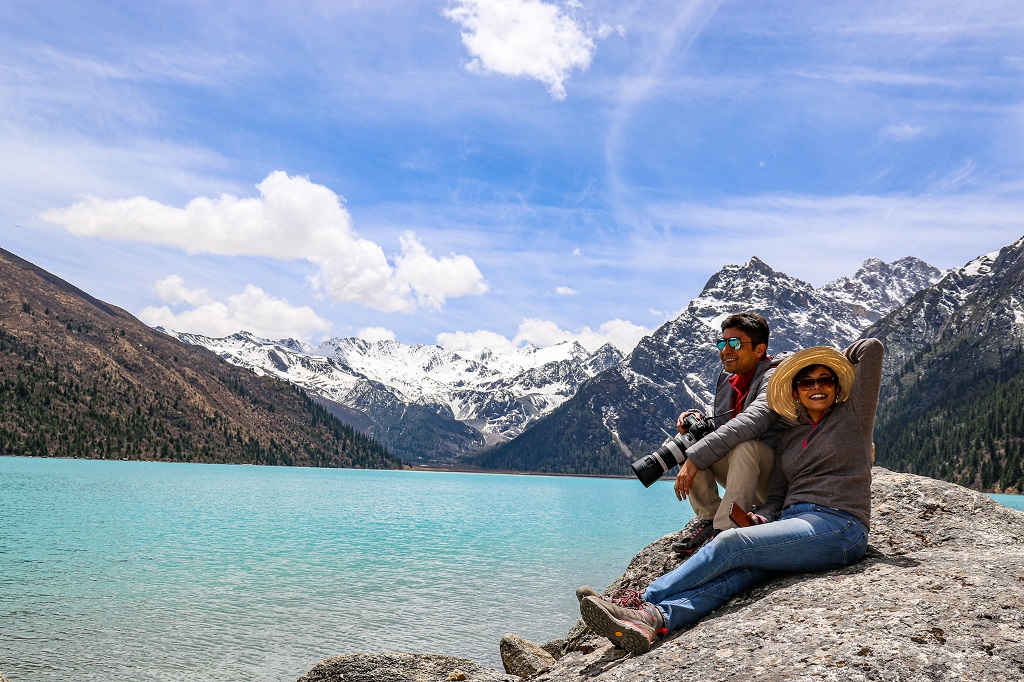 We crossed a village and pastures and reached the northern edge of the lake. There were a few yaks grazing or resting on the pastures.
The view of the mountain peaks, the glaciers and the lake were matchless. Crossing a rickety bridge, we then trekked beside the chortens and mani piles which were painted or carved with the sacred mantras – Om Mani Padme Hum.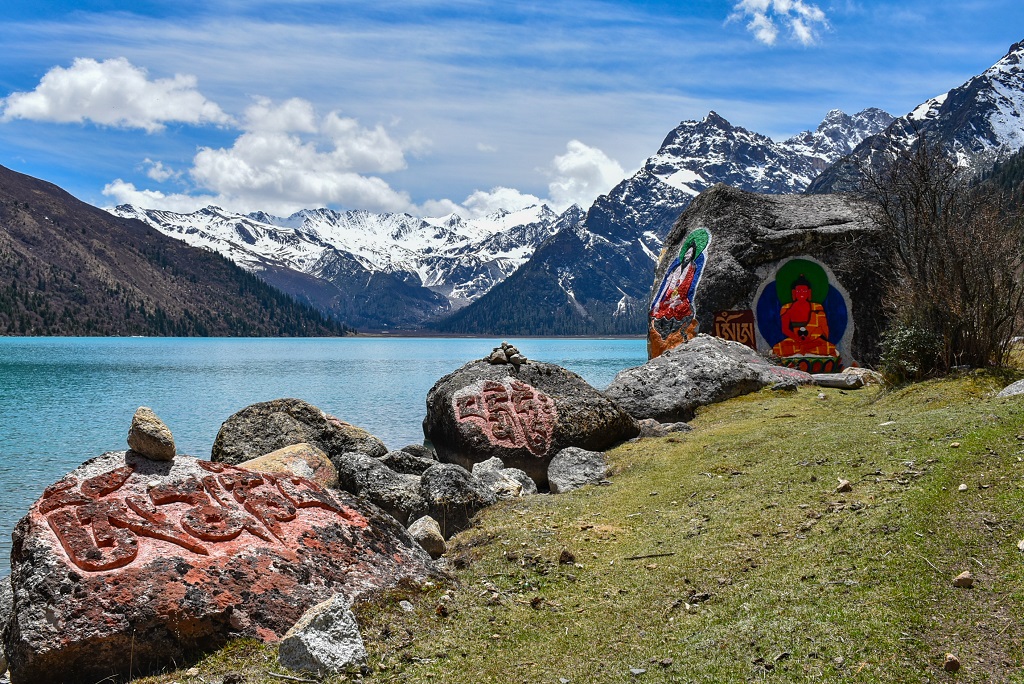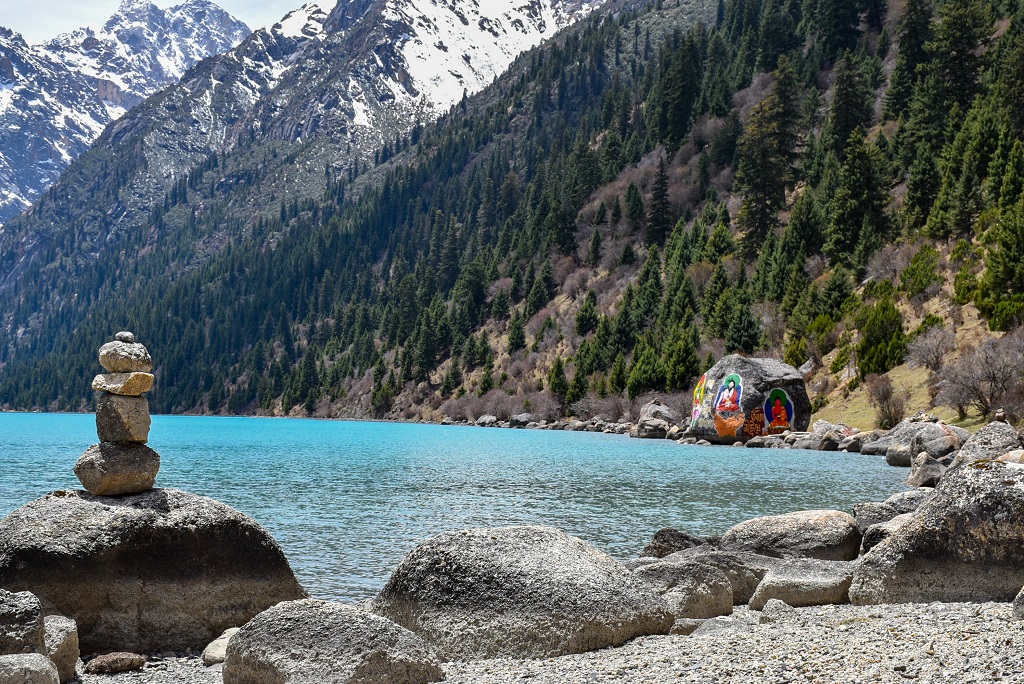 Kevin was looking for marmots in various places but did not get any here. We did get to see them up close in Mosika, that's a story for another day.
Manigange
Manigange town is about 8 km ahead from this picturesque spot. We decided to take a break for lunch and checked with our Co passenger if that worked for him and if he was not getting too late. He joined us wholeheartedly and also offered to pay for all of us saying that we had helped him in his time of need.
We dropped our co passenger to the spot where he was meeting his friend ; then started driving towards Garzê also locally known as Ganzi.
We saw some creative road signs as well; this is not a real Policeman.
Ganzi Town
We were staying at the Yongkang hotel in Xinqu road. Dropping our luggage, we decided to explore the serene town on foot.
We also found a great coffee place – Aruchya Café. The café is fairly large and decorated with various odd bits and pieces. We realized the owner was also a biker. He also walked in when we were having coffee and spoke to us quite a bit in English.
First experience of Sichuan Hot Pot
Kevin told us that he had another first in store for us this evening. He took us to a Sichuan Hot Pot restaurant for dinner and we absolutely loved the cuisine.
Hot pot or steamboat, is a Chinese cooking method. The waitress placed a simmering pot of two types of soup stock(one spicy and hot , the other without the spices) at the dining table. There is a large array of meats and tofu and vegetables on skewers on the racks , and a variety of condiments and oils in another table. Needless to say we had an once in a life time experience.
And then we sunk into the inviting beds in the Yongkang hotel!